BPAY Payments – New Payment Method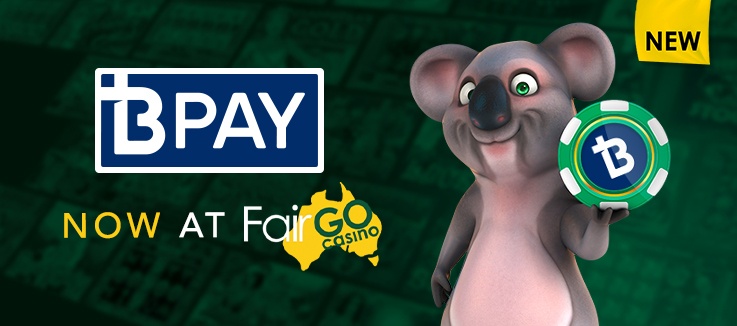 BPAY Payments – A New Payment Method
People all over Australia use BPAY every single day. Fundamentally an electronic bill payment method, BPAY caters to people who look to make payments from their online bank account to a business or website without the need to enter their bank details or personal information. Depositing with BPAY is fast, secure, and easy, which is why Fair Go Casino has adopted it as a newly available payment method.
Here's everything that you need to know about BPAY and if it should become your go-to payment option when making deposits at Fair Go Casino.
What is BPAY?
BPAY is the fast, convenient, and secure method of making bill payments via mobile, online, or telephone banking. It's also a very simple method, one that has streamlined the formerly cumbersome process of making these types of payments, done through the use of using a BPAY Biller Code and your customer reference number.
Founded in 1997, BPAY Pty Ltd is a wholly-owned subsidiary of Cardlink Services Limited. To use the payment service, you will need to make sure that your bank is one of the financial institutions which are set up to service those looking to use BPAY.
Due to BPAY's method and its adoption by many Australian banks, it presents itself as one of the safest ways for players in Australia to top up their balance at Fair Go Casino. However, because BPAY isn't a sign-up service – which means that they don't hold your details – you will need to have an online or mobile banking account with a bank that accepts transactions made through the service.
How does BPAY work?
Depositing with BPAY is a very easy and relatively speedy process that has not only been able to streamline the method of paying bills, but has also been adopted as a trusted payment method at Fair Go Casino.
If you wish to use BPAY for your next deposit, you must begin by going to the deposit screen and selecting the BPAY option. You then enter the amount that you wish to deposit and confirm. Once you have done this, you will be shown the BPAY Biller Code as well as your Customer Reference Number, both of which are needed to make the payment.
Once you have the code and the number, you will need to log into your bank account via its mobile banking app or website and select either the BPAY option or 'Pay Bill'. You then input the same amount that you wish to deposit, as you did initially into the casino deposit page, along with the BPAY Biller Code and the Customer Reference Number when prompted and then confirm the payment. You'll need to wait for Fair Go Casino to verify the payment, which usually takes up to 24 hours; after that, your funds will be in your gaming account.
If you're using a mobile banking app, you can make payments even quicker by scanning the BPAY QR code, should one be presented when you're given your Biller Code and Customer Reference Number.
The benefits of using BPAY
First and foremost, BPAY allows you to make deposits online securely. As the payment doesn't require you to input your details into the website or into its own system, you can trust that your bank details will remain safe.
There is also the added benefit of depositing with BPAY which is that it is a very straightforward method and BPAY walks you through the process. You are given a prompt of both of the codes that you need to complete the deposit once you have indicated how much you wish to deposit, and then you simply have to input those codes via your chosen banking method.
Is BPAY safe to use?
As BPAY payments are made within the secure environment of your online or mobile banking, the method is as secure as your bank is: which is very reliable. Depositing with BPAY is made even more secure than some other online payment methods by BPAY not receiving your account or personal details as a part of the payment process.