The Best Online Pokies
The rest of the world might call them slot machines or fruit machines, but we know them as pokies. And we know that the best online pokies are Fair Go pokies.
Fair Go Casino has every kind of online pokies you could possibly want to play. We have three-reel pokies, five-reel pokies, and six-reel pokies. We have pokies with Bonus Rounds, pokies with Free Spins, and pokies with Wild Symbols, Scatter Symbols, and Multipliers.
Fair Go has Progressive Jackpot Pokies like Aztec's Millions and Megasaur that can make you an instant millionaire with one lucky spin of the reels. And have no doubt: that is absolutely the most exciting thing that can happen in any online casino!
The great thing about pokies is that they are more than just an online gambling game. In fact, every online pokies game tells a story revolving around a particular theme, and Fair Go's vast assortment of pokies has themes to appeal to everybody's interests: ancient civilizations, wild animals, world travel, sports, outer space and under the sea, dinosaurs and magic and the wild west and the mysterious east. At Fair Go Casino pokies you can meet everyone from Achilles to the Three Stooges, and that covers a lot of ground.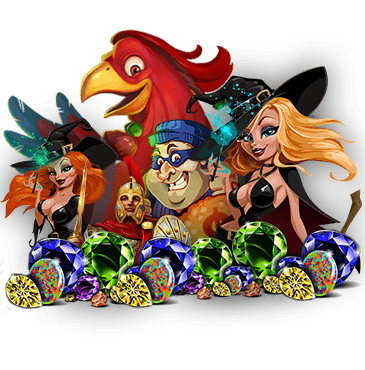 The Best Online Video Poker Games
Video Poker is, essentially, five-card draw. You get five cards, you keep the ones you like and you trade in the rest to try to build a winning poker hand. It's a great game, and Fair Go has great video poker variations including games with bonus payouts like Double Double Bonus Poker, games with wild cards like Deuces Wild, and solid no-frills video poker games like Jacks or Better too. And at Fair Go Casino you can play one hand at a time or you can play three, ten, fifty-two, or even one hundred hands of video poker all at once. That's a lot of online video poker excitement in one great Aussie online casino.
The Best Online Table Games
The best online table games means the best online card games, and Fair Go has all kinds of great online card games. Let's take a quick look at what's on the table.
Online Blackjack
Blackjack is the fascinating card game where you try to beat the dealer by getting closer to 21 without going over, and Fair Go has lots of great online blackjack games including established favorites like Classic Blackjack and European Blackjack as well as more unusual blackjack variations like Face-Up 21 and Pontoon and blackjack games with intriguing side bets like Perfect Pairs and Suit 'Em Up. If you are a gambler who likes to think, then blackjack at Fair Go is the game for you.
Online Poker
Poker is the gambler's gambling game. It has more variations, as well as more romance and folklore and legends, than any other card game in the world. Fair Go has Draw, Stud, and Hold'Em variations with progressive jackpots to make online poker even more exciting, plus exotic poker variations like Pai Gow Poker and Tri Card Poker. Now put on your poker face and get ready to deal.
Online Baccarat
It's sleek; it's elegant; it's sophisticated. It's easy to learn and fun to play. It's James Bond's favourite game, and it's easy to see why. Bet on the Banker, bet on the Player, or bet on a Tie: no matter how you play it, you're sure to feel the excitement of Fair Go online baccarat.
Online Vegas Three-Card Rummy
If you thought Rummy was a card game for old folks, you are in for a very pleasant surprise. Online Vegas Three-Card Rummy at Fair Go is a very exciting, very exhilarating online card game with lots of thrills and good payouts. Just give it a try and you'll see.
The Best Online Specialty Games
If it's not a pokie machine and it's not played with cards, that makes it a Specialty Game. Fair Go Specialty Games come in many shapes and many sizes and many flavors, but they all have one thing in common: they are all very very special.
Online Roulette Games
The roulette wheel is the quintessential symbol of casino gambling worldwide, and it's not hard to understand why. Place your bets and spin the wheel with double-zero American Roulette and single-zero European Roulette at Fair Go Online Casino.
Online Craps
The excitement is palpable when you roll the virtual dice at the virtual craps table. With many different bets to choose from, anything can happen when you roll those laughing bones!
Online Keno
Keno originated in China, but it has become a favourite Aussie casino game for Aussies who love their lucky numbers. Just pick your lucky numbers and when the winners appear you'll see just how lucky you really are.
Online Treasure Tree Scratch Cards
You'll be amazed at how much fun it can be to scratch a scratch card online, especially when that scratch card is a Treasure Tree Scratch Card with chances to win three prizes in every game. So go ahead and start scratching away!
Have Fun with Online Aussie Casino Games
We hope you have enjoyed this brief introduction to the wide range of fun online casino games at Fair Go. And with new games introduced every single month, you can be assured that the fun never stops. So come and join us today—you'll receive a very nice Fair Go Welcome Bonus and access to the very best Aussie casino games on the web. That's Fair Go!
Try Fair Go casino today with 15 free spins on Bubble Bubble 2
Use coupon code BUBBLE15 and enjoy 15 completely free spins to try out the best Australian online casino.
How to get your bonus:
Create your Fair Go account
Click on the "Coupon" button if you're using a mobile device or head to "Cashier" if you're using your computer
Redeem coupon code BUBBLE15
Play Bubble Bubble 2
Enjoy!
Please note that this coupon can only be used by new players and is only redeemable once. Casino terms apply.