Fair Go App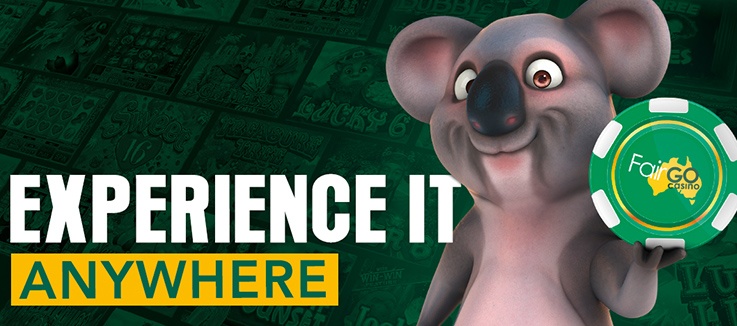 Fair Go App for Android Users
This app is the way you can enjoy playing all your favourite online casino games with just the click of a button. Oh, and did we mention that this app is 100% free Well now we have. It's just one of the ways we want to say thanks for choosing Fair Go Casino as your preferred provider of online casino games. Now, without further adieu we'd like to introduce to you our newest application for Androids. Read on to find out more about this app and discover how you can get in on your phone or tablet.
Your Eveready Casino Gaming Companion
This is the app that you've all be waiting for. Now you can access all of the latest and greatest online casino games plus the classics with just the touch of a button. We guarantee that it'll be the ultimate companion and a source of great pleasure for years to come. So what's incorporated in this awesome app? Well, there's no need to pull up your browser anymore. Once you've downloaded it, you can sit it smack bang right in the middle of your screen and with a single tap; bet, play and win big on all of our games. There's also a host of other benefits that come with it, including the following:
Check your balance in rapid time. Now you can keep tabs on exactly how much you're spending. Faster access to your account now means you have

more control over your money

Effortlessly scroll through and choose online casino games using the categories dropdown menu. This way you can filter through what's appealing and what's not and

find games that suit your personal taste

Add games to

your favourites list

then call upon them whenever you get the urge to play them. This is especially useful for those loyal to one game or another that they just love to bet on

Update your profile

with a snazzy new picture and completely personalise your playing experience
Top up your account by clicking on the $$$ symbols and get back into the heat of the action without compromising playing time.

Did we mention that this app is highly convenient?

There's never been a quicker way to ensure your balance is always in the green

Never miss out on a special promotion ever again!

With its easy to navigate interface, our app lets you check your messages whenever you desire to ensure that you keep up to date with all the newest promos that we've got going on

Withdraw your winnings and redeem coupon codes for both deposits and free bonuses at a moments notice.

There's also a host of other options on the footer menu that you can choose from. This feature is huge for us and we hope that it contributes towards a seamless playing experience for all of our loyal members
Now you can

filter out games based on the volatility

with higher volatility games paying out more but in smaller increments, and lower volatility games paying out less but in BIG amounts
Customers can also

hide some of the categories that don't suit your playing style

and keep your interface tailored to the games that you prefer

Get in touch with Fair Go Casino customer support

and let us know if you have any questions or complaints… or if you just want to tell us we're doing a good job
A Personalised Playing Experiencet
The ultimate goal of our app is to deliver a personalised playing experience. At Fair Go Casino, we're all about looking after our members. This was the spark that gave rise to our motivation for developing an app just for you. Of course, simply taking our site and transposing that into the application format just wasn't enough. We wanted to take it one step further to ensure that our players could feel the love!
The result is that you can now look forward to pulling up the Fair Go Casino app knowing that all of the content, games and information reflect your own unique playing style.
Easy To Use For Your Enjoyment
Have you ever used an application or even a website for that matter and been utterly disappointed by its performance and lack of usability? It's a pain in the backside felt around the world. Can't we in this day and age create an app that's easy to use and fun? Well yes, apparently we can.
Our application has been designed to ensure it doesn't indulge in unnecessary features. In fact, we've streamlined its interface so that all you're left with is the bare essentials. With the Fair Go Casino app, you're able to find and play your favourite games, deposit funds and collect your winnings faster than an uphill bushfire – that's to say pretty bloody quickly! Don't let a few dodgy online casino sites dull your faith in the gaming world. Download the app to your Android device today and enjoy playing new games and old classics at your leisure.
Keep Tabs On Ongoing Promotions
A missed promotion is a missed opportunity, but we understand that sometimes it's just not possible to catch them all. With everything going on in your life, checking our daily promotions and specials may not rank so highly.
With our app however, you'll be able to keep up to date with the latest bonuses and take advantage of promotions as they arrive. This not only gives you more of a chance of hitting the jackpot and accessing free spins and bonuses etc., but it also means you can efficiently check for promotions whenever you want, wherever you want, minimising the amount of time you spend browsing the web and maximising your playing time.
How Can You Install The App
This is an Android only app and available only to our valued customers. In order for you to install it you must first enable "Unknown sources" on your Android device. To do this, please follow the steps below:
Download the app here and click to install it
Once prompted that the installation is blocked click the Settings button
In the Security page that opens, check "Unknown Sources"
You'll be prompted again to confirm you're aware of the risks, click ok
After you confirmed, you'll need to tap the apk. file again to initiate the installation, this time you should see the "Install" screen
Once this has been completed all that's left is to pull it up on your device and enjoy playing all your favourite casino games
What Are You Waiting For
Seriously, what are you waiting for? Here's the invitation, now all you need to do is R.S.V.P. bloody oath mate! We've poured our heart and soul into this application and we sincerely hope that you get the most out of your gaming experience with us. Really it's the least we can do considering Fair Go Casino couldn't operate without you – our faithful, fun and friendly players. This free app is but a small gesture of our appreciation.
There's no better time to get involved then now. Download the app to your Android device today and relish in the huge selection of pokies and more waiting just for you. Remember to always keep up to date with the latest promotions – you never know when we've thrown a few free spins of fantastic bonuses your way!