10 Aussie ways to celebrate Valentine's Day
Expired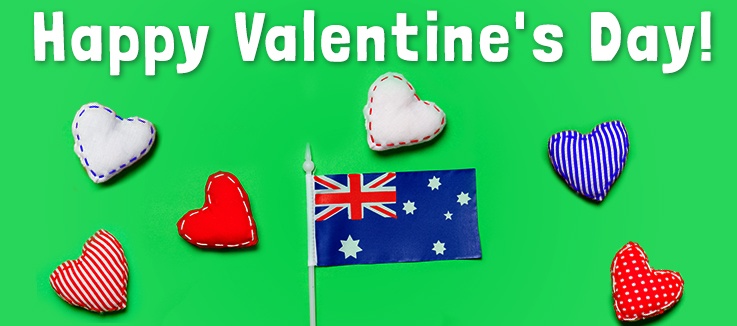 Christmas has long since passed, New Year's Eve is but a blur and Australia Day celebrations have simmered down, so what else is there to look forward to during Australian summer? Valentine's Day of course!
Everyone celebrates Valentine's Day differently. Some people go the traditional route and share a romantic candlelight dinner, while others prefer to snuggle up for a bit of Netflix and chill. Fair Go are firm believers that you should be able to spend Valentine's Day in Australia anyway you like.
To ensure you're not stuck for ideas when the 14th of February rolls around, we've put together a list of the most ocker ways to celebrate Valentine's Day in Australia. Give it a read and learn how you can treat your partner to a romantic 24 hours that they won't soon forget.
1. Swap chocolate and flowers for vegemite and wine
Gifting your partner chocolate and flowers for Valentine's Day is a nice gesture, but hasn't it already been done to the death? If you really want to spoil your man or woman, add some Australian flavour to your gift giving and wrap up a jar of vegemite then place a bow on a bottle of Margaret River red.
We admit these types of gift won't be for everyone, but that's ok. The real genius of this idea is that you don't even have to buy an expensive bottle of wine, since just about anything will look luxurious next to a jar of plain old vegemite.
2. Organise a romantic picnic on the beach
A picnic in the park is another great idea for Valentine's Day in Australia. You can enjoy the warm weather, take in the natural beauty of this great country and find somewhere secluded to while away the day.
If you really want to level up your romance though, we recommend taking your private park side picnic to the beach instead. Think about it; you can take a long stroll on the sand, have a dip in the cooling water and maybe even score a wave or two together (more on that later). We're almost at the end of summer come Valentine's Day anyway, so you might as well milk that awesome beach weather while you can.
3. Donate your Valentine's Day gift money to a bushfire charity
Bushfires have devastated southeastern Australia, with New South Wales and Victoria hit particularly hard. Most of the people affected by this tragedy probably won't even realise that Valentine's Day has rolled around.
You can't help everyone during a situation like this, but you can help someone and that's a good place to start. So, for Valentine's Day in Australia this year, Fair Go recommends that you forgo the expensive dinner or movie and instead donate to a bushfire charity. Remember, even a small amount could bring a smile to victim's face or give a family hope in their time of need.
4. Go for a couple's surf session
The sun on your skin, the salt in your hair and the thrill of taking off on a wave is enough to inspire la passion in any relationship. Sharing experiences together as a couple is also one of the best ways to bring couples closer together.
So, why not grab a couple of boards and hit the waves with your partner on Valentine's Day in Australia? You can both enjoy doing something as a couple and get some exercise at the same time. Then, when all is said and done and your session has ended, grab a cold beer or a glass of wine and chill on the beach. Better yet, combine your couple's surf session with a romantic picnic and watch the adoration roll in.
5. Play one of Fair Go's Valentine's Day pokies with your partner
Here's a great idea; why not head over to Fair Go casino and play one of our many Valentine's Day pokies? We have so many options to choose from to get you in the mood for romance, such as Purrfect Pets, Enchanted Garden II and Aladdin's Wishes to name a few.
You could even offer to load your partner's account if they're a member. Who knows? This kind gesture might lead to a massive jackpot payout. Then you can keep those dreamy Valentine's Day in Australia vibes going for the rest of your life.
6. Shower your significant other in Tim Tams
No true-blooded Australian can say no to a packet of Tim Tams. One bite can make even the toughest bloke melt and render just about any woman weak at the knees.
Their deliciousness can't be overstated and because of this they're the perfect gift for that special someone in your life. But don't just do things the old-fashioned way, bust out the big guns and make an impression this Valentine's Day by showering your partner in multiple packets of Tim Tams.
Grab the dark chocolate, white chocolate, caramel, dark chocolate mint and honeycomb varieties and wrap them up as one tantalising gift. Avoid the choc orange though unless you're planning a breakup in the near future. If we wanted a piece of fruit, we would have just eaten a banana.
7. Catch the start of the Mardi Gras in Sydney
The Sydney Mardi Gras is attended by literally hundreds of thousands of people from within Australia and overseas. It's one of the largest festivals of this type in the world. It's also the largest Pride event in Oceania.
Underneath it all though, Mardi Gras is just one big awesome party where punters can partake in a variety of events. If you and your partner are fans of positive vibes, high fives and celebrations that go all night long, catch the start of the Mardi Gras in Sydney for Valentine's Day in Australia. It's practically a guaranteed good time.
8. Spoil your partner with a bacon and egg roll in bed
Is there a food more capable of sending a lover's heart into a flutter than the humble bacon and egg roll? Well, yes, most definitely. But a beautifully prepared bacon and egg roll delivered straight to your partner while they're still in bed will still score you brownie points.
We're not just talking about a basic bacon and egg roll though. If you want to create a masterpiece that'll go down as the best B & E roll your household has ever seen, opt for brioche buns, premium bacon, farm-raised eggs and a slice of Tasmanian cheese.
Don't worry if you can't cook either. The failsafe here is that they'll have no choice but to love it when they see just how much time and money you invested in making it.
9. Wake up early and watch the sunrise
If a bacon and egg roll in bed doesn't float your boat, consider waking up early, walking to your nearest viewpoint or beach and watching the sunrise with your partner. Sharing such a glorious moment with your significant other will set the tone for the remainder of Valentine's Day in Australia.
By getting out of bed while the rest of the world sleeps in, you can enjoy spending time together with very little other people to spoil the experience. You'll also feel like the only two people in the world, privy to something so spectacular it never loses its beauty. If that doesn't sound like a great way to start the day, we don't know what does.
10. Avoid a gift-giving disaster and opt for a voucher instead
Simplify your Valentine's Day in Australia by treating your partner to a voucher instead of a gift. Sure, it's not as personal, but on the plus side you give your loved one the ultimate gift, the gift of freedom of choice.
With this voucher you eliminate the risk that you'll get them something they won't like. The trick here is getting the voucher from a store that they love. Word of advice here, a Dan Murphy's gift card might not cut it. Maybe try a Super Cheap Auto, NRL or Rebel Sports voucher if you're buying for the man in your life, or a Body Shop, David Jones or Supre voucher for the woman you love the most.
Celebrate Valentine's Day in Australia with Fair Go – play your favourite online pokies today!