Casino love affair: 4 gambling books for Valentine's Day
Expired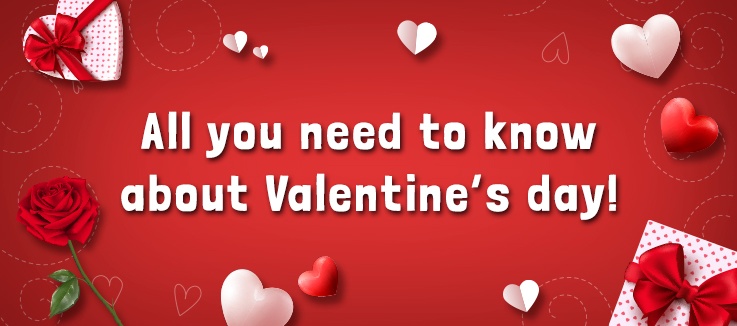 February has arrived (already?) and Valentine's Day is here.
That means it's perfectly acceptable to show some casino love or spoil your significant other with roses, a box of chocolates or a romantic dinner. If you really want to ramp up your affection though, how about getting them a gambling book for Valentine's Day?

Now hear us out, because that may seem a little bit lame. But look at it like this. A gambling book like Casino: Love and Honor in Las Vegas or Playing the Odds might inspire your love interest to play at our casino. This could then in turn lead to a jackpot win that will surely put love hearts in their eyes.
Of course you could also spread the Fair Go casino love and check out our most popular Valentine's Day pokies or redeem any one of our current bonus codes on Valentine's Day… the choice is yours. All we really want is to wish you all the best for this special date by recommending three of our favourite gambling books that involve romance in one way or another.
Read on if you're looking for a Valentine's Day read that will motivate you to win on your favourite Fair Go casino titles. From the now-famous Casino: Love and Honor in Las Vegas by Nicholas Pileggi to Playing the Odds by Nora Roberts and the dry but fascinating novel The Romance of Gambling by Jessica Richard, these three books will make your heart race with excitement. But first… a bit of background about Valentine's Day.
What is Valentine's Day?
Many people grow up celebrating this beautiful date, but what is Valentine's Day? Also known as Saint Valentine's Day or the Feast of Saint Valentine, this festival is held on the 14th of February every year.
It is a celebration of love, friendship and admiration amongst people from around the world. Some send romantic Valentine's Day cards, others redeem casino promotions on Valentine's Day. Either way it's a special time for people to express their love for one another and spread Fair Go casino love.
When did it begin?
Before we can discuss how Valentine's Day began, it's important to talk about the catholic priest that gave birth to this international day of romance.
Called Saint Valentine, he lived in Rome during a time when a law existed that prevented roman soldiers from being married. This law was due to the belief that roman soldiers should be completely devoted to their duty, something Saint Valentine did not believe in. Instead he insisted on marrying soldiers in secret, which gave rise to his reputation as a man of love.
Unfortunately the authorities found out about Saint Valentine's secret ceremonies and he was imprisoned. For sure they could have done with some casino love from Fair Go Casino. He was then sentenced to execution, but not before curing the blindness of the jailor's daughter in one final act of love. The date of his execution? You guessed it – February 14th.
Which countries celebrate Valentine's Day?
Pretty much every country around the world celebrates Valentine's Day. A better question would be which countries don't celebrate Valentine's Day. These are usually countries that aren't overwhelmingly Catholic or countries with different cultural backgrounds.
Russia for instance celebrates Woman's Day on March 8th in the same way we would celebrate Valentine's Day. Other countries that don't celebrate Valentine's Day are countries such as Malaysia, Indonesia, Saudi Arabia, India and Iran.
Pakistan has gone one step further and banned public celebrations of Valentine's Day, based on the grounds that it's not part of Muslim culture. As such, there are to be no Valentine's Day festivities in the capital of Islamabad.
What are some Valentine's Day traditions in Australia?
Australia celebrates Valentine's Day in the same way that many other nations around the world celebrate Valentine's Day.
If you had to compare us to other countries in the way we celebrate this date, you would compare us to the United States or Great Britain. The only difference here is that Valentine's Day in Australia normally falls on a day when we're spoiled by fantastic warm weather, while our northern hemisphere counterparts must endure colder temperatures (bummer).
Some Valentine's Day traditions in Australia include:
Baking a Valentine's Day cake
Enjoying a Valentine's Day casino promo
Serving Valentine's Day treats
Playing Valentine's Day party games
Going on a romantic Valentine's Day dinner
Gifting your partner roses or a box of chocolates
Redeeming a Valentine's Day bonus code
Our favourite gambling books for Valentine's Day
Casino: Love and Honor in Las Vegas – Nicholas Pileggi
Our number one favourite gambling book for Valentine's Day is Casino: Love and Honor in Las Vegas by crime reporter Nicholas Pileggi. Written in 1995, it offers an in-depth insight into the world of organised crime in Las Vegas and how the mafia controlled the casinos during the 1970s.
Casino: Love and Honor in Las Vegas might not be the first gift that comes to mind when you think of Valentine's Day, but the truth is that it's all about relationships. There's the bond between mobsters Lefty Rosenthal and Tony Spilotro, the loyalty amongst their crew (The Hole in the Wall Gang) and the love between Rosenthal and his wife Ginger.
All in all, Casino: Love and Honor in Las Vegas is one book that your husband or partner (in crime) is sure to appreciate. It might not contain any Fair Go Valentine's Day promos or Valentine's Day bonus codes, but it's one heck of a read. Of course you can also just watch the Martin Scorsese movie Casino, which was written by Nicholas Pileggi and inspired by the Casino: Love and Honor in Las Vegas book.
Playing the Odds – Nora Roberts
For a novel that offers a different change of pace to Casino: Love and Honor, you can't go past Playing the Odds by Nora Roberts. Set on a Caribbean cruise ship, Playing the Odds is all about a father secretly sending a man to meet his daughter in the hope that they'll get together and produce grandchildren for him.
The catch here is that the daughter, who goes by the name of Serena MacGregor, is working as a blackjack dealer and doing everything within her power to avoid getting married. Unfortunately for Fair Go casino members who love high-octane action, Playing the Odds doesn't have the same type of feel as Casino: Love and Honor.
What it does have though is plenty of scandalous romance and entertaining situations. In the end, you'll side with Serena and realise just how strong she was to choose the life path she did. Hey… it might even make you want to join a cruise ship and become a blackjack dealer. Although we recommend sitting on the Fair Go side of the table. That way the only odds you end up playing are odds that are in your favour.
The Romance of Gambling – Jessica Richard
The Romance of Gambling ­by Jessica Richard offers a change of pace from both Casino: Love and Honor and Playing the Odds, but for die hard online casino gambling fans… this book may just change your life.
Ok, ok. Perhaps that's a little bit dramatic. But what The Romance of Gambling will do is give you a great introduction to one of the more romantic periods of gambling, which is (somewhat surprisingly) 18th Century England.
Author Jessica Richard doesn't show any online casino love in this novel, but since the internet hadn't been invented yet… we'll give her a pass. In any case, The Romance of Gambling elaborates on how gambling transformed British society.
So do you have a casino love affair? Or do you just prefer to read books about casinos and online casinos? Here at Fair Go casino, we want to feel the casino love. Let us know how you plan on spending Valentine's Day in 2021 and don't forget to check out the many bonus offers and Valentine's Day coupon codes that we have on offer. More information can be found over at our 'Promotions' page.
Valentines Bonus:
Redeem code CASINOLOVE for 10 free spins on Sweet 16.
Bonus expires on 22nd of February. Max cashout is $180. T&C's apply.
Spread the casino love at Fair Go today