10 great Aussie ideas to celebrate the Christmas season
Expired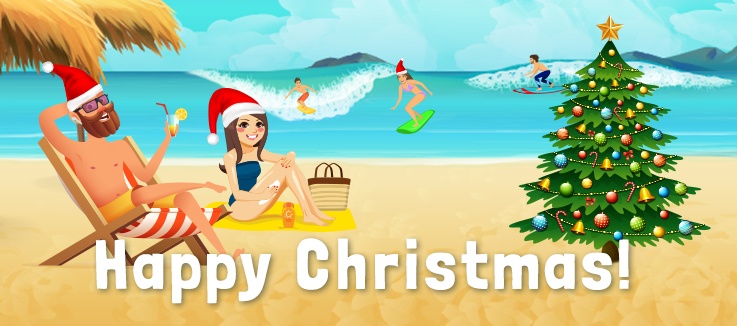 The silly season is well underway in Australia and Christmas is just around the corner.
Work parties are in full flight, the temperature is heating up and all over the nation, people are getting ready to unwind for the holidays.
If you want to relax over the Christmas period but still engage in a few festive activities, the team at Australia's most popular online casino has some brilliant ideas.
Read on to make this Christmas the best one since before you found out Santa wasn't real and enjoy celebrating December Down Under with Fair Go.
1. Hunker down for the annual Boxing Day test
By the time Boxing Day arrives the cricket season is well underway. This doesn't mean you'll be sick of it by then though. Quite the contrary. When Boxing Day does roll around, you'll be ready for the sporting spectacle that is the iconic Boxing Day Test.
Commencing on the 26th of December and running for five whole days in Melbourne, the Boxing Day Test involves the Australian cricket team playing against an opposing team who happens to be touring the country. Even if cricket isn't your game, the Boxing Day Test holds great appeal. If only for the fact that you can pig out on Christmas Day leftovers before the match begins then go horizontal on the couch and digest, with the hushed commentary acting as soothing background noise.
For cricket-mad fans, there's also plenty of Twenty-Twenty action and other test matches played during the months of December and January. Depending on how many Christmas leftovers there are, you may still be on that couch come the first of February.
2. Take advantage of those Boxing Day sales
If you want a break from cricket and aren't keen on sharing your local beach with countless tourists, there is an alternative. On Boxing Day throughout Australia, most major commercial goods retailers slash prices across their entire range.These sales run from the 27th of December for at least a week.
Swimwear is one of the most discounted items during the Boxing Day sales period. This means you can pick up super cheap cossies, bikinis and swimmers to get you through the rest of summer. What's more, shopping centres offer welcome respite from the heat thanks to their air conditioning. This means you can save money on your power bill AND on buying new clothes, which is a win-win situation in anyone's book.
3. Enjoy spending Christmas Day by the pool
No matter where you are in Australia there always seems to be a body of water involved in Christmas Day celebrations. Whether it's a blow-up pool, the beach, a nearby lake or a refreshing river stream, you can bet your bottom dollar that most Australian's will be at least chest deep in water surrounded by friends, family and a few empty bottles of alcohol.

December in Australia is bloody hot after all, and if you don't like the idea of sitting inside an airconditioned room on a sunny day, your only other option is to get wet. Just be prepared to say goodbye to all those inflatable toys you got for Christmas, because when the relos and their kids come around to visit, you can bet they'll pop, deflate and otherwise destroy most of them by the time you go back to work.
4. Rally the troops for the annual battle of the Christmas tree unboxing
Our friends in the Northern Hemisphere probably think they have it tough when it comes to erecting their Christmas tree. Yes, they must fell one from a forest, and yes, getting into their homes or apartments can't be easy. But after one Christmas in Australia with a genuine tree-in-a-box, we imagine they wouldn't complain anymore.
Part of the reason why unboxing an Australian Christmas tree is such as hassle is that it's normally hastily folded and packed away the Christmas prior. Stuffed into a carton that surely must have shrunk since it was last used, the tree is bent, contorted and twisted till it fits. Oftentimes this is done while it's still wrapped in tattered strands of tinsel and weighed down by broken ornaments hanging from the branches.
Taking it out to assemble the following Christmas therefore becomes more of a battle than a simple process of following instructions. You'll be scratched by those bristly fake pine leaves, blinded by errant flecks of wayward glitter and frustrated by the fact that everyone has their own take on how the tree should look once completed
The only plus side to having a fake Christmas tree is that you don't have to water it, nor will you need to replace it for a new one every year. If you're just like the vast majority of Australians, you've probably owned your Christmas tree for as long as you can remember… or at least as long as you care to remember.
5. Tuck into some prawns come Christmas Day
The saying "throw another shrimp on the barbie" is used more by foreigners than it is by Australians. You can thank Dumb and Dumber, the 1994 comedy starring Jim Carey, for that little soundbite.
In reality, we like to grab a fresh kilo of cooked prawns and bypass the BBQ all together. The essence of this meal being its simplicity. No preparation is required, which means minimal effort. You simply rip open the newspaper, tip the prawns into a serving bowl and serve them with some salt, lemon and tartare sauce on the side. The only things you need to clean up after that are the heads, shells and tails from the plates, then throw the wrapping paper in the bin.
The fact that eating prawns on Christmas day is such a relaxed affair is what makes it so quintessentially Australian, but the quality of the prawns doesn't hurt their popularity either. We're lucky to have access to some of the freshest seafood in the world. And many of us take advantage of this come the 25th of December, with current estimates stating that of the 15,000 tonnes of prawns produced and consumed in Australia, 6 million kilograms are sold during the holiday season.
We're sure that even Kev, who adheres to a strict gum leaf diet, dips his hand into the prawn bowl over Christmas for a sample of these delicious subaquatic pillars of Australian Xmas cuisine.
6. Confess your love for your co-worker at a work Christmas party
Whether this is a great Aussie idea to celebrate Christmas depends on how hard you're willing to send it, but nobody can deny that one of the best things about the holiday season are the abundance of parties. The most prevalent of these being the annual work party.
                         
Employees from both big and small businesses all over the nation are treated to an open bar courtesy of their bosses. The alcohol flows and so does the conversation, and you can enjoy the end of the work year, reflect on what you've achieved and otherwise mingle with your co-workers in a less stuffy environment.
                         
Beyond just being an excuse to get wasted on your boss's dollar, work Christmas parties can also be the perfect place to confess your love for your office, jobsite, shop or store sweetheart. In many cases, lowered inhibitions allow you to finally pluck up the courage and capitalise on that workplace cat and mouse flirting.
This is your time to shine, but do it quickly before you become too inebriated, otherwise whatever you say won't hold the same weight. Pull it off and you'll feel like a legend, stuff it up and you can look forward to the fact that New Years is just around the corner, which means it may be the last stupid thing you do all year.
7. One-up your neighbour's fairy light display
For decades now, Australians have taken great pride in covering their homes with brilliant, bizarre and in some cases incredibly bright fairy lights. Many people do this as a kind of ritual, untangling the lights from last year, replacing broken bulbs and erecting them as they always have. Others simply flick a switch on in the garage to illuminate the lights that've been hanging from the roof since last December.
To really get into the spirit of Christmas, we suggest checking out some of the more colourful fairy light displays in your suburb or town. Better yet, forgo the car and hoof it. This allows you to savour the feel of the warm summer air on your skin and enjoy the sights at a leisurely pace. It's also an opportunity to scope out your neighbours' displays and figure out how you can one-up them with your own fairy light exhibition.
As a member of Australia's most popular casino, we're going to assume you're somewhat competitive anyway. So you might as well use your stroll as a way to gather intelligence. With any luck you'll finish with a good idea as to what needs to be done in order to claim the title as the most beautifully decorated house in your area, complete with strobe lights, a life-sized nativity scene in the front yard and an animated Santa on the roof (plus all eight reindeers of course).
8. Catch the start of the Sydney to Hobart yacht race
For over 65 years, yachts have been racing from Sydney to Hobart to celebrate the last week of the holiday season in Australia. Crews from all over the world compete in this historic race, with many teams made up of celebrities, sports stars and other noteworthy individuals.
The starting line is at Neilson Park, while the finishing line is a certain point on the Hobart Derwent River. If you have some time, it's worth finding a place to watch the yachts either depart or close out the race at one of these two places. Although the race is traditionally shown on TV as well, which means you could also just flick between that and the cricket until you fall asleep.
9. Make a commitment to stay off the roads
While bundling in the car for a trip to the beach or heading up the coast to see relos might sound appealing, why not take a proper break this Christmas and stay off the roads?
By doing so you'll get to put your feet up and actually enjoy going nowhere on the holidays. The roads this time of year are always busier anyhow, so at the very least you'll save some time waiting around in traffic jams. Another reason for keeping the car in the shed though is that Christmas sees more accidents between vehicles than any other time of the year. And although most of these aren't fatal, even the most basic fender bender can have cars banked up for kilometres.
Not driving for a few days also means you won't run the risk of being over the limit. The last thing we want is for you to get pinged for drink driving while everyone is celebrating the festive season. You'll also lower your carbon footprint during this time period, which means Kev the Koala won't have to suck in your exhaust fumes whenever he crosses the road.
10. Hit the beach and soak up the sun
There are two types of heat in December in Australia: hot and bloody hot. For this reason, hundreds upon thousands of Australians descend upon their local beaches during the Christmas holidays.
You're lucky to find 30 square centimetres of sand that isn't already occupied on city beaches, while previously empty stretches of beach in the regional areas of Australia fill with out of towners and locals alike. Once on the sand, the smell of snags cooking on a portable BBQ and the instantly recognisable "tssshhh" sound of beer tabs being opened can be heard. The best way to describe the atmosphere on one of these beaches is festive, and it's essentially a giant outdoor party with copious amounts of 50+ sunscreen.
If you do go to a beach north of Sydney on Christmas Day, expect to run into our mascot Kev the Koala. He's easy to spot, given that he's the only koala who wears shorts, shades and carries a surfboard. Don't be shy if you see him strutting his stuff in the shoreline or hanging ten in the surf. Hit him up for a bonus code or quiz him about upcoming promotions. He'll be more than happy to share some Christmas gifts.
Celebrate Christmas with Fair Go – visit Australia's most popular online casino today!