10 not to be missed Australian events in March
Expired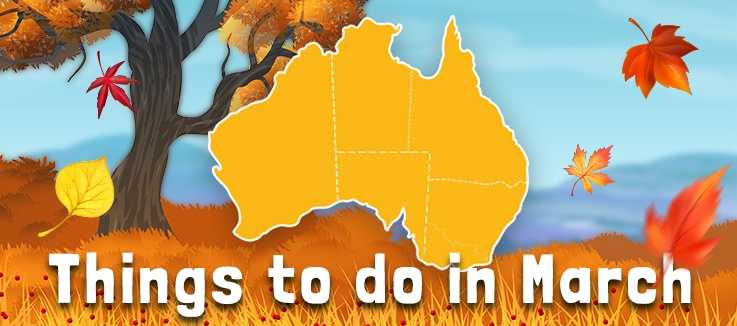 Autumn has officially arrived and with it comes a bevy of exciting and interesting events to be held all over the country. From revving engines at the Formula 1 to food and wine festivals plus surfing competitions, there's something for everyone to enjoy. If you'd like to get out and see all that's on offer during this time of year, check out the following Fair Go casino article that includes 10 not to be missed events in March.
1. Rolex Formula 1 Grand Prix, Melbourne
From 12th till the 15th of March, Melbourne will be transformed for the season opener of the Formula 1.
2020 marks the 25th year that this race is taking place in Melbourne, which means it's sure to be another cracking sporting event. Come and see the best of the best take to the track and experience first-hand what racing culture is like Down Under. It's exciting, high-octane action that is unrivalled in this part of the world, except unless of course you play with Australia's favourite online casino.
In addition to the Rolex Formula 1 Grand Prix, there will also be a fantastic range of live music and family-friendly exhibitions. From DJ sets by homegrown heroes, Peking Duk, to the famous Melbourne Walk. This is the place to be in March if you consider yourself a true blue revhead.
2. Fringe Festival, Adelaide
The Adelaide Fringe festival takes place over 31 days and nights during March every year. It is Australia's biggest arts festival and the second biggest fringe festival in the entire world.
Many people who have attended the Fringe Festival in the past will have no problem telling you just how incredible it is. The atmosphere is electric, magical and mythical all at the same time, with crowds that are buzzing with creativity and innovation.
There are performances both big and small, artists from all over the world and festival events tucked into every nook and cranny in Adelaide. In short, the entire city becomes a real-life exhibition for the arts, complete with incredible bodies of work, original ideas and heaps of fun for the whole family. One might even say it's just as fun as playing with Australia's favourite online casino.
3. Enlighten Festival, Canberra
Canberra comes alive with bright lights, culture and creativity during the Enlighten Festival that runs from 28th February till the 15th March.
Presented by Singapore Airlines and now in its 10th year, Enlighten Festival is regarded as one of the best autumn events in our nation's capital. Revellers will get to enjoy a number of free and ticketed events plus witness stunning light projections on buildings such as Parliament House, the National Library of Australia and Questacon.
After all that walking around the city, you can then rest a while and embrace your inner foodie at the Canberra Night Noodle Markets. Just make sure you don't slip into a food coma too early, otherwise you'll risk missing out on the fireworks spectacular that's held on the city's birthday, Canberra Day (9th March).
4. Melbourne Food and Wine Festival, Melbourne
The Melbourne Food and Wine Festival takes place over 10 days and includes a smorgasbord of lunches, wine tasting events and an array of avant-garde culinary creations.
Punters can enjoy a number of stage parties, talks and demonstrations at the festival and check out some of the most scintillating cooking talent from the around the world. Expect to see esteemed individuals such as Fuchsia Dunlop, Ignacio Mattos and Helen Goh alongside locals like Josh Niland, Shannon Martinez and Ben Shewry to name a few.
This is the preeminent event for those of you who are dedicated to good food and wine. If you miss out though there's no need to get your apron in a knot. There will also be another festival held in spring of this year that showcases the state of Victoria's almost unbelievable amount of great food and drink.
5. Surfest, Newcastle
Surfest in Newcastle is Australia's biggest surfing festival and one of the largest of its kind in the world. While surfers hit the water as early as 26th of January to compete, the conclusion is to be held at Merewether Beach on the 8th of March.
Over the final few days, both male and female surfers will duke it out amongst the waves for a shot at winning this prestigious World Surf League sanctioned event. In addition to jumping up a few ranks on the international professional surfing circuit, the winners will also have their names immortalised in the annals of Surfest history.
There are 11 different surfing events held in total with more than 800 competitors and countless spectators expected to turn up. All those who attend will be treated to world class surfing action, in addition to the Sacred Tree Markets at Stockton and the Drop Music Festival at King Edward Park, which both offer free entry.
6. Sculpture by the Sea, Perth
Free to the public and brimming with more than 70 unique sand sculptures, Sculpture by the Sea is arguably one of Perth's most popular autumn events and a Fair Go Casino favourite.
Running from the 6th till the 23rd of March, the 16th Annual Sculpture by the Sea is tipped to attract artists from across Australia and around the world. All exhibitions are staged on the stunning Cottesloe Beach, extending from the sand to the sea wall and all over the surrounding grassed areas.
The result is a beautiful sculpture park that can be viewed up close by locals and visitors alike. A fantastic family-friendly event for everyone, Sculpture by the Sea will inspire you to indulge your creative side with spectacular creations set against a charming seaside setting.
7. Balloon Spectacular, Canberra
If the sight of 25 hot air balloons sailing across the skies of Canberra gets you excited, then you're going to love the Balloon Spectacular.
Taking place from the 7th till the 15th of March as part of Enlighten Festival, the balloons will take off from the lawns of Old Parliament House. There will be hot drinks and breakfast served as the balloons take to the sky. It's also possible to jump on board one of the balloons if you're the holder of a ticket. Otherwise, the entire event is free to watch to the public.
As long as the weather cooperates, these balloons will set sail at 6:15 am sharp with details published on the Enlighten Festival website.
8. Tasting Australia, Adelaide
Foodies unite… Tasting Australia is almost here. Beginning on the 27th of March and running till the 5th of April, Tasting Australia is where the lovers of food, beer, wine and spirits congregate for a taste of authentic Aussie flavours.
There will be unprecedented opportunities to eat and drink over these 10 glorious days, with plenty of additional events, exhibitions and adventures to keep you happy when you can't possibly stomach another bite. From long lunches to dinners, tours and masterclasses, there's literally something for everyone to experience.
As one of the country's longest running food and wine festivals, Tasting Australia attracts a number of high-profile chefs, winemakers, restaurateurs and producers. This means you'll get to see world-class chefs do their thing and witness local heroes showcase their skills. A recipe for success that will no doubt make you hungry for more. Just thinking about it is making our stomachs here at Australia's favourite online casino rumble with anticipation.
9. Melbourne International Comedy Festival, Melbourne
Get ready for side splitting laughter and a year's worth of chuckles condensed into three and a half weeks as the Melbourne International Comedy Festival kicks off on the 25th of March.
Widely considered to be one of the top comedy festivals around the world, all the action will take place at Federation Square amongst a hive of good vibes, great laughs and impressive gala events. Comedians from across the globe will take to the streets, pubs, theatres and clubs in an effort to put a smile on your dial.
More silly than serious, more lighthearted than heavy handed, the Melbourne International Comedy Festival is a rollicking good time for all who attend. Celebrate it in the capital of Victoria this March and share some great humour with friends, family and strangers alike.
10. WOMADelaide, Adelaide
WOMADelaide is an open-air festival set in Adelaide's iconic Botanic Park that runs from the 6th till the 9th of March. In attendance will be 500 artists from over 30 countries, all of whom will be here to present both small and large scale installation works and offer punters a chance to go on an artistic and cultural discovery.
From food and entertainment to music and exhibitions, WOMADelaide is four days of forums, street theatre, displays, stories and educational activities. The 2020 lineup includes Hiatus Kaiyote,Briggs,The Cat Empire and Laura Marling among others.
WOMADelaide is one of the most important festivals in Australia for our culture and the arts. And with so much talent and exceptional performances, it's definitely worth your time and money to travel to attend this significant event.
Get out and about in March and play the best pokies with Australia's favourite online casino.