10 of the best Australian winter dishes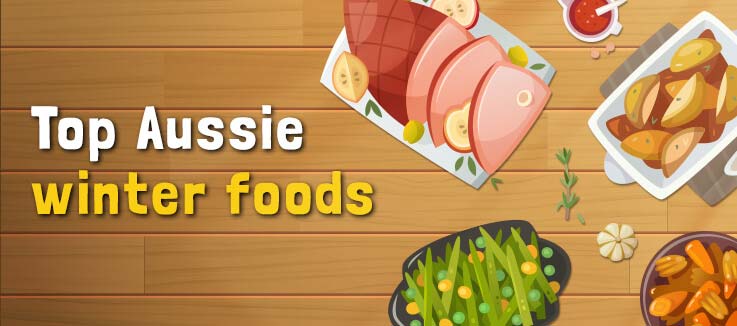 There's snow falling in the Australian Alps, the Rugby League is in full swing and our coastline is being buffeted by swell from all sides.
All of this points to winter in Oz, which is either wet and cold, dry and cold or humid and mild depending on where you live in this great big country. Either way, winter in Australia is one of the most underrated times of the year. Sure, there aren't as many sunny days on average and the water is a wee bit nippy, but look on the bright side. The drop in temperature means that we get to spend more time indoors perfecting some of our favourite Australian winter dishes.
Now, when we talk about the best Australian winter dishes, we're talking about dishes influenced by a wide range of cuisines from around the world. The reason for this is that Australia doesn't really have a fixed national cuisine. Instead, we borrow bits and pieces from our nearby neighbours and our friends from further afar. This has allowed us a fair bit of creative freedom when it comes to preparing winter dishes, which has led to some pretty interesting and creative meals.
British, European, Asian and Middle Eastern cooking styles can all be seen in some of our favourite winter dishes. Combine this with the fact that we also have access to fresh meat, poultry, vegetables and fruit, and you've got yourself some seriously mouth-watering food.
In this article, we introduce you to some of this season's most popular Australian winter warmers. From feel-good bowls filled with delicious greens to modern takes on much-loved classics. If you're not drooling over your phone or keyboard by the end of this blog, we haven't done our job. 
1. Roast pork belly with apple, soy and ginger
If you're in a hurry, then perhaps this isn't the dish for you. If you've got some time up your sleeves though, then roast pork belly with apple, soy and ginger is a guaranteed winner. All it takes is for you to roast the pork in the oven for a couple of hours. You'll then combine apple cider vinegar with apple juice and a few whole apples in order to balance out the richness of the pork belly. Inspired by a Filipino dish called pork adobo, the final result will be a sweet and vinegary yet slightly salty treat for everyone that's lucky enough to try it.
2. Chicken parmigiana
It may sound like an Italian dish but make no mistakes. When winter rolls around you're hankering for something familiar yet filling, famous yet never overhyped, look no further than the club classic known as chicken parmigiana. Surely it needs no introduction, but it's worth mentioning that this meal involves dripping homemade tomato sauce over a hot chicken schnitzel and topping it off with some melted cheese. Get it as is or add some ham or prosciutto for extra flavour and enjoy it alongside a beer or red wine.   
3. Crispy couscous with pumpkin, tomatoes and cinnamon
A winter dish doesn't have to include meat. This couscous dish for example stands up all by itself without beef, poultry or pork, thanks to the addition of pumpkin and a few warming spices. The real trick to pulling this dish off though is allowing the couscous to cook undisturbed in order to create a caramelised layer at the bottom of the pan. Throw in some cinnamon, chilli and star anise for depth then place a dollop of yoghurt on your plate for a final flourish. The result is a hearty vegetarian dish that's easy to make and hard to resist.
4. Pea and ham soup
There's something magic about the simplicity of this dish that makes it such a winter hit in Australia. Maybe it's the emerald colour and smooth texture of the soup. Perhaps it's the thick slice of salted ham or smoked sausage that's added to it. All we can say is that the smell of split peas simmering away and the promise of a fulfilling meal is a panacea for the cold weather blues. The fact that it can also be whipped up in no time at all also means that you can go from raw ingredients to the ideal Australian winter meal in flash.
5. Vegetable broth with parmesan dumplings and charred lemon salsa
You can make this Australian winter dish anytime during the year, but midwinter is best. That's because you'll need celeriac, which is normally available mid-June, in order to create the vegetable broth. Swede is also added, as are any leftover parmesan rinds you may have. The result is a subtle broth that's given some extra oomph by way of the dumplings. These take some skill to make properly, but the final product is well-worth the effort. The charred lemon salsa also adds a little kick.
6. Chunky steak pie
The chunky steak pie is about as Australian as Kev the Koala, Fair Go casino and Crocodile Dundee. It can be purchased in every bakery in Australia and while not commonly made by your average punter, it still tastes like home. Sure, the ingredients of these pies are also debated and they're not particularly fancy. But we challenge you to find another Australian winter food that can be so readily enjoyed for only a few dollars. Do yourself a favour when the mercury drops and the weather outside looks dreary and pick up a chunky steak pie – your mood will be all the better for it.
7. Spag bol
Spag bol, otherwise known as spaghetti Bolognese, is another import from overseas that Australian's have made their own. It'll probably raise some eyebrows, given that it's considered to be a rather mundane dish. But if you're looking to sink your teeth into a truly adored Australian winter meal, you can do a lot worse than spag bol. Use delicious Australian beef, some locally sourced mushrooms and add some tang by slipping in a heavy dollop of homemade tomato sauce.
8. Hamburger with the lot (including beetroot)
If you're looking for a classic Australian winter dish that will plug that hole in your stomach lickity split, a hamburger with the lot (including beetroot) is a great option. The sesame seed bun, the crisp iceberg lettuce, melted cheese, all-Aussie beef, onion and beetroot are a match made in heaven. Just remember that without the beetroot, it's simply not a hamburger with the lot. Get one at your local takeaway joint or at your nearest pub and enjoy one of Australia's most honest winter meals.
9. Cottage pie with plenty of veggies
Cottage pie is a family favourite for many reasons. One of its primary claims to fame though is the fact that it can be made to suit an expansive variety of different tastes. Add meat if you're more carnivore than herbivore or swap the mince for veggies if you're a friend of the animals. Better yet, you can even make cottage pie a la Kev the Koala by sprinkling in a few eucalyptus leaves before putting in the oven. The truth is that no matter which way you make this flavourful pastry and potato dish, everyone will be asking for seconds. Try this easy to make Australian winter dish today.
10. Chiko roll
If you thought meat pies were an ocker food, then perhaps you've forgotten about the humble Chiko roll. Invented by culinary savant Frank McEncroe in 1951, the Chiko roll is an Aussie icon that was inspired by Chinese spring rolls. Filled with cabbage, barley, carrot, spices, onion and beans, then wrapped in a thick tube of pastry and deep fried, the Chiko rolls are a grab and go favourite that can be found in just about every takeaway shop around Oz. Don't let the fact that some of its ingredients are unidentifiable put you off. If you're battling the flu, have just returned from a surf in freezing water or are just plain cold, a warm Chiko roll is good for what ails you.
Blog Bonus!
Redeem code: BESTFOODS for 5 free spins on Magic Mushroom
Coupon code expires on,Thursday 20th August. General terms apply.
Visit Fair Go Casino now to play the most you beut' new online casino titles available.