12 ways to celebrate St. Patrick's Day
Expired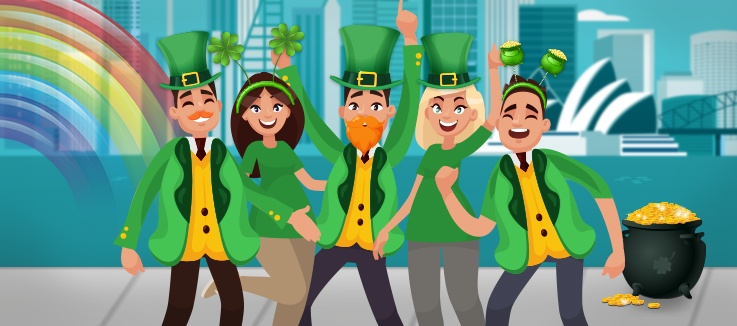 Saint Patrick's Day is a cultural and religious celebration that's held every year on the 17th March. The day is marked by a wide range of parties and events that take place around the world, each of which features a distinctly Irish flavour.
Australia is home to a large Irish diaspora and many Australians can trace their lineage back to the Emerald Isle. This means that you can often find traditional St. Patrick's Day festivities taking place throughout our capital cities.

If you'd like to join in on the St. Patrick's Day revelry but are somewhat stuck for ideas, here are 12 ways to celebrate St. Patrick's Day in 2020.
1. Dress up in something green
The practice of dressing up in green for St. Patrick's Day is actually an American tradition that started back in the early 18th century. Partygoers celebrating the 17th March thought wearing green made you invisible to leprechauns, who were rumoured to pinch anyone that they could see.
While we believe leprechauns only exist in folklore and a few choice pokies, dressing up in green is still considered to be a fantastic way to demonstrate your St. Patrick's Day pride. So throw on that green shirt, grab a green pair of pants and hit the streets with your friends decked out in the colour of the Emerald Isle. This is surely the most colourful way to celebrate St. Patrick's Day
2. Brush up on your St. Patrick's Day history
Did you know that blue was the first colour associated with St. Patrick's Day? Or that the Chicago river is dyed green for the 17th March? What about the fact that millions of people sit down to enjoy a plate of corned beef and cabbage as a way to celebrate St. Patrick's Day?
These are just a few interesting titbits that prove there's more to this cultural and religious day than just getting drunk with your friends. Need we even mention that there are plenty of others if you continue reading this list.
3. Sip on a cup of Irish breakfast tea in the morning
A strong cup of Irish breakfast tea first thing in the morning will set the tone for the rest of your day. A major part of tea culture in Ireland, Irish breakfast tea (also referred to as simply "breakfast tea") tastes stronger and has a higher caffeine content than green, oolong, or white teas. For this reason, it's traditionally consumed with milk in Ireland.
You won't be jolted awake, which is generally the case with a cup of coffee, nor will you have to endure the dreaded "early morning beer" that many serious St. Patrick's Day revellers partake in. On the other hand, you will feel pleasantly hydrated.
4. Take part in a St. Patrick's Day event
Come the 17th of March there will be plenty of St. Patrick's Day events taking place all over Australia. One of the most popular ways to celebrate St. Patrick's Day and the biggest gatherings in Oz, however, is in The Rocks district of Sydney.
A small parade, activities for kids, music and performances plus plenty more action ensures there's something to enjoy for all ages. The fact you get to commemorate this special day in one of Sydney's most historic suburbs makes it all the more special.
5. Check out some St. Patrick's Day celebrations from around the world
St. Patrick's Day is celebrated all over the world. New York city in the USA will turn the Empire State Building a bold shade of green, Aotea Square in Auckland, New Zealand, will play host to traditional Irish music and dancing, Tokyo city in Japan are set to run their "I Love Ireland" festival over two separate days and a 10-block area of the Retiro district in Beunos Aires, Argentina, will transform into a giant street party featuring lots of craic.
6. Go on an Irish movie binge
Cast a wide net when it comes to your definition of an "Irish" movie and you won't be disappointed. From the famous My Left Foot starring Daniel Day-Lewis to an IRA thriller by the name of The Crying Game and even the cult classic, Boondock Saints. There are so many incredible Irish movies out there that you'll have no problem filling the hours in your day with some seriously good viewing material.
7. Pour yourself a glass of dark and frothy Guinness
While many people may have a natural aversion to black beer, rest assured this dark Irish stout is one of the most delicious drops around. Sweet yet bitter with a full frothy body, Guinness was established in Dublin back in 1759. It has since become one of the most successful beer brands worldwide, available in over 120 countries.
Needless to say, Guinness is regarded as the unofficial beverage of St. Patrick's Day and is widely consumed in Irish pubs and bars all over the world. So instead of drinking a VB, Tooheys or Corona on the 17th of March, ask the barkeep for a pint of his or her finest Guinness instead. It represents Emerald Isle patriotism in a mug and is one of the best ways to celebrate St. Patrick's Day.
8. Familiarise yourself with Irish poetry
Ireland has a formidable tradition of storytelling that's been passed down from generation to generation. This telling and retelling of myths and fables has spawned some of the world's most acclaimed written-word artists. Of particular note are the countless poets who call the Emerald Isle home.
Check out William Butler Yeats and Daniel Day-Lewis' famous father Cecil Day Lewis, two men synonymous with Irish literature, in addition to Oscar Wilde's mother, Jane Wilde, and Eavan Boland, a woman who is regarded as one of Ireland's great poets.
9. Try an Irish coffee
Irish coffee is more of a cocktail than an actual morning time beverage, but for those of you willing to brave the Irish whiskey and hit of sugar and cream first thing in the morning, you'll no doubt have a smile on your face when you leave the house.
Said to have originated in county Donegal, Irish coffee was also used in World War II to keep allied soldiers awake through the night when they were under attack from German soldiers. It was then brought back to Ireland and soon made its way around the world. Now you can find an Irish coffee on the menu of many licenced cafes and bars.
Do you really want to start your day by mixing whiskey and coffee, though?
10. Learn how to properly pronounce traditional Irish names
Do you know how to pronounce the name Bairrfhionn, Feidhlim or Naomhán? Don't worry, neither did we before we took the time to learn them. Irish Gaelic names are notoriously difficult to pronounce, but with a little practice you'll be able to tell your Álmhaths from your Aithches in no time at all. It will all pay off the day you meet someone with an Irish name and surprise them by pronouncing their tongue twister of a title correctly. 
11. Play our leprechaun-themed pokie, "Lucky 6"
What better way to celebrate St. Patrick's Day than by winning a motza on our latest leprechaun-themed pokie, Lucky 6. Flush with Emerald Isle charm and featuring three fantastic bonus rounds, Lucky 6 is your entry ticket to the most profitable St. Patrick's Day party of them all. Get ready to enjoy prize multipliers, mega grouped wilds and at top award 50,000 times the bet per line when you play it come the 17th March.
12. Listen to some Irish music
The Dubliners, Sinead O'Conner, The Pogues and of course U2. All of these artists deserve a solid rinse come St. Patrick's Day. Turn the stereo way up and get into the spirit of this culturally significant date. Before you leave the house for your nearest St. Patrick's Day event though, just remember to don your finest green threads and throw back a couple of Irish coffees.
Discover the best ways to celebrate St. Patrick's Day with Fair Go casino today .