3 new winner stories from Fair Go players
Expired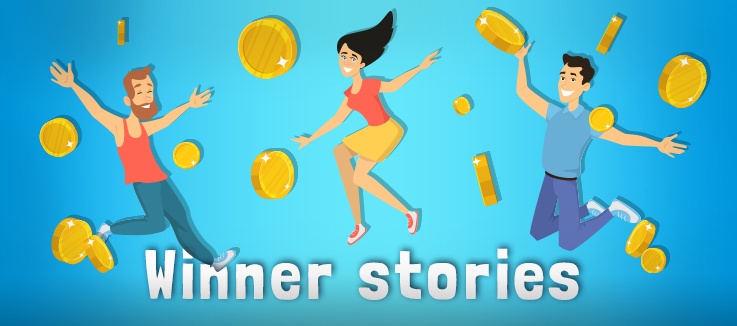 What are some things that bring a smile to your dial?
Seeing your children happy? Watching your friends succeed in life? Observing how your parents are still in love after decades together? Or is it hearing about the amounts that other Fair Go casino members have won that makes you grin?
From small sums that go straight into the vacation kitty to figures that completely transform one lucky players life, we never get sick of sharing Fair Go winner stories with you. After all, watching Fair Go casino members be rewarded for their loyalty makes us feel like we've done our job.
We don't run captivating promotions, launch the biggest and best new games or hand out special bonuses just to go through the motions. Everything is catered towards ensuring you, our valued Fair Go casino member, gets the most out of your playing experience.
If you're wondering what type of money other Fair Go casino players have won in the past few weeks, where they come from and how they won, this article will no doubt pump you up to play our online pokies today. So read on and check out 3 new Fair Go winner stories from players just like you below.
Matthew 27 from Melbourne - Won 75k playing Magic Mushroom the day of its release
Magic Mushroom is one of our newest online pokies. The fact that Matthew is somewhat of a funghi *wink wink* means that this was practically a match made in pokie heaven.

With 3-reels, 27-all ways pay paylines and the chance to score Big, Mega or Huge wins, Magic Mushroom sprung from the dark and made everyone take notice when it was released. Matthew, who recently earned a computer engineering degree in his hometown of Melbourne, was one of the first Fair Go casino members to get his hands dirty on this title.
The top award is 540-times the bet per line and respin feature is triggered when 3 wilds stack up on the middle reel. Needless to say, Matthew linked some mushroom wild symbols in a dazzling display of pokie playing and ended up unearthing a total of 75k in prize money during his stint.
This figure goes down as one of the biggest wins anyone has ever pocketed on Magic Mushroom. The feat is made all the more impressive by the fact that he won all of this cash on the very first day that Magic Mushroom was released.
It just goes to show that just because a game is new to our roster, doesn't mean it won't pay out an amazing amount. Matthew has since used that money to buy a house in the suburb of Brunswick where he now lives with his partner and their three cats. One of which he has decided to name Mushroom in honour of this magical new online pokie.
Michelle 32 from St Kilda – Won 52k playing Eternal Love on Valentine's Day
Valentine's Day is traditionally seen as a day for lovers of all ages and from all walks of life to reiterate their commitment to each other.
                                                                                                                                                                          
Some people go for a romantic dinner, others take the beach for some fish and chips by the seaside. A few dedicated Fair Go casino members, however, take advantage of the many Fair Go Valentine's Day offers and promotions that we run every year.
Michelle, who is 32 and from the inner-city beachside suburb of St Kilda, is one of our most faithful Fair Go members. Not only does she play online daily; she has won jackpots in the past on similar titles. Albeit jackpot amounts that were in the hundreds rather than the thousands.
When she picked up her phone on the way to work this Valentine's Day, little did she know that she'd be walking into the office 52k richer thanks to the 5-reel and 243-payline gothic vampire themed pokie, Eternal Love.
Michelle tells us she loves the Twilight series and was feeling particularly good about playing a title that was somewhat reminiscent of Stephanie Meyer's novels. After getting the life force meter up to x1000 and landing a winning combination that would put blood into the face of any undead vampire, she earned herself a massive payout.
Michelle, who has since gone on to play other vampire-themed online pokies such as Dark Hearts, tells us the money was used to buy a new car and treat herself and her hubby to a tour of the fjords in northern Norway; something they've both always wanted to do but have never really had the finances to pursue.
To be honest, we were somewhat surprised when Michelle said she was taking a trip to a country such as Norway in the summer. For someone that's a self-admitted vampire pokie fanatic, she must know that there aren't any bloodsuckers there in the warmer months. Even if there are, the sun never sets, so it's not like they'll come out anyway.
3. Ash 41 from Perth – Won 12k playing Cai Hong on Chinese New Year
Our final new winners story comes to us all the way from the west Australian capital of Perth, where a mother of two by the name of Ash recently celebrated the Chinese New Year with her friends and family and Fair Go casino.
Originally from the Sichuan Province of China, Ash met her husband while on holiday in Australia and has since settled down in the Aussie way of life. She loves the beach, her two boys and playing online pokies with one of the leading providers of casino games in the Land Down Under, Fair Go.
Funnily enough, her favourite titles are Purrfect Pets and Pulsar. Cai Hong was just something that she happened to stumble upon on the 12th of February when she was looking for a game that would get her into the spirit to celebrate the Chinese New Year.
Based around the Chinese God of Wealth, Cai Hong is a 30-payline title that boasts a top award 50,000 times the bet per line. It also comes with a free games round that can deliver up to 33 bonus games that are played at a prize multiplier of x15.
It was somewhere between serving lunch and hanging out by the pool with her friends and family that Ash managed to trigger a ridiculous payout amount of 12k. Of course, she couldn't believe it, but after showing her phone to everyone in attendance, it was confirmed that the figures on her screen did not lie. 
Ash tells us she is putting most of the money towards her kids' tertiary education and saving a little bit for herself and her husband. They're thinking of embarking on an around the world trip in a couple of years, so this money will no doubt serve them well.
We're happy for Ash and wish them both well in the future, although we'd love it if she picked up her phone and played Purrfect Pets and Pulsar once again. Turns out that since her 12k win, she hasn't played anything but Cai Hong.
Discover the best ways to celebrate St. Patrick's Day with Fair Go casino today .