5 Fair Go promotions that you might not know about
Expired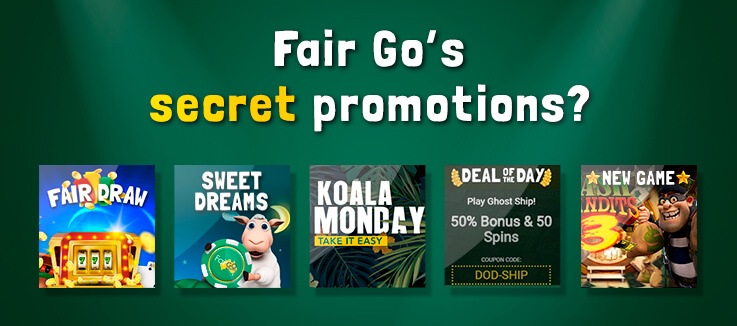 There are many ways that we make your online casino experience super awesome. The first of these is by treating you to you beut, stellar, out of this world service. The second is by being super humble. The third is by running regular promotions that you can use to improve your odds of winning.
Our Koala Diary and Game of the Month Fair Go promotions are already pretty famous. But did you know that we actually boast a bunch of other epic special offers? Maybe you do, maybe you don't. The good news is that you've come to the right place.
In this article, we discuss some of our favourite Fair Go promotions that don't seem to get a lot of attention. They're no less amazing, no less rewarding. It's just that they seem to be overshadowed for whatever reason. So without further ado, let us present to you 5 Fair Go promotions that you might not know about – available to claim right now.
Fair Draw
Draws, raffles and lucky dips are everywhere in Oz. You've probably played one before, whether it be at a regional show, your local bowling club or at a sporting event. But we can say with confidence that you've never played a draw like our Fair Draw.
Simple, fast and easy to play, our Fair Draw promotion could see you win up to $500 in cash. All you need to do is deposit every day between Friday and the following Thursday. You'll then go in the running to score a bonus reward worth between $50 and $500.
Of course, there are some bonus terms that apply. These can be found on the Fair Draw promotional page. But in reality, it's very straightforward. Just top up daily and we'll put your name in Kev the Koala's hat, then with a little luck your name will be drawn. Easy, right?
Sweet Dreams
We don't know what you dream about, but our dreams are filled with glorious visions of ripper pokies paying out jackpot amounts. With coins filling our screens and celebratory music filling our ears, we actually look forward to falling asleep every night. When we can't catch some zees though, we never stress. That's because we can simply jump on our phones or open the laptop and claim the Sweet Dreams Fair Go promotion.
This promotion, which runs every day from 22:00 to 6:00 (depending where exactly you are in Oz) is perfect for night owls and enthusiastic Fair Go punters alike. Just look for the message in your casino inbox during the allotted time period. Within it you'll find a deposit bonus that's available to claim for a few hours. For example you may receive $15 free or a 200% bonus and free spins if you've deposited already that day.
To us, the Sweet Dreams promotion is a fantastic way to either finish your day off or kick start a new one. You might find that a simple visit to your casino inbox late at night will lead to some pre-bed wins on your favourite casino table game. Conversely, if you wake up early and check your inbox you may discover that there's a goodie waiting to be redeemed. Talk about starting your day off on the right paw.
Koala Monday
It's no secret. The team here at Fair Go are fanatical about koalas. The fact that we have one as our mascot is evidence of this. Kev is an absolute legend of a bloke and we couldn't ask for a better representative of our brand. If only for the reason that he's made the first day of the week all the more tolerable with our Koala Monday promotion. But what is Koala Monday?
Well, Koala Monday is the name given to one of our most underrated Fair Go promotions. It runs one Monday every month and it requires you to make a deposit into your Fair Go account. We then give you money back based on the amount you deposited in the first place. For example:
Deposit $50 – play with $75
Deposit $100 – play with $175
Deposit $200 – play with $400 (the best deal)
The only drawback to this promotion, if you could call it that, is that you really need to be on the spot and ready to top up when we announce it. If you happen to be in a position to deposit, then the good news is that this promo is valid all day. This means you have 24 hours to take advantage. So if you like getting more bang for your buck when it comes to online casino gaming, look no further than our Koala Monday offer.
Deal of the Day
Like every good pub, restaurant or café, we also have a deal of the day. And while ours isn't food related (unfortunately), it's still pretty special. Called the Deal of the Day promotion, this unique offer has the capacity to surprise even the most veteran casino gamers.
Just open Fair Go on your desktop and check the small box on our homepage to see what our current Deal of the Day promotion is. Sometimes it'll be 100 free spins on a particular pokie title, other times we'll double your next deposit. If we're feeling particularly generous, which is often, we might even give you a 150% bonus on your next deposit.
It really just depends on how we're feeling on the day, but rest assured there's always something on offer. So make sure to check the Fair Go casino homepage as often as possible to take advantage of this promotion. Because let's be honest… it's not called the Deal of the Day for nothing.
New Game Bonuses
It's easy to forget with all the action that's going on at Fair Go, but many people don't realise that with every new game we release we also release a corresponding bonus. Now, we understand that you're probably just keen to read all about the new game and give it a crack. But wouldn't you always want a sweet little treat to make that new game all the more thrilling?
Our last new game for instance was Witchy Wins – a Halloween themed pokie that allows you to scare up some frighteningly good payouts. To claim our New Game promo bonus on this title, you simply go to your message centre or check the email containing information about the new game in question. You should find a bonus code waiting for you, which can be redeemed multiple times over the course of a couple of months. 
If you want our advice, your best bet is to keep one eye on all Fair Go emails that you receive. Not only will you get to claim our New Game promo bonus, you'll also learn a lot about the game, such as how many reels it has, how best to play it and what bonus rounds that it offers. Because at the end of the day, knowledge is power.
Other holiday and seasonal promotions
In addition to these barnstorming bonuses, we also run a number of other holiday and seasonal promotions for you to claim. These, as the name suggests, focus on specific themes relating to different times throughout the year. Halloween and Christmas are two of the biggest ones, but we also send out the odd email with other special promotions for you to test out.
Hopefully this article has shined a bit of light on some of our lesser known but equally as epic Fair Go promotions. Remember that if you ever want to find out more info about one of our online casino promos, you can always get in touch with the lads and lasses in our customer support centre. They're hanging around 24/7 just waiting for someone to help.
Don't miss these Fair Go promos – redeem them today!