5 of the luckiest Fair Go members
Expired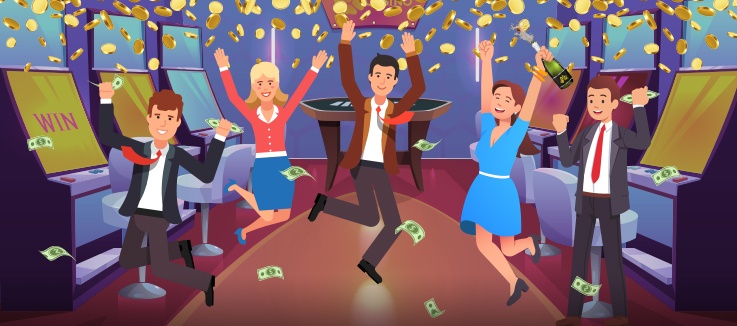 Fair Go hosts over 250 high-quality casino games, regular promotions and more bonus offers than you can poke a stick at, so it's no wonder that we're flush with literally countless jackpot winners' stories.
From individuals who bag just enough to cover their bills for the next quarter, to those lucky souls who walk away with life changing payouts. We're proud to say we're able to help people live their dreams and realise their goals.
If you're in the mood to play with Fair Go casino but need a little bit of inspiration to get you fired up, we've got the perfect solution. Check out the following article where we reveal some of our more famous winners' stories. We guarantee that after reading to the bottom, you'll be ready to join the Fair Go winner's ranks.
Who knows?
You might even be the star of our next online jackpot winners' article.
1. Jayce Thompson, Bathurst - $5,000 jackpot winner on Halloween Treasures
Bathurst is the town of V8 supercars and salt of the earth Australians, however, it's also the birthplace of a Fair Go member by the name of Jayce. Born and bred in the Central Tablelands, Jayce is an avid online casino gamer, a staunch Toohey's new man and a bloke with a winner's story that proves even the most rough and tumble men have a sweeter side.
Jayce, who had been working for his entire adult life as a mechanic, was playing Halloween Treasures late one night. After a few dud bets he was close to turning it in, then a lucky spin saw him win $5,000 on the progressive jackpot. The very next day he strolled into his place of work and told the boss he'd be finishing up at the end of the month.
Now, $5,000 may not seem like a large enough amount of money to go and quit your job, but in the case of Jayce it was the extra funds he needed to pursue his dream of opening up a cake store. You see Jayce also had a lifelong passion for baking and was only a few thousand dollars away from leaving the garage anyway. So with a little help from Fair Go casino, he was able to take that next step sooner rather than later and open up "Sugar Daddy Cakes and Sweets".
2. Kathy Nguyen, Sydney - $10,000 on Keno
After years of not loading her Fair Go account, Kathy Nguyen had all but forgotten about her friends at Fair Go casino. We know that you're probably wondering how this is possible, but the truth is that not all of our members are regular players. What makes this winners tale so fantastic then is the fact that on Kathy's first visit to Fair Go after 3 years of inactivity, she'd won herself $10,000 on Keno.
The story goes that Kathy, who works as a commercial cleaner at a public school in Sydney, found an old email from Fair Go and decided to check out whether or not she still had funds in her account. Upon discovering that there was still $100 that hadn't been wagered, she used that $100 to bet on a game of Keno.
As fate would have it, the decision to log back into Fair Go casino and test her luck paid dividends. Now that she's $10,000 richer, Kathy is able to finally have her car serviced and also purchase a pet dog. There's no prize money for those who guess the name of her new chihuahua, but let's just say it answers whenever she calls out "come here, Keno".
3. Alexandra Sutherland, Townsville - $50,000 on Caribbean Stud Poker
Being a mum is hard work but being a single mum of four pretty much qualifies you as a superhero. Alexandra Sutherland is that superhero. With four kids at school and no much free time for herself, Alexandra plays Caribbean Stud Poker late at night as a way to unwind.
On one particular night after a long day dropping kids to school, taking them to sporting practice and otherwise looking after them the best she can, Alexandra sat down to play a few hands of Caribbean Stud Poker. It wasn't long before she'd hit the motherload (excuse the pun) and bagged herself a whopping $50,000.
With her winnings, Alexandra has decided to take her kids on a holiday to Fiji. When she returns, she plans on putting some money aside for their future and maybe even treating herself to a trip to Brisbane. The best thing about this online jackpot winner's story is that this money hasn't changed who Alexandra is as a person, and she still makes time every night to relax by playing Caribbean Stud Poker with Fair Go casino.
4. Mark Kelly, Adelaide - $2,000 on Naughty or Nice III
A career Australia Post employee, Mark Kelly is used to delivering messages to people all over the city of Adelaide. A few weeks ago, however, it was Mark who was receiving an incredibly fortuitous email from the team at Fair Go casino that Naughty or Nice III had officially launched.
As a fan of both Naughty or Nice prequels, Mark was intrigued as to whether this new release could live up to the hype. So with the last $10 in his Fair Go account, he decided to make an all or nothing bet. To his surprise, Mark was then treated to win amount that kept on soaring, eventually coming to rest at a cool $2,000.
Mark said at the time most of this money would go towards shouting himself a trip away over the Christmas holidays. When asked what part of the world he was thinking of visiting, he simply responded by saying he's taking a vacation in the same place where Santa is vacationing in Naughty or Nice III.
Looks like those two sexy sirens have done it again.
5. Nichole Mendelsohn, Newcastle - $5,000 on Swindle All The Way
They say that every cloud has its silver lining. Well, in the case of Nichole Mendelsohn, that cloud was a faulty pokie machine at Melbourne's Crown Casino that she thought she won $100,000 on. We say "thought" because shortly after her win, casino staff told her that the payout amount was actually a glitch and that this particular machine could only award a max payout of $2,500.
The result was that Nichole didn't win any money at all. Instead, she was offered a suite room for one night in Crown Towers with free Wi-Fi as a form off apology for the unfortunate accident. While spending the night in this room, Nichole fired up Fair and had a few spins on Swindle All The Way to spite the Crown, thinking that if she couldn't win in a physical casino, maybe she needed to go online.
The silver lining of this story is that after a short time playing Swindle All The Way, Nichole triggered a jackpot win and pocketed $5,000… all the while she was sitting in a hotel room paid for by the Crown Casino. Although this is nowhere near the amount of money that she thought she'd originally won on that faulty machine, this win still paid for her trip to Melbourne and gave her some extra spending money. Some of which she used to top up her Fair Go account.
Needless to say, Nichole has sworn of physical casinos for the foreseeable future.
Become our latest jackpot winner – visit Fair Go casino to bet and win today.