5 recent online casino winners
Expired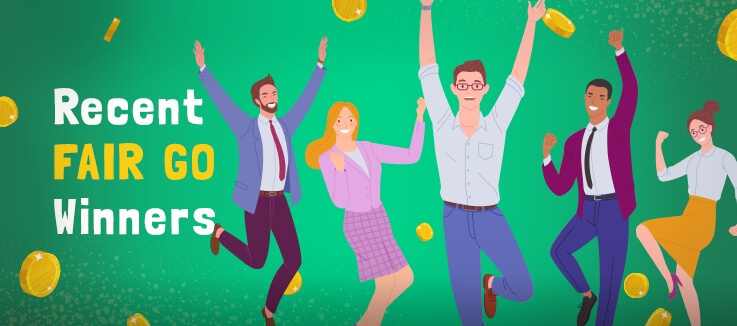 Blog Bonus:
Redeem code "WINNERFG" for $10 free bonus.
*A deposit this month is required for this bonus. General T&C's apply.
Daily wins come in the form of more than just cash.
Getting all green lights on the way to your office job is a win. Having the bloke at the servo forget to charge you for your chocolate Oak is also a win. Managing to get the young ones out the door and off to school with minimal drama is a big win. But for sure the best wins that you can have are wins with Fair Go casino.
Not only can a Fair Go online casino win brighten up your day, but it could also totally transform your entire life. Suddenly your house is paid off, you can afford a new car and that down-the-coast holiday becomes an extended overseas adventure.
Yep, there's nothing like a good win to make the world feel right. Take the following Fair Go casino punters for example – this savvy group of dedicated players are definitely on cloud 9 after their latest wins.
From a bloke who hauled in more than just a giant sea creature on his fishing trip to the lady that went on the most profitable camping trip of her life, say "G'day" to your most recent Fair Go winners.
James O. from Port Douglas, QLD - $32,000 on Princess Warrior
Ahhh… beautiful Port Douglas.
A land of white sand beaches, crystal clear water and overused holiday cliches. Personally, we've never had the time to visit. But Kev the Koala has ventured there on his round-the-country expeditions. From what we've heard, it's pretty bloody awesome. You don't have to tell that to James O. though.
James is one of our newer members. He joined a few months ago around about the time that Princess Warrior was released. Upon joining it was the first game that he noticed on our roster. Maybe it was the epic visuals or perhaps it was our new game guide that caught his eye. Either way, James new he had to try it, but he needed to find some time away from work to do so.
An opportunity to jump on a mate's boat for a spot of fishing arose and James had the clever idea of bringing along his phone in case the fish didn't bite. After heading out past the harbour to one of his mate's spots, they proceeded to throw a few lines over and see what happened. Minutes turned into hours and nothing was happening, so James pulled up his phone for a session on Princess Warrior.
What began as a few casual spins quickly escalated into a massive win. James had triggered the Free Games Pick Bonus feature then chosen to pair his 10 free games with a random multiplier. Fortunately, the majority of multipliers turned out to be x4, so he was practically swimming in cash. The final payout? A whopping $32,000.
We'll take that over a giant trevally any day of the week.
Stanley P. from Melbourne, VIC - $13,000 on Sweet 16
Take Stanley P. from Melbourne for example. Stanley, who has been with Fair Go Casino since the beginning, is no stranger to winning. He's already been featured on our website before and is one of our more active members. His latest win though really took him by surprise, given that he was playing an older title – Sweet 16.
Now, if you know your Aussie online pokies then you'll know Sweet 16 has a kickass bonus feature round. Called the Free Games trigger, how it works is that you get 16 free games instantly for landing the Lollipop scatters PLUS morphing symbols that can turn into multipliers worth up to x20. Needless to say, there's serious potential for payouts on Sweet 16.
In Stanley's case, he was on the tram heading to work when he activated the Free Games bonus round. He was then fortunate enough to score several multipliers worth x15 and above. This eventually led to a $13,000 win on Sweet 16. The real kicker though? Stanley started playing with less than $10, which means he made a profit of over $12,990.
You da man, Stan.
Caroline G. from Tathra, NSW - $41,400 on Asgard
Tathra is a pretty little seaside town on the Sapphire Coast in New South Wales.
It's famous for being quaint, close to unspoiled beaches and home to our latest winner, Caroline. Caroline, who doesn't mind the odd Fair Go Casino pokie spin but isn't what you would call a high roller, has been kind enough to leave us lots of positive reviews. So when we heard that she had netted herself a considerable payout on Asgard, we couldn't help but think that karma played a role.
What happened was that Caroline had just come home from a long day at work. It was Friday, so for Caroline that meant kicking back with a couple of drinks on the front veranda. Asgard is her go-to title on afternoons like this, so she pulled it up for a couple of lazy spins, which quickly turned into anything but.
With the progressively unlocking features kicking off, Caroline found herself playing the coveted Thunder God round. She received 25 free games instantly and had wild multipliers between x2 and x4 applied to her wins. As you can imagine, this made Caroline quite rich in just a short period of time – her total wins from the Asgard base game and the Thunder God bonus round combined came to a total of $41,400.
Not bad for a chilled Friday afternoon pokie playing session if we do say so ourselves.
Pauline M. from Perth, WA - $4,000 on Diamond Fiesta
Western Australia has been more or less shut off from the rest of the country (and the world) for quite a while now. Luckily for the residents of West Oz though, there's plenty to see and do in Australia's largest state.
Pauline M. from Perth knows this better than most. Whenever she and her husband get the hankering for adventure, they simply load up the Landcruiser and head north to the desert town of Kalbarri. The reason why Kalbarri is their destination of choice is that Pauline's hubby is a mad keen surfer and there is no shortage of quality waves up that way.

But what does Pauline do while her husband is surfing and she's left to hold down the campsite? Well, visit Fair Go casino for a spot of pokie playing of course. Or, more specifically, Pauline indulges her desire to visit Mexico by playing the Day of the Dead-themed game, Diamond Fiesta.
From what she tells us, there were lots of good surfing days on her last trip, so she had plenty of time to flex her pokie playing skills. Truth be told though, winning on Diamond Fiesta isn't all that hard – just ask Pauline. She triggered the Jackpot Diamond bonus round and scored the Mini jackpot prize on the 8x4 expanded gameboard for a total payout of $4,000.
Naturally, there are still two bigger jackpots to trigger on Diamond Fiesta plus a heap of other bonus rounds. But when you're trying to fill the time on a camping trip, you'll take any bit of excitement. Plus… $4,000 isn't a bad haul. Especially when you consider that Pauline ain't sharing it with her husband.
Winners' keepers, right?
Stevie H. from Darwin, NT - $1,250 on our Fair Draw Friday promo
Finally, we have our most recent Fair Go casino winner.
Hailing from the tropical city of Darwin, Stevie H. became a member last year. He tells us that he's thoroughly enjoyed our selection of online pokies and casino games. But what he really loves is the fact that we run a heap of different promotions.
Stevie's favourite? According to our records it has to be Fair Draw Friday. He regularly deposits every week and as such we always kick him back extra cash come Friday. The most he's ever won is the max promo amount of $500, but his latest win proves that it's not the amount but how you use it.
You see, Stevie claimed $250 on our Fair Draw Friday promo just last week. He received the news while on his lunchbreak at work and whether it was the fact that the weekend was near or he was just vibing his vegemite and SAOs, Stevie decided to bet that $250 on IC Wins.
Before he knew it, the Free Games bonus round had been triggered with 5 scatters. This gave Stevie 16 free games with multipliers that went to x7. The outcome of this lunchtime session was that Stevie increased his $250 Friday freebie to $1,250.
No word yet on whether or not he eventually finished his SAOs.