5 things happening in November throughout Australia
Expired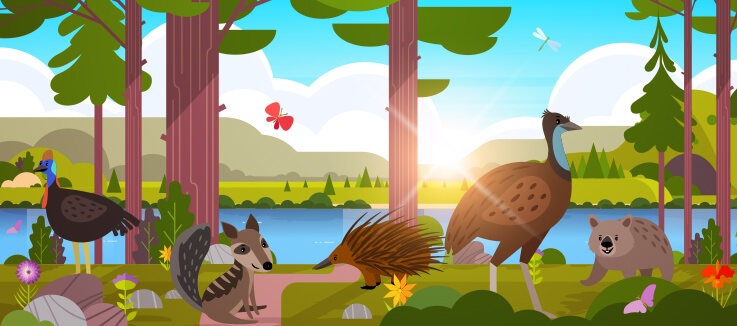 As we enter the month of November in Australia, we begin to put springtime in the rear-view mirror and start getting ready for those summer months.
During November, temperatures in the southern parts of the country are heating up, transforming places that may have previously been a bit on the chilly side into warm and sunny travel destinations. Conversely the northern half of Australia experiences more humidity in addition to late afternoon showers that drench its dehydrated landscapes.
November also sits outside the often-hectic school holiday periods and is considered to be an 'off peak' or 'shoulder' season for travel. This means that flights, accommodation and even some tours are generally reasonably priced and that there's a chance you could scoop up some epic bargains.
Far from being just a transition month though, November offers an abundance of goings-on and adventures for the curious traveller. From colourful floral blooms and sensational animal migrations to world-class sporting events, this time of year has the potential to deliver some seriously awesome experiences.
But just what are some these experiences you ask? Here you can see 5 of our favourite things that are happening in November throughout Australia.
1. Spend the day at Flemington Racecourse and back a winner at the Melbourne Cup
The Melbourne Cup, otherwise known as the "race that stops the nation", is Australia's most famous annual horse race. The first ever Melbourne Cup race was held all the way back in 1861 and was originally over two miles, however, this was shortened to 3,200 metres when we adopted the metric system in 1972.
This celebrated thoroughbred horse race is held on the Flemington Racecourse in Melbourne as part of the Melbourne Spring Racing Carnival. The actual race starts at 3 pm on the first Tuesday in November and is considered to have one of the richest prize pools in the world, with first place taking $4.4 million, second $1.1 million and third $550,000.
In addition to the horse race there is also a wide range of entertainment options provided across the four days that the Spring Racing Carnival runs for. 'Fashions on the Field' is but one event that garners a massive amount of attention on the day.
During 'Fashions on the Field', the carnival's best-dressed man and it's best-dressed woman are selected and awarded a special prize. There's also a restricted section aptly named the "birdcage" where both national and international celebrities can mingle with the corporate sponsors.
2. Catch the last of the Southern Hemisphere humpback whales as they migrate south
Many species of whale head to the waters of Antarctica to breed and feed on the abundance of food found in this part of the world. These cold waters, however, are not a suitable place for Southern Hemisphere humpback whales to give birth, which is why they travel north to warm, shallow waters for calving.
                              
This migration to more temperate aquatic environments begins in late Autumn, although the exact period during which they migrate varies from year to year depending on water temperature, predation risk and prey abundance. The return journey back towards the Southern Ocean can then be witnessed from September to November.
If you happen to find yourself on the east coast of Australia in November, you'll likely see groups of young male Southern Hemisphere humpback whales leading the migration while cows and cow/calf pairs bring up the rear. This spectacle can be seen from land, but if you want to get as close as possible to these gentle giants, we recommend booking a whale watching tour in Hervey Bay, Sydney or in Eden.
3. Watch the world's best at the Annual Australian Open Golf Championship in Sydney
The Australian Open Golf Championship is the most prestigious golf tournament on the PGA Tour leg of Australasia. It is also the oldest tournament in the APAC region, having been first conducted back in 1904 as a 72-hole stroke-play open event with 16 amateurs competing for the trophy.
Since then the Australian Open Golf Championship has attracted major talent from the golfing world, including distinguished international golfers such as Arnold Palmer, Jack Nicklaus and Gary Player, who still holds the course record of 264.
In 2019 the Australian Open Golf Championship will take place at The Australian Golf Club for a record 21st time. Aussie favourites Jason Day, Marc Leishman and Cameron Smith are all expected to play for the top spot, as will superstar golfer Adam Scott who won the Australian Open Golf Championship back in 2009.
If you'd like to watch the world's best putt for glory in sunny Sydney, then get on down to The Australian Golf Club from the 5th till the 8th of December. The winner will receive a minimum of 32 Official World Golf Ranking points and enjoy celebrating their victory in one of the most beautiful cities in the country.
4. Witness the spectacular wildflower blooms in southwest Western Australia
The wildflowers of Western Australia are some of the most colourful and diverse of their kind, with more than 12,000 species found within the state and over 60% of which aren't found anywhere else on earth. For this reason alone, the southwest region of Western Australia attracts countless visitors throughout October and November
From the forests to the coastline and everywhere in between, the area is awash with stunning colours that seem all the more vibrant when juxtaposed against the rugged landscape and the deep blue sea. On top of the fantastic array of wildflowers, there are also 300 types of orchids that grow throughout the region, many of which are endemic to the region.
Flowers of note include Chapman's Spider Orchid, which is known for its striking red markings and its ability to reach up to 25 centimetres tall. The Bold Beauty that flowers between August and December and the Dunsborough Donkey Orchid, a magnificent, tall orchid that flowers between September and October, are two other wildflowers of Western Australia worth tracking down.
For those of you who plan on witnessing this explosion of colours, it's important that you take nothing but photos while you're there. This is reinforced by the fact that picking wildflowers in southwest Western Australia is actually illegal and could potentially lead to a $2,000 fine.
 5. Sample some of the finest ales in Australia at the Sydney BeerFest
Running from November 30th till December 1st, the Sydney BeerFest is back for its second iteration. Originally beginning in Launceston 10 years ago, BeerFest is a celebration of all things bitter, frothy and delicious. This year BeerFest takes place in Centennial Parklands and welcomes a host of beer lovers within the music, comedy and gastronomy industries.
Of course, the main drawcard at the Sydney BeerFest this year will be the many distinguished brewers who've come to put their pints on a pedestal and be judged by the public. With over 300 small-batch beers on offer plus a range of cocktails and wines that've been selected to pair perfectly with the beginning of summer, Sydney BeerFest 2019 will be anything but hard to swallow.
If that's not enough to wet your whistle though, Australian electronic musicians Art vs. Science will also be performing alongside a number of other big acts. In addition, there will be masterclasses in how to brew the perfect beer, live mixology demonstrations and even behind-the-scenes tastings.
Fill your event calendar this November with a little help from your friends at Fair Go today!