5 ways to keep your social life alive during lockdown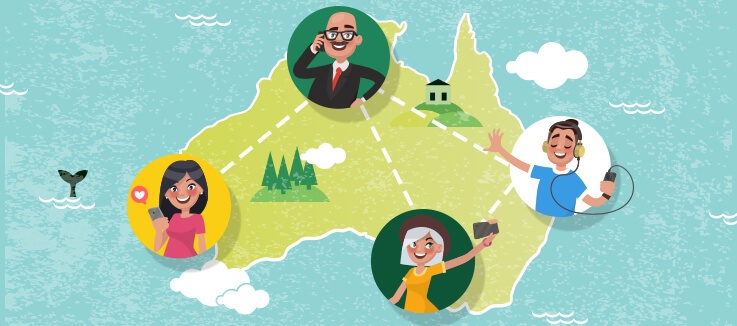 No more coffee hangs with your friends. No more gathering by the proverbial water cooler at work to swap gossip. And certainly no more spending time in and around the beach.
That's more or less the situation around the world right now and let's be honest, it kinda sucks. But if you love the company of close friends and still want to keep in contact with them, all is not lost.
We here at Fair Go Casino want to help you connect with the people who mean the most to you in fun, unique and fulfilling ways. So with that in mind, we've put together this handy little article for you to consult in your times of needs.
Titled "5 ways to keep your social life alive during lockdown", it's a panacea for your lockdown blues and an antidote for loneliness.
1. Create a Fair Go instant messaging group
First things first. Get in touch with some of your closest Fair Go friends and start an online casino collective via an instant messaging group. You can use WhatsApp, Facebook or even Skype to do so. Just as long as you can post both photos and videos in the group.
Once you've got your crew of Fair Go faithfuls, you can then communicate with each other about all things relating to online casino gaming. Discuss your favourite pokies and new releases while sharing the latest promotions as they're released.
With an instant messaging group you can stay connected with friends and make sure you don't miss any important Fair Go updates. Better yet, if you trigger a jackpot or wind in a massive payout, you will be able to show off to all your friends with photographic or video evidence as it happens.
2. Schedule an online pokie playing session with mates
Unlike other casino games such as blackjack or poker, online pokie machines have always been considered somewhat of a solo pursuit. This is to say you don't need a gaming partner in order to enjoy them. Instead, all that's required is a willing player, a bankroll and the characters on the screen.
To make playing your favourite pokies at Fair Go casino a more social activity though, we recommend you schedule a session with your friends. This would involve getting two or more people to join you on either the same game or a completely different title and playing at the same time.
You can even get your friends on the phone while you're playing and share your progress. This way you can discuss the game you're playing and gee each other up for bigger and better spins. Soon you'll realise that like everything in life, playing pokies with friends is much more satisfying.
The added benefit to scheduling a session with mates during a time like this is that you get to do some socialising at the same time. With any luck, you'll not only catch up on all the best gossip from your neck of the woods, but you'll manage to pocket a bit of extra cash.
3. Organise a Zoom, Skype or Google Hangouts party
Many Australians are kicking stones at the moment purely for the sole reason that they're unable to sink a few beers or catch up with friends over a glass of wine at a party or special event. We know for a fact that our mascot Kev the Koala is one such Aussie that's really missing hanging out with his bush buddies.
The way we see it, you can either withdraw into your house, build a pub or bar out of pillows and drown your sorrows by yourself, or you can take action and organise a dinner party using an online video communication platform such as Zoom, Skype or Google Hangouts.
It's easier than you think to setup, which means people of all ages can join in. It's also the next best thing to throwing a real dinner party. Just set your phone or laptop up in front of your seat at the table and sit down with your virtual guests to enjoy a meal and a drink.
You will be able to share what you have been up to of late, discuss important topics such as our latest online casino promotions and otherwise kick back with your closest friends. The best thing about setting up a dinner party this way is that you only need to wear something nice from the waist up too.
4. Embark on an online pokie playing race
Never heard of an online pokie playing race before? That's totally fine. It's actually a new concept that we have thought up specifically for those who enjoy socialising and also have a competitive pokie playing streak. If that sounds like you then here's how it works.
The pokie playing race is essentially a time trial to see who has won the most on a particular pokie in a fixed period of time. For example: you would arrange a 30-minute session on Bubble Bubble 2 with your friends and whoever has the biggest bank balance when the timer goes off wins.
Of course everyone must play with the same amount and timers would have to be synced to ensure nobody gets in a few extra spins illegally. You can then think up a way to reward the winner in order to throw some fuel on the competitive fire.
We're keen to hear how this works, so please give it a try. At the very least it will give you an excuse to connect with your mates. And isn't that what it takes to thrive during quarantine?
5. Create an online pokie quiz for everyone to answer
Everyone loves a good pub quiz, crossword or trivia night every now and then. Given that we're currently confined to our own abodes but, it can be a little tricky organising a games' night. Luckily for Fair Go members, there's a solution. Create an online pokie quiz and invite your friends to complete it.
Start by selecting a bunch of different characters and try to get people to match them to their pokies. Which game does Winne the Witch belong to for example, or what title features a tyrannosaurus rex? After that you can ramp up the difficulty level.
The titles of different feature rounds, the names for a game's wild symbol and even the setting in which the pokie takes place can all be used as possible questions in your quiz. For instance, in which country is Wu Zeitan set, what online pokie has a magic genie wild symbol and on which title would I find a Jackpot Diamond feature round?
If you're a keen gamer you will know the answers to these questions off the top of your head. For your friends that are struggling to get any right though, they can simply play a few more online pokie titles at Fair Go and brush up on their knowledge.
The honour of being quizmaster will also be rotated each week, so that one person is able to create the quiz while your friends attempt to complete it. This way everyone gets a go and the person who assembles the questions doesn't already know the answers.
Stay connected and play with Fair Go Casino today.