6 of the funniest and the most heartfelt Fair Go prize winner stories
Expired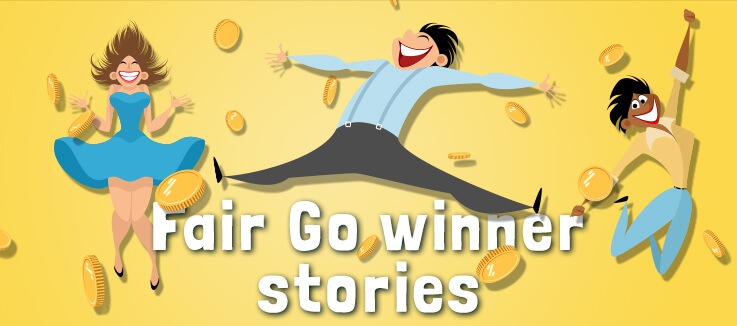 We've had a lot of winners over the years. Some walk away with life-changing amounts, others just get to add a little extra loot to their back pocket. All of them, however, are able to experience the rush and the excitement of winning money.
As Australia's most popular online casino, we love it when loyal Fair Go members hit the jackpot or cashout after a big win on their favourite pokies. It's what gets us up in the morning and keeps us motivated to deliver the most rewarding titles and blockbusting bonus offers. Looking back at our past winners though, it's clear that there are some who deserve a special mention due to the circumstances under which they won.
The following winners' stories will make you laugh or at the very least bring a smile to your face. Some of them might even make you a little bit teary. Either way we thought we'd share them with you so you can see for yourself how Fair Go is transforming the lives of everyday Australians, one win at a time.
1. Karl Lawson, Sydney, $500 prize winner
They say dogs are a man's best friend, but in the case of 43-year-old Karl Lawson from Sydney's western suburbs, it highly likely he prefers felines over canines.
According to Mr Lawson, it was a Wednesday night and he'd accidentally fallen asleep on the couch watching TV. Upon waking up he stumbled off to his room and tried falling back to sleep in his own bed. After much tossing and turning, Karl finally drifted off, only to be woken up again with his pet cat Leo sitting on his chest and meowing loudly.
Karl took this as a sign that Leo was hungry, so he jumped up to feed her. Before going back to bed, he decided he'd have a couple of quick spins on Achilles. For whatever reason, this particular session yielded multiple bonus rounds and before he knew it, Karl had netted himself $500 off a 20c hit.
By all accounts Karl was over the moon with his prize money. As was Leo, who apparently scored a new scratching post for her role in waking Karl up. Nice one Leo!
2. Sarah McLeod, Toowoomba, $1,500 prize winner
Many years ago, a trip to the toilet only meant you were going there for one of two things. With the advent of mobile technology and Wi-Fi, however, cubicles, bathrooms and toilet stalls the world over have been transformed into rooms for those who love a bit of private screen time.
Sarah McLeod from Toowoomba is but one Fair Go member who doesn't mind using her toilet time to play online casino games. She admits that with four kids and a busy domestic life, sometimes her only way to escape for 5 to 10 minutes of peace is to hit the loo.
In this case, her retreat to the dunny ended up leading to a $1,500 win on The Mariachi 5. Sarah said the kids we're pretty alarmed at first when she let out a high-pitch yelp from behind the toilet door. Once she emerged and they realised she hadn't actually disappeared down the s-bend, they were quick to take part in celebrating her fortuitous trip to the porcelain throne.
3. Ash Hale, Perth, $250 prize winner
Not everyone who wins big with Fair Go casino has been a lifelong member. In fact, we still have a lot of newcomers who sign up and rake in the prize money within a month or so of joining. Rarely do we have members who win on the first stroke of play, however, which is why the following story about Ash Hale, our $250 prize winner from Perth, is worth sharing.
It all started when Ash was hanging out with a friend at her apartment. Noticing that said friend was preoccupied with something on her phone, Ash inquired as to what it was that had her so entertained. Ash's friend then revealed she was having a couple of bets on one of our most popular online pokie titles, Asgard.
Seeing that her friend was actually having some small wins, Ash asked how she could also join Fair Go. A few moments later she was pulling up our mobile app, creating a profile and depositing $20 into her account. No word of a lie, it only took one spin of the reels on Asgard for Ash to bag $250.
It's safe to say that from that moment onwards Ash became one of our most valued members. Her story has also since become definitive proof that beginner's luck is 100% legit.
4. Farid Sadji, Melbourne, $3,000 prize winner
Fair Go is as the name suggests a massive supporter of the Australian belief that everyone deserves a crack at life, no matter where they hail from. This concept of 'fair go' is instilled in our culture and forms one of the core reasons why we decided to open an online casino in Australia. It also makes this next story extra special.
Hailing from Algeria, Mr Sadji had recently immigrated to Australia to join his son Hakim and Hakim's family who are currently living in Melbourne. According to Hakim, the trip to the Land Down Under was an emotional one for Mr Sadji who leaves behind the only life he ever knew to practically start again in a foreign land.
Upon arriving in Australia, Mr Sadji took it upon himself to learn English at a local community centre. He soon made many new friends in his classes and began to create a new life for himself, something that his son Hakim said gave him much joy to see.
The icing on the cake that is Mr Sadji's successful emigration from Algeria, however, came when he was introduced to Fair Go via one of his new friends and scooped up a massive $3,000 progressive jackpot win on Caesar's Empire.
Given this victory, it looks like Mr Sadji made the right move after all.
5. Arthur Gates, Mount Gambier, $1,000 prize winner
Truck drivers are the unsung heroes of Australia. Driving precious cargo vast distances across often formless landscapes, they keep our fridges stocked with beer and our BBQs flush with meat. One could argue that in spite of the fact truck drivers keep our country ticking over, they rarely get the thanks they deserve. So imagine how Arthur Gates from Mount Gambier felt when he picked up just over $1,000 on Cash Bandits.
A career truck driver, Arthur has been shipping goods across state and territory borders since the 80s. With this win, which he secured while at a truck stop on the New South Wales and Victoria border, he's now able to take a week off and enjoy not having to climb into the cab of a B-double for a whole seven days. Who knows? He may even find the time to play Cash Bandits 2 with Australia's most popular online casino while he's on leave.
6. Shane Quinn, Wollongong, $3,000 prize winner
For our more zealous members, Shane Quinn could well be accused of committing sacrilege in a house of god. For most of the team here at Australia's most popular online casino though, we couldn't help but admire a man who's willing to put his love for online pokies on full display in front of Jesus Christ.
His winner's story begins on the first Sunday of December in 2018 inside a church in the seaside city of Wollongong. Not exactly the most pious man, Shane attends church purely out of respect for his in-laws. Both of whom can be seen sitting front and centre every Sunday and volunteering for all church fundraisers.

While he's normally good at maintaining the façade of a saintly son-in-law, Shane couldn't help but pull up Fair Go on his phone this particular Sunday and have a few discreet spins on Fantasy Mission Force. His reasoning was that Jackie Chan is a god amongst kung fu fans anyway, so on some level this act wouldn't be all that blasphemous.
Well, turns out that the Lord Almighty must have been in a betting mood too, because Shane went on a bonus round winning streak that culminated in roughly $3,000 worth of prizemoney. The unabashed "woohoo" he let out was said to have stopped the minister mid-sentence and nearly send some of the older congregants into cardiac arrest.
Needless to say, he's not welcome back to this church anymore, but with an extra $3,000 in the bank we don't think he'll lose much sleep.
Don't just read about our winners… become one today with help from Australia's most popular online casino.