6 things to look forward to at Fair Go in 2020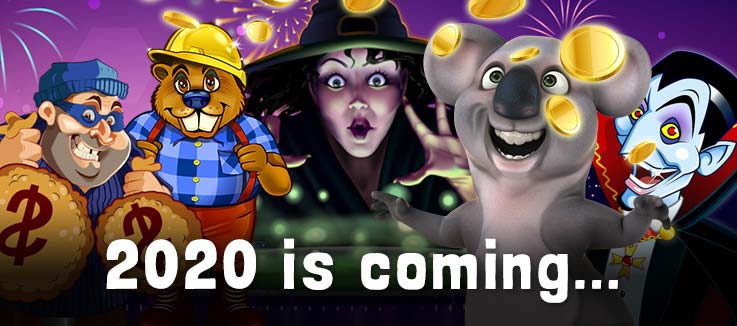 2019 was a big year for Fair Go casino.         
We successfully added a number of fun-loving new members and sent out more bonus offers than we can even count. We also treated you to some fantastic winners' stories over the year and churned out a ridiculous amount of profitable online promotions. You'd think that after a cracking year like that, there's no way Australia's favourite online casino could get better.
Here's the thing though… we aren't done yet.
For 2020, we're going off like a cut snake. Expect special prizes that'd make Gina Rinehart jealous, a revitalised lineup of games to rival the best casinos in Vegas plus a host of other extraordinary features. All of which are geared towards making your online gaming experience with Fair Go casino nothing short of exceptional.
The best thing about our offerings in 2020 though? We're not making you wait for the New Year to see what's in store. Simply check out the following list that the team here at Australia's favourite online casino have put together. In it you'll find titbits about some of the most highly anticipated features we're set to release come next year.
1. The latest online casino games
When it comes to online casino games and pokies, fresh is best. For this reason, we'll continue to bring you the hottest new titles from critically acclaimed developer, Realtime Gaming, every month. This means you can look forward to trying a new casino game or pokie as its released. Who knows? You may even discover a new favourite as the year goes on.
Many members say that some of the finest games they had the pleasure of playing in 2019 were games that Fair Go introduced them to. Such titles as Pig Winner, The Mariachi 5, Storm Lords and Naughty or Nice III all come to mind. However, we can say with great certainty that the best is definitely yet to come. Stay tuned and make sure to log on come early January next year if you want to start the new year off on the right foot with the right casino game.    
2. Even more promotions, bonuses and campaigns
If you thought we went all out in terms of promotions, bonuses and special campaigns in 2019 then think again. 2020 is the year we raise the stakes and introduce a bundle of exhilarating new offers. From seasonal freebies to regular deposit bonuses, checking your email or casino inbox for a new offer will soon become one of the highlights of your day.
The regularity that we send these promotions, bonuses and special campaigns out will also play a major role in helping you win more money. Just think how much your odds will improve when you receive free spins or swap double comp points for cold hard credits. We're tipping that 2020 is going to be the year of Fair Go. Perhaps it'll also be the year you trigger a life-changing win thanks to our exclusive offerings?
Introducing the Fair Draw! The new year brings new bonus opportunities and this one's a beauty. The Fair Draw will be a weekly raffle where you'll have the chance to win up to $500. Keep an eye on your casino inbox for details to come...
3. Funny and informative blog stories
Fair Go isn't one of those online casinos that's all about turning a profit. We're made up of people just like you who love to be entertained and informed on all the latest news from the world of virtual casino gaming. For this reason, we host a number of blog articles that are designed to make you laugh and make you think.

In 2020, we're on track to release a whole lot more blog articles with content that includes amazing winners' stories, the best betting tips and information on upcoming events. These articles will not only empower you to become a better online casino gamer, they'll also make you crack a smile and have a bit of a chuckle. With any luck you'll enjoy reading these articles as much as we enjoy creating them. You might even learn something new along the way.
4. The exciting adventures of Kev the Koala
To know Kev is to love Kev, and ever since he became a part of the Fair Go team, we've heard nothing but good things about him. Whether he's travelling around Australia or simply sharing a eucalyptus beer with Mr Wombastic, Kev always keeps us on the edge of our seats. What's more, he has a heart of gold and he loves to give out freebies to loyal Fair Go members.
To make sure you can enjoy more of Kev's wonderful presence in 2020, we're giving him free to reign to do what he wants, go where he wants and pretty much say what he wants. For players such as yourself, you'll get to see Kev like you've never seen him before. So stay tuned for some koal-ity bonuses, interesting facts and humorous anecdotes from his journeys.
5. Feedback function on our 'Reviews' page
As Australia's most beloved online casino, we're serious about providing you with the best playing experience possible. To do this, we rely on feedback from Fair Go members such as yourself. So in 2020, we're releasing a new function that allows you to leave comments for us on our 'Reviews' page.
With this new feature you can share your thoughts and let us know what you'd like to see more or less of. As long as the feedback is specific and constructive, we'll be happy to hear you out and implement all reasonable changes. If you want to contact us directly though, you can still get in touch with our support team via email, phone or live chat. We're here 24/7 to help find a solution to any issue you may be having.
6. New mobile lobby with a refreshed design
The majority of online casino gamers play and bet using their mobiles. And given that phones are becoming more advanced and Wi-Fi speeds are improving, it makes sense that we update our mobile lobby with a refreshed design.
Faster, smoother and guaranteed to put a sparkle in your eye, our refreshed mobile lobby will make gambling with us even more pleasurable. It'll also ensure that we're still recognised as the best online casino in Australia. Don't just take our word for it though. Visit Fair Go casino come January 2020 and check out just how awesome our new mobile lobby is for yourself.
While you're there, feel free to peruse some of our other New Year's offerings. Whether it's our commitment to launch more of the most enjoyable online pokies or our promise to provide you with articles containing great betting tips, there's so much to look forward to in 2020.
Don't think that all of this will make us lose our way though. We'll still be the same online casino that you've come to know and love, and we'll still provide unparalleled support and friendly service to members such as yourself. If it makes you feel better, just picture Fair Go casino the same as you always have… just much, much better.
Make playing more with Fair Go your only New Year's resolution in 2020 – visit our online casino today.