7 awesome ways to celebrate Australia Day
Expired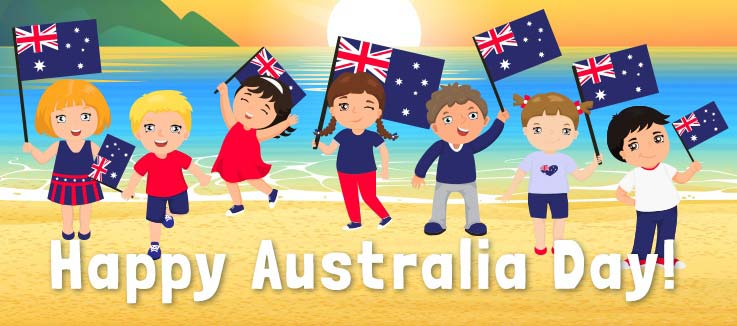 Australia Day is a day when all Australians can come together and enjoy everything this wonderful country offers. From world-class sporting events to citizenship ceremonies and weather our friends in the northern hemisphere can only dream of, it's a date we look forward to every year.
Stories are shared, food is prepared and you can guarantee there will be a game of backyard cricket nearby. Whether you choose to pick up a bat and ball is entirely up to you. Many of us simply love kicking back and catching up with friends and family after the Christmas and New Year's craziness has settled down.
At Fair Go, Australia Day is more than just a day of celebration. It's a day when we show gratitude for this great country, its traditional owners and of course our loyal members. If you'd also like to give thanks to Australia and really discover old values such as freedom and mateship, check out our list of 7 awesome ways to celebrate Australia Day.
1. Invite friends and family around for a BBQ
There are many Australian stereotypes that aren't actually true. We don't all wear blue singlets, we don't ride kangaroos to work or school and there isn't a token great white shark waiting in the shallows of every beach to nibble on your feet. One stereotype that is 100% factual though is the stereotype that Australians as a collective love barbequing.
Snags, prawns, steaks, rissoles, eggs and bacon are our go-to, however, just about anything that can be grilled in Australia will be grilled if it's within arm's reach of whomever is operating the hotplate. Perhaps more important than what's being cooked though is who it's being cooked with. Friends and family are the obvious attendees on Australia Day, but we'll wrangle in neighbours and long-lost relatives twice removed if we think it's going to improve the atmosphere. The more the merrier, right?
With January offering up optimal weather for an outdoor cook-up and most people hanging around home for Australia Day, it's the perfect time to fire up the grill and start sizzling. So if you're looking to stuff your face, partake in a few frosty beverages and enjoy some good company on the 26th, inviting friends and family around for a BBQ is one of the best ways to celebrate Australia Day.
2. Organise a game of backyard cricket
Cricket has been a pillar of Australian sport for over 200 years. The first ever recorded cricket match occurred in Sydney back in December 1803, and since then we've embraced it as national pastime. According to a recent census, over 90% of Australians watch at least some type of cricket throughout the year, whether it be an ODI, a 20/20 match or a test series.
Organising a game of backyard cricket is therefore one of the best ways to celebrate Australia Day this January. You won't be short of players and you'll have an opportunity to bond with friends and family during a few overs. Backyard cricket is also fantastic in the sense that it brings people of all generations together. Young and old will all pad up, put the zinc on and take to the pitch for a game of cricket.

If it really is to be a proper game of backyard cricket though, be warned that the match will probably bring out the competitive side in the parents, with dad steaming down the wicket to bowl a pace ball at grandpa and grandpa doing his best to teach the young ones how to strike them. If the game does manage to keep an even keel, you can look forward to a bonding session beneath the sun as you partake in one of Australia's most beloved sports.
3. Spend a day chilling at the beach
If you'd rather take a low-key approach to the 26th of January, a day spent chilling at the beach is one of the better ways to celebrate Australia Day. Leave the phone in the car, grab an esky stocked with goodies (see: beer, wine, cheese, crackers) and head to your nearest beach with just a small crew in tow. Bonus points if you can find a stretch of sand that is somewhat secluded or at least private.
An Australia Day at the beach is nearly one of the most Aussie ways you can enjoy the 26th. It's also a great opportunity to unwind and relax if you're still trying to get back on track after a bonzer Christmas and New Year's party period. Nothing recharges the soul like some vitamin D, while a little bit of vitamin sea will prove to be the perfect antidote to those typically warm January days.
4. Check out the fireworks display in a capital city near you
Australia Day is one of the busiest days of the year for local governments, organisations and councils the country over. Fundraising parties, luncheons and live music performances are often scheduled for the 26th as a way to celebrate Australia Day and give the local community something fun to do. Fireworks are also an iconic part of the Australia Day festivities, with Sydney putting on a famous display over the harbour that features pyrotechnics and light shows, plus jet ski and flyboard demonstrations.
Not to be outdone, Melbourne also puts on an epic Australia Day celebration. There's a flag raising ceremony and fireworks over the docklands, in addition to the Australia Day Festival in the Kings Domain Gardens that includes culinary exhibitions, interactive community displays and plenty of entertainment for the whole family.
If you're on the other side of the country, you'll be pleased to know that Perth is no slouch when it comes to Australia Day celebrations. There are multiple parties across the city at a fantastic range of different venues, plus concerts at Supreme Court Gardens and a gun salute in the beautiful Kings Park. The annual Skyworks in Perth City is a massive drawcard for both locals and visitors to the West Oz capital, with a spectacular firework display that's regarded as the biggest in the country.
5. Make an Aussie music playlist
Just because the Triple J Hottest 100 isn't run on Australia Day anymore, doesn't mean you can't listen to some awesome homegrown music. With the sheer amount of livestreaming options available today, you can easily create your own Aussie music playlist and pump out some anthems come the 26th of January. Throwing a party or hosting a small gathering and playing said music will no doubt remind everyone just how great Aussie music really is.
AC/DC, INXS, Midnight Oil, The Warumpi Band, Wolfmother, Icehouse, Hunters and Collectors, Flume and The Divinyls are just a few of the more better-known Aussie artists that deserve a place on your list. However, we're spoiled for choice when it comes to good music in the Land Down Under – something you'll quickly realise once you start collating your Aussie playlist.
Just make sure you hide your phone or iPod once the sun sets and party goers begin to become a little bit tipsy, otherwise you'll end up having to listen to Reckless by James Reyne on repeat courtesy of the aunt or uncle that always seems to send it a bit too hard at family gatherings. Although if we're being honest, there are worst songs you can listen to ad nauseum.
6. Watch the Australian Open live or on TV
The Australian Open is a tennis tournament held in Melbourne that runs from 20th January to the 2nd February in 2020. It is the first of four Grand Slam tennis events (preceding the French Open, Wimbledon and the US Open). Every year the Australian Open has matches scheduled for the 26th, which means it's one of the best ways to celebrate Australia Day if you feel like taking a break from the summer cricket season.
Last year's Australian Open was one of the most exciting in recent history. There were enough dramatic moments to last a lifetime and world-record performances, most notably from Novak Djokovic who overtook six-time winners Roy Emerson and Roger Federer with his seventh win to become the greatest Australian Open men's champion of all time.
Who will put their name in the history books in 2020? That remains to be seen. But with Djokovic, Federer, Barty and Osaka all tipped to take on the hard courts in Melbourne, this year's Australian Open is guaranteed to deliver the goods.
7. Embark on a road trip and explore the coastline or countryside
While most choose to hunker down for Australia Day and celebrate at home or one the beach, we propose that you see the long weekend as an opportunity to get out there and explore all this wonderful country has to offer.
When you think about it, there's nearly no better way to appreciate the things we love most about Australia than by taking a short road trip. It doesn't matter where you go. It could be north, south, east or west. The point is that you go somewhere you've never been or seen before and actually take a moment to enjoy the newness of your surroundings.
If you're in Sydney, for example, a trip down to the South Coast will reveal bucolic settings, some of the whitest sand in the world and hiking trails through unspoiled bushland. There really is no end to what you can discover in Australia when you embark on a road trip. And like all great adventures, it's more about the journey than the destination.
So get out there and explore with friends or family and enjoy partaking in one of the more original ways to celebrate Australia Day. You'll quickly learn that this date is about more than just drinking, partying and indulging yourself at the local pub. It's about taking stock of our reputation as the Lucky Country and rediscovering the values that make us who we are.
Celebrate Australia Day with Fair Go – visit our online casino and play your favourite online pokies today.