7 secrets to becoming a Fair Go VIP
Expired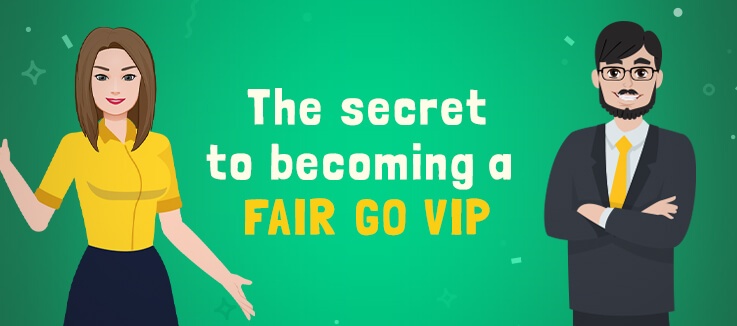 Did you know that Fair Go has an awesome VIP (Very Important Punter) program? Well, it's the truth. In fact, our VIP program is responsible for more smiles and growing bank accounts than any other Aussie online casino.
Of course, the thing about winning on a VIP program is that you first need to be a VIP. So, the question becomes, how can you also become one of our smiling and winning VIP players? It's actually easier than you might think.
The secret to gaining VIP status at our online casino is to play consistently and take advantage of the following tips. Not only will they accelerate your journey to the continent of Very Important Punters, but you'll also win lots of cash along the way!
What is an online casino VIP program?
Before we launch into the time-honoured tips for becoming a Fair Go casino VIP, let's explain just how a VIP program works. Essentially, a VIP program is designed to reward the loyalty of regular customers by giving them access to exclusive bonuses, offers and promotions.
Eventually, if you play enough and are savvy with your betting strategy, you'll be invited to join our VIP program. Then, once you accept, you'll be given preferential treatment in the form of enhanced customer service and better-quality rewards.
What are the different types of VIP program?
There are a few different types of VIP program, but the most popular is a VIP scheme that's point-based. For example, for every wager you make of X amount or more, you'll receive a loyalty point that can then be exchanged for a reward.
Another type of VIP system involves giving you a dedicated VIP host and cashback amongst other advantages. This is the VIP system that we use here at Fair Go casino. The reason why we use this is that it gives you the full-package - not only do you receive prompt customer service, but you can also bet with confidence knowing that we'll kick back almost half of any bets you make.
Finally, there are time-sensitive VIP programs. These work by giving you specific tasks to complete within a certain timeframe. If you complete the task, you move up to a different tier and can access better prizes. The higher up you go, the bigger the prize.
7 tips for becoming a VIP member at Fair Go casino
Ready to become a Very Important Punter at Fair Go? Then study the following tips. They were given to us by members who rose through the ranks to become VIP players. This means they're guaranteed to work if you commit them to memory and put in the hard work.
1. Read a few gambling books to learn new strategies
There's no denying that online TV and movie streaming platforms take up a lot of our free time. Binge watching a series is totally acceptable. What ever happened to the good old days of reading a book?
Personally, we love books, but we love books about gambling even more. The reason being that a single book on how to gamble could be the difference between average and life-changing wins.
There's so much information contained within a single novel. We couldn't pick just one. Instead, we've listed a bunch of books on how to become a better gambler below. Note that all these books are written by professional gamblers or math geniuses, so you know they're legit.
The Biggest Bluff by Maria Konnikova - For insights into the mind of a gambler and tips on how to improve your game
Squares & sharps, suckers & sharks by Joseph Buchdahl - For more about the psychology and philosophy behind gambling
Mensa guide to casino gambling: Winning ways by Andrew Brisman - For an overview of all casino games, from craps and roulette to poker and pokies
Thinking in Bets: Making Smarter Decisions When You Don't Have All the Facts by Annie Duke - For a blueprint on how to succeed as a gambler
The Confidence Game by Maria Konnikova - For learning how to self-check and ensure that you're making the right decisions
2. Don't be afraid to ask about available bonuses
Ever find yourself wondering what fresh new bonus is on offer at Fair Go, but you can't be bothered scouring our promotions page? Don't worry, we're not offended.
This is the modern world after all and it's rare for us to seek out bonuses. However, you shouldn't allow yourself to be lazy or timid when it comes to contacting us about available bonuses. We don't bite. In fact, we're constantly running special offers for both VIP and regular members to claim.
Who knows? You might contact us about current offers, only to discover that we're pushing something BIG. So don't miss out. You never know what we're cooking up on the continent of bonuses and promotions.
3. Take advantage of our Fair Draw offer
The more you play, the faster you'll become a Fair Go VIP. It's a foolproof formula that past members have used and it works every time. Of course, they were also always taking advantage of our Fair Draw offer. Have you heard of it?
Our Fair Draw gives you the ability to win between $50 and $500. All you need to do is deposit each week between Friday and the following Thursday for your name to go in the draw. If your name is selected, you win. If not, you could still use that deposit in conjunction with one of our other bonus offers.
Either way, the Fair Draw promo gives you extra incentive to deposit and bet. This will, in turn, help you climb the ranks to VIP status faster.
4. Use our winner stories for inspiration
Even though playing with Fair Go casino is fun, it can be hard to find the motivation. It's like all good things really. There are some days when you're just not feeling it.
Rather than let yourself fall into a rut and miss out on precious VIP time though, check out our recent winner stories. Inside are tales of crazy prizes and incredible feats of gambling prowess. Seriously, they'll inspire you to play with Fair Go and try your hand at winning a jackpot.
At the very least, you'll receive a jolt of good vibes from seeing how your fellow members have had success at Fair Go. At the very most, you might end up depositing on a quiet day and claiming a life-changing payout.
We call that a win-win situation!
5. Read new game guides as they're released
We know, we know… it can be hard to keep track of all the different games that we release. From Lil Red to Twister Wilds, Mardi Gras Magic and many more, the pokies come hard and fast at Australia's favourite online casino.
This is obviously awesome since it gives you a chance to try myriad pokie releases. However, we understand if it gets overwhelming. That's why we publish a game guide whenever we introduce a new pokie. This way you can simply read said guide and get a great overview as to how it works.
But the game guide by itself doesn't mean much. What it does do is give you the confidence to bet big on a particular release. And the more you bet, the more likely you'll become a Fair Go VIP.
6. Make sure that Fair Go emails don't go to spam
Everybody hates spam emails. We can't stand them! If Kev the Koala gets a spam email, steam starts coming out of his furry ears. In fact, the only thing we hate more than receiving spam emails is sending them.
The only problem is that we can't control which emails go to spam. Sometimes we send epic offers and our members never receive them. That really bums us out. Of course, it's up to your email administrator to decide which emails are legit and which ones should go to spam.
The only thing you can do is check your spam emails as often as possible. Better yet, make sure to mark any Fair Go emails as not being spam. This way you should be able to receive all our offers, which will ensure you never miss an opportunity to grow your VIP credentials.
7. Try to play with Fair Go at least once per day
Naturally, the most reliable way to become a Fair Go Very Important Punter is to play with us at least once per day. Consistency is key and we always look after our most loyal members.
Playing daily is a sure-fire way to enter the inner sanctum of elite players. Plus, with hundreds of games on offer, lots of regular bonuses and promotions to claim and mobile casino capabilities, you'll never be bored. Play on the go or from the comfort of your own home and seize your VIP crown.
If you win, then you'll be laughing all the way to the bank. If not, you can still fall asleep at night knowing every spin brings you one step closer to VIP status.
Become a Fair Go winner today - join now!