Facts that will make you love Australia
Expired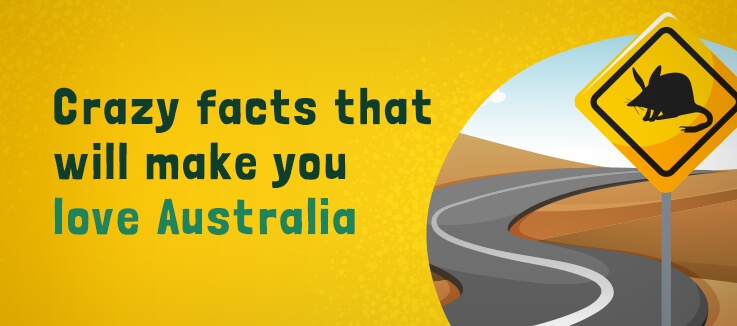 Ok, ok… we'll admit. We already do love Australia. But if you've never visited, are thinking about visiting or you're just curious about our great island continent, the following facts will make you fall head over heels for the Sunburnt Country.
1. We actually get more snow than the Swiss Alps
Everybody knows that Australia has beautiful beaches, year-round sunshine and some of the most excellent weather in the world, but did you also know that we also receive more snow than the Swiss Alps?
Called the Australian Alps, the area in which we receive this snow covers approximately 1.6 million hectares of public land. This land encompasses 11 national parks and nature reserves across the Australian Capital Territory, New South Wales and Victoria.
The snow season generally lasts from June to September, however, there are often early and late dumps that can blanket parts of the snow region out of season.
In contrast to Switzerland, Australia has way less mountains. Switzerland also has more ski resorts and world-class runs (with a price tag that reflects this). The reason why Australia receives more snow than Switzerland comes down to basic geography - Australia's snow fields are located close to the coast while Switzerland is a landlocked country with no direct access to the ocean.
This means that the Australian Alps receive far more rainfall than the Swiss Alps, which then turns into snow as temperatures drop below freezing. This happens often during the winter months in Australia, which is why it's no fib to say that we get more snow than the Swiss.
2. Tassie has the cleanest air in the world
Air quality is something that we don't consider all that much unless you live in a heavily trafficked city such as a Beijing or Delhi. This doesn't mean that it's not important though.
Air quality is directly linked to quality of life and longevity, so having clean air is essential to our wellbeing.
This is great news to residents who reside on the island of Tasmania, which is reported to have the cleanest air in the world - comparable to the practically untouched and pristine Antarctica.
There are a few reasons for this, such as the fact roughly one-third of the state is either national park or World Heritage protected. With trails and walkways that criss-cross the entire island, there are plenty of opportunities to go for a walk and suck in that clean and crisp Tassie air.
The main reason why Tasmania's air is so clean though is that it's purified as it travels across the ocean before arriving on the Tasmanian coast. The actual point where you can breathe this fresh air is called Cape Grim and it's been measuring air quality for decades in the northwest of Tasmania.
So, if you ever want to experience the feeling of breathing air that feels like a thousand small breath mints with every inhale, Cape Grim is the place to visit.
3. Our language is bloody epic, mate
Strewth! You'd have to be a proper drongo to neglect the fact that Australia's language is bloody epic.
Seriously though, this may be the inner patriot in Kev the Koala talking, but doesn't our language have more fluency, flair and colour than other English accents? And while we're on the subject, doesn't our sense of humour and general outlook differ greatly because of our unique vernacular?
We think so, which is why you'll often hear the Fair Go team drop nuggets of Aussie slang into our game reviews, promotions and emails.
Dry, self-deprecating and with a healthy dose of humour, Australian language is very interesting indeed. But how did we come to the point where everything is abbreviated (chewy, arvo, sanga and biccy)?
According to the latest research, alcohol is to blame.
Interactions between early settlers while they were inebriated combined with the intermingling of different English accents during colonial times is the reason why we speak like we do.
Of course, it's hard to know if that's true or not since our forefathers and mothers weren't great at keeping records back in the day.
Oh… wait a second.
Maybe that's because they were drunk?
4. All our major cities are located on the coast
Australia is an island nation and as such we're surrounded by water. It doesn't matter if you want to go north, south, east or west, sooner or later you're going to be wading into the big blue.
We don't see this as a negative though. Far from it. Instead, having the ocean as our border has allowed us to position all of our cities on or nearby the coastline.
Melbourne and Sydney are the two cities that first spring to mind when we talk about Australian metropolitan areas being built on the water's edge. In truth though, there are over 40 major cities that can claim to be within a short distance to a coast.
This means that approximately 90% of our population lives within 20 kilometres of the ocean - a fact that's also given rise to our reputation as beach lovers.
Now, with so many beaches located only a quick drive from city centres, you'd think they'd be practically overrun with people. Another awesome thing about Australia though is that even city beaches can be uncrowded.
This is due to a number of factors, such as the beaches being incredibly long with lots of places to stretch out and find your own patch of sand. However, it's probably more accurate to say that city beaches tend not to get swarmed by people purely because there are so many city beaches to choose from.
Then again, it might be because everyone who visits Australia just goes to Bondi Beach.
Actually… now that we think about it, that's definitely the reason.
5. We're a nation of punters
In addition to beaches, there's another thing that Australia has an abundance of - punters.
This is based on a recent report that notes approximately 50% of the Australian population gambles on a regular basis. Whether it be on sport such as rugby league, racing events such as the horses or even online casinos. Turns out, Aussies won't be beat when it comes to wagering on our favourite pastimes.
Of course, online casinos are fast becoming our platform of choice for good times and great wins. Don't believe us? Just check out our current list of online pokies on offer.
Lucrative, fun and easy to play, they deliver fast action and even faster wins.
Plus, you needn't visit a casino, bowlo or RSL in order to enjoy our online Aussie slots. Just fire up your phone and you're on your way to becoming a winner.
6. We don't like corners
Here's something you probably never heard before - Australians don't like corners.
Let us explain.
While San Francisco can claim to have the most crooked street (Lombard Street) and the Stelvio Pass Road in Italy has more hairpins than your mother-in-law's dresser draw, we have the Eyre Highway and the Trans-Australian railway line - the two straightest stretches of road and rail in the world respectively.
Running for 144 kilometres, the Eyre Highway is the perfect road if you want to just get in your car and drive without having to worry about directions.
Its razor-edge straight with not so much as a slight curve and it connect the southern part of Australia to the western part. However, if you intend of driving the Eyre Highway and taking in the sights, you're in for a rude shock.
There's absolutely nothing to see on the Eyre Highway. No stunning rock formations, no oversized novelty landmarks. Just an endless expanse of flat, dry and dusty land that stretches as far as the eye can see.
Even the discoverer of the area, Edward John Eyre, called it a "hideous anomaly" with no sightseeing objectives or distinguishing features. 
The Trans-Australian railway line that crosses the Nullarbor Plain from Kalgoorlie to Port August isn't much better. It's also cursed for being ruler straight and achingly dull, but at least you can close your eyes and fall asleep without careening off the side of the road.
Then again, if you do fall asleep while driving the Eyre Highway, there's no need to worry about crashing into anything.
So long as you wear a seatbelt and there are no kangaroos or emus waiting for a lift on the side of the road, you'll simply be able to wake up, readjust and get back on the road before anyone even knows what happened.
7. The animals on our national coat of arms are edible
Speaking of kangaroos and emus, they make an appearance on the national coat of arms in Australia alongside a seven-point Commonwealth Star that represents our states and territories.
The kangaroo and emu were selected as the animals to hold up the shield due to the reason that they can't move backwards easily, which symbolises Australia as a nation always moving forward. As a country of pragmatists though, we choose to believe that they were instead chosen because we love to eat kangaroo and emu meat (sorry vegetarian friends!).
Kangaroo in particular is remarkably healthy with 1-2% fat content. It's also an inexpensive type of meat and readily available at local supermarkets around the world in the form of kangaroo steaks, kangaroo mince and even kangaroo sausages, which are called kanga bangas.
Emu was also heralded as the "next red meat" by doctors and dieticians back in the day and said to be a great alternative to chicken, pork and beef, but the demand for emu has since died down. Like kangaroo meat though, emu is very good for you.
It's one of the richest sources of iron, it's low in fat and it has virtually no cholesterol. Your meat-eating friends will tell you it tastes like a cross between duck and rump.
We're not sure what to say on that matter. What we will say though is that Kev is one lucky bloke considering there are no plans to put a koala on our coat of arms anytime soon.
8. We boast a booming wine industry
When you think of wine you probably think of France, California and Spain, but hold onto your Beaujolais glass people, because we also have a booming wine industry.
For starters, there are a massive variety of high-quality wine regions in Australia, with over 60 currently in operation with more than 100 different grape types.
The majority of these are in New South Wales and Victoria, but places such as Queensland and Western Australia also boast fantastic vineyards.
As for the most famous wine regions, they're the Southern Highlands, Tumbarumba and Alpine Valleys on the east coast plus the Barossa in South Australia and Margaret River just a few hours south of Perth.
Speaking of the Barossa, this valley is also home to Australia's oldest vineyard, which was planted in 1843. Australia's youngest wine region, on the other hand, is Mount Gambier, South Australia.
In short, there's a plethora of wine history in Australia that's led to us becoming one of the primary wine-producing nations. And while we still can't beat the likes of Spain, Italy or France when it comes to total wine exports per year, we do beat the Kiwis (which is just as good).
Become a Fair Go winner today - join now!