Introducing Banana Jones
Expired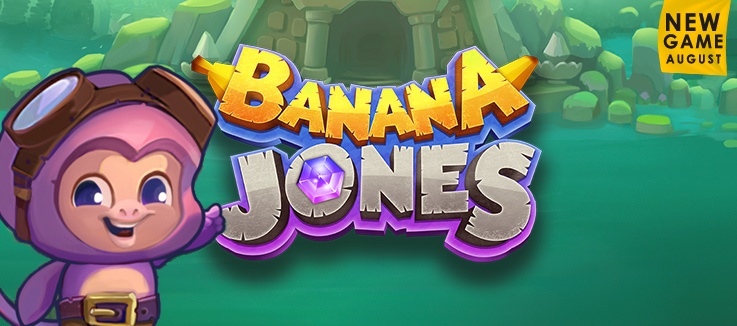 Banana Jones – An Innovative Snakes and Ladders Inspired Casino Game
If you're in the mood to play something a little different then Banana Jones may just be the perfect game for you. Developed by our mates at Realtime Gaming, this games utilises an innovative Snakes and Ladders inspired style of gameplay to put you in control of an adventurous simian pilot who's trying to find an elusive Crystal Banana hidden in an ancient temple.
All is not as straightforward as it seems though. And after barely surviving his crash landing, Banana Jones must still navigate a treacherous path to reach the coveted treasure, all the while outsmarting his archenemy Leopold the Leopard plus an army of slippery snake underlings. Hop from step to step and be careful to avoid these sneaky reptiles, less you slide back down to the start of the path. Land on a conveniently placed vine however and you'll see Banana Jones climb on up to a more advantageous position.
Fearless, curious and a little bit charming, Banana Jones is guaranteed to be one online casino game you just can't walk away from. Read on to learn more about this exciting new online title and how you can help our little monkey mate accumulate gemstones for the payout counter whilst besting Leopold and his minions to secure the Crystal Banana within the temple.
Game Details
Developer: RealTime Gaming
Game type: Snakes and Ladders style board game
Maximum payout: 2,565 times the bet
Dice results range: 2-12
Dice rolls per bet: 5
Free dice rolls: Yes
Platforms: Mobile, instant play


Gameplay
Banana Jones is a fresh new take on the digital casino game genre. This is due to the fact that it blends an action/adventure storyline with Snakes and Ladders, whilst also incorporating small elements found in online pokies.
Rather than be complicated or confusing however, Banana Jones has been perfectly executed. Aside from the charming graphics and entertaining sound effects, this online casino game also offers up some pleasant feelings of nostalgia thanks to the Snakes and Ladders inspired layout.
Essentially Banana Jones plays just like this classic board game, except with a few minor tweaks. One bet will get you five rolls of two dice, both of which can result in Banana Jones taking anywhere between two and 12 steps respectively. The ultimate goal is to successfully navigate all the steps leading up to the temple, trigger the Crystal Banana Quest and Treasure Wheel bonus rounds and collect as many symbols as you can.
These steps are littered with gemstones and the Treasure Wheel Head feature icon, plus some snakes and vines that represent the snakes and ladders from the original game. As you may have guessed, these operate the same way as the popular board game, for example if Banana Jones lands on the head of the snake, he goes moves backwards to the tail of the snake. If he lands on the base of a vine though, he'll move to the top of it. Your winnings will depend on the gemstones you collect and how well you fare during the Crystal Banana Quest feature.


Symbols
Since Banana Jones doesn't really conform to the standard online pokie style of casino game, there aren't a lot of in-game symbols to encounter. This actually works quite well, since the beauty of this game is in its simplicity.
Throughout the game there is however a number of gemstones you can collect. These gemstones are tracked by the counter and paid according to a pay table. It nearly goes without saying then, the more gemstones you collect the higher your chances are of walking away with a massive payout at the end of the game.


Feature Rounds
Banana Jones doesn't indulge in a multitude of complex and hard to trigger feature rounds. Instead, it hosts two relatively easy to start bonus rounds that are activated by certain steps in the base game and when Banana Jones finally reaches the temple.
The first of these is the Treasure Wheel feature. This is triggered when Banana Jones lands on the Treasure Wheel Head on the board. There are a number of these located throughout the game, so you should find yourself landing on them at least once before you reach the final temple. Do so and you can look forward to one free spin that'll award a cash prize.
The second and unquestionably more worthwhile bonus round is the Crystal Banana Quest feature. The Crystal Banana Quest is triggered when Banana Jones reaches the ancient temple at the end of the board. Once you get there, you'll then be able to select a chest with fruit inside. The fruits (plum, apple, banana, grape, pear) inside the chest will be added to the counter. Once the counter is full you'll be paid out according to what the total amount is.
Where to Play
Banana Jones is available to play with Fair Go on your mobile, tablet, laptop or desktop. All you need to do to get in on the action is head on over to the Fair Go casino website and click on the "Speciality Games" tab. Of course, since this game is somewhere between a traditional board game and an online pokie, it would be wise for you to make sure you've read this entire blog post back to front. Even though it's not a hard game to play, you'll no doubt feel more confident trying to take on Leopold the Leopard and his snake cronies if you know how it operates.
So, are you ready to embark on an adventure with Banana Jones? If your answer is yes, it's time to put on your best fedora, grab a treasure map and play this exciting online casino game. There's a max payout 2,565 times the bet per line on offer, not to mention you'll also help make a little monkey's crash landing in an undiscovered jungle a little less traumatic if you can find that Crystal Banana he originally set out for.