Introducing Bubble Bubble 2
Expired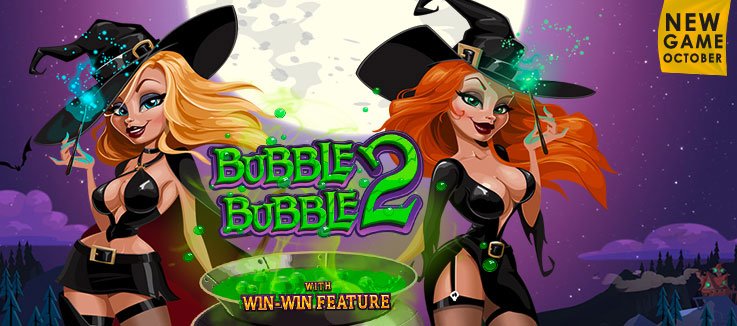 Winni And Wanda Are Back And There's Trouble A Brewin'
Winni and Wanda are back in black and they're conjuring up a cauldron full of special features in Bubble Bubble 2. This online pokie is one of the most popular casino games to ever grace Fair Go Casino – and it's easy to see why. Sequel to the beloved Bubble Bubble, Bubble Bubble 2 takes the Halloween theme one step further and introduces a wealth of enchanting new reasons to play. Not only will Bubble Bubble 2 keep your eyes glued to the screen; you'll also be able to enjoy the Machiavellian allure of these bewitching sisters of darkness. A little bit sexy and a whole lotta' mischievous, Winni and Wanda are proof that two witches is better than one! If you've ever had a penchant for lovely ladies in black then Bubble Bubble 2 is guaranteed to get you going.
If you're not familiar with the Bubble Bubble franchise then all we can do is forewarn you that it's not for the faint of heart. This visually appealing game will sweep you up and cast a spell that'll keep you coming back for more. Whether it's the amusing images of Winni and Wanda or the fun sound effects that punctuate each spin, Bubble Bubble 2 will more than prove its worth as one of the all time great online pokies.
The game's developers have also cooked up a bunch of animations to keep you entertained. Comical bats, black cats, skulls, potions and cauldrons all add to the spooky Halloween theme that permeates the game – a treat for the novice and experienced pokie player alike. All that's left is to grab your black cape, wand and book of spells as you bunker down and step into the whimsical and witchy world of Winni and Wanda!
Game Symbols And Scatters
All of the symbols in Bubble Bubble 2 take their inspiration from Halloween and the legends surrounding the existence of witches. From the very first spin you'll be able to get a grasp on the macabre array of characters and icons that make this game so engaging. Magical black hats, cats and bats plus witchy voodoo dolls, lusty love potions, melting candles and devilish books contribute towards its distinctly quirky ambiance. All of these symbols play left to right, including our favourite one – the magic Wand.
This is the symbol that you really want to keep an eye out for. Rack up a few of these bad boys on your screen and you can look forward to triggering one of the bonus features. Substitute symbols also include the seductive Winni and Wanda Witch and the ghastly Wild Ghosts.
Gameplay
One of our favourite things about Bubble Bubble 2 is that it turns the concept of witches on its pointy hat wearing head. When many of us think of witches, we're met with images of haggard old women with crooked noses, warts and a hunched over posture that only adds to their wicked demeanour. Instead, Bubble Bubble 2 treats you to two enticing and cheerfully naughty witches that are eerily good looking. Another aspect of Bubble Bubble 2 is the fact that its gameplay is a definite improvement on an already fantastic online pokie. With 50 fixed paylines, 5 reels and a top award that comes out at 9,000 times bet per line, there's plenty of opportunities to conjure up some cash. Note that scatter wins are added to line wins and are multiplied by the total bet.
In addition to these elements of the games, you can also look forward to seeing Winni and Wanda Witch appear on reels 1 and 5 during normal games. When doing so, they count for all symbols (including scatters) and will expand to cover their reel before the payout is rewarded. That's not all though, and the prize is tripled when either Winni or Wanda appears in a winning combination, or multiplied by nine when they appear in the SAME winning combination. Two witches really are better than one!
Special Features
The best thing about Bubble Bubble 2 by far is the amount of features up for grabs. These features are also inspired by the weird world of witches and are awarded when three or more scatters appear from left to right or if you summon a triggering wand. See what's in store for you when you play Bubble Bubble 2 below.
Greater Ghost Feature
Kick your fear of ghosts to the curb and embrace the spirit of the "Greater Ghost" in this awesome feature. Dodge and weave the Wild Ghosts as you're awarded 20 free games. Up to nine of these airborne apparitions will fly onto the reels after any scatter is paid. Note that the feature can be retriggered, with retriggering scatters counted before the Wild Ghosts fly onto the reels. Wild Ghosts also count for all symbols except scatters.
Wilder Witches Feature
Get ready to cut some rug with two of the most fun loving witches ever to have existed! The Wilder Witches Feature involves Winni and Wanda moving their magical bodies to the rhythm of the midnight music as they cast a spell and award you 9 free games. Reels struck by the spell are turned into the same witch that cast the spell, before pays are awarded. If both witches appear, they will either cast a spell onto the middle reel to turn it wild, add 33 extra free games or do both! This feature can be retriggered, with retriggering scatters counted before any spells are cast. "WILD" counts for all symbols including scatters and only appears during the Wilder Witches Feature, when both witches are on the reels.
Win-Win Feature
Just when you thought Bubble Bubble 2 couldn't get any wilder, along comes the Win-Win Feature! This feature supplements the insane amount of fun you'll already be having playing this game and comes alive during the Wilder Witches Feature. Essentially, Win-Win awards a bonus if the overall win from the Wilder Witches Feature (excluding any trigger win) is 10 times the triggering bet or less.
Ultra Bewitched Feature
If you haven't fallen under these wiley temptresses' spell just yet then the Ultra Bewitched Feature will have you beat. During this feature seven free games will be awarded (with at least one expanded Wild) and Winni the Witch will either cover reel one or Wanda the Witch will cover reel five. If you're lucky, both may cover their reels on any given spin! This feature can be retriggered.
When And Where To Play
If you've read enough about this game and want to find out how to play it then you're in luck! Bubble Bubble 2 from RealTime Gaming comes to Fair Go Casino on the 11th October. Soon you'll be able to test your mettle against two of the most devilishly fun and flagrantly impish witches ever to appear in an online casino game. Play on your mobile, tablet, laptop or desktop and enjoy the Halloween inspired animations that give this game such a unique flavour. Decide once and for all which witch is your favourite witch with Bubble Bubble 2 – coming to Fair Go Casino soon!