Introducing Cash Bandits 2
Expired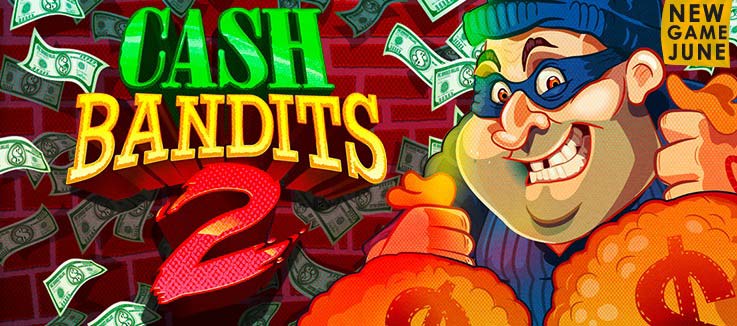 Win Bags of Moolah!
Everybody loves the suspense of a great crime story. Packed with tension and drama, plot twists and turns, and jaw-dropping events, they keep you on the edge of your seat the whole time. And it's even better when there's a sequel! The original Cash Bandits pokie packed in tons of dramatic moments and was a smashing success with legions of fans everywhere. It was an absolute ripper of a game! With bandits on the loose, there was money to be won and people were always stoked about it! Whenever the Robbers showed up, the money flowed.
Of course, since you were knee high to a grasshopper, you've been taught that crime doesn't pay. And in real life it surely doesn't, because criminals always wind up on the wrong side of the law. But when it comes to great pokies, it's a totally different story! Once you start working with these crickey bandits in the new pokie Cash Bandits 2, your opinion of crime could be seriously tested. Because when those bandits show up, you will be one happy pokie player!
We're not suggesting you turn into a criminal, but when you're working with aces like the Cash Bandits, you just might feel like you're getting away with something illegal. But don't worry, you're just playing a great pokie and the boys in blue aren't going to show up and arrest you!
Even Better than the Original!
This is the blockbuster sequel to Real Time Gaming's original Cash Bandits — the appropriately named Cash Bandits 2! It's even better than the original, with improved and upgraded graphics plus jackpots, galore. And you'll find it at Fair Go Casino, the Lucky Country's best online casino.
While nobody should pursue a life of crime, the excitement of a proper big heist is undeniable. When you partner with the bandits in this new pokie, you'll be swept up in the efforts to crack the code and bust into the vault! Talk about suspense — you're looking for those Robbers to show up so you can walk out with a pile of moolah.
These bandits do a proper good job of building up the suspense, just like you might expect in a high stakes crime. But while the bandits might be suspect, there's nothing bodgy about this pokie. It's definitely fair dinkum and a ripper way to play at Fair Go.
Make Out Like a Bandit!
There are multiple ways to win and the prizes are grouse, so it almost feels like stealing! Almost, that is. With 25 paylines and Progressive Jackpots that can pay at the end of any game, the cash keeps flowing. Progressive Jackpots are added to other wins and the Jackpot is triggered at random. And talk about payouts! They'll leave you gobsmacked, mate.
This is a pokie that packs the excitement of a major bank job into every single spin. While the win direction is the usual Left to Right, there are also Scatters! The Scatter symbol is a Robber, so when they show up you'll find yourself saying, "Hey there, mate, great to see you!"
Here's what happens whenever three Scattered Robbers show up anywhere — you can crack into the vault! Yes, the vault that everyone loved in the original Cash Bandits is back! What's in the vault, you ask? Well, it's a ripper feature of this game — you can unlock up to 100 free games in it. And all wins pay 17 times! It's not everyday you're hoping Robbers show up right in front of you, but this is an exception!
How do you crack into the vault? Each vault requires a one, two, three, four or five digit code. Get things right and you can win 5, 10, 20, 50 or 100 free games, while increasing the Multiplier by 1, 2, 3, 4 or 5! Get a retrigger and you get five free games added!
Jackpots can be grouped, so you can keep racking up the dollars with the help of those crickey bandits! The graphics really pop in this game, while the music and effects will make you feel like you're in the middle of a madcap television crime series. Get your mates together and have a party planning your next caper in our new pokie, Cash Bandits 2. This is a pokie everyone will get stoked about, especially if they loved the original Cash Bandits!
Play this Great New Pokie!
Don't get stuck playing bodgy pokies, good people of Oz. It's dead set that this pokie will be one you want to come back to and play again and again. It's a spiffy one, for sure, and once the jackpots start popping, you'll be calling everyone over for a proper good rage.
If you're looking for a great pokie to start a hot streak, Cash Bandits 2 is a fair dinkum winner. Start spinning — and start cheering for those bandits to show up! The more you see, the more you'll win. Start playing and it won't be long before things are going off!