Introducing Cubee
Expired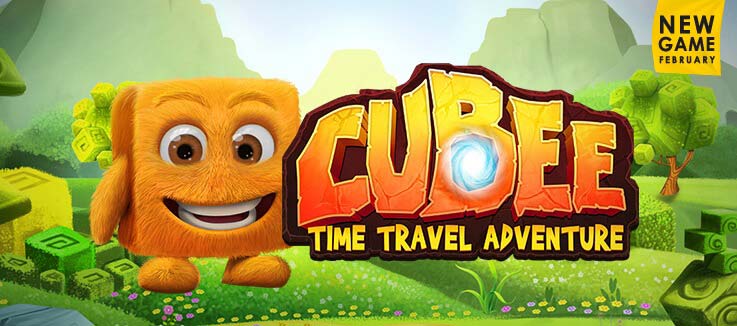 A Unique Time Travelling Adventure Game With A Huge Top Award
Cubee is about as non-traditional as it gets when it comes to online casino games, courtesy of its cartoony animations and quirky gameplay. But fear not, because it only takes a couple of "spins" to get accustomed to its unique layout and curious style of play.
Essentially your mission is to help an adorable little three-dimensional square called Cubee travel through time and reach the safety of his magical kingdom; the aptly named Cubeeland. This isn't a walk in the park though, so you'll need to assist him in gathering the power balls that fly out from the spinning blue vortex in the centre of your screen. Each one of these boosts his energy level and takes him one step closer to home sweet home. But here's where things get even more interesting…
As you join Cubee on his quest, you'll also be swept through different time periods and encounter a combination of eight floating enemies, various weaponry plus cubee's one-eyed opponent, Rocco. Rocco is a bit of a pain in Cubee's rear corners, so it's vital you collect as many of those invigorating power balls and weapons as possible to defeat him.
For those of you who manage to transport Cubee back to his homeland, you'll be greatly rewarded for your effort. Fail to do so and you can kiss Cubee, his beautiful kingdom and that coveted top award goodbye.
How Do I Play Cubee?
Playing and winning on Cubee is much easier than you think. It starts with you clicking the spin button on the screen, which then brings the twirling blue time travel vortex to life. This potent portal behaves similar to conventional pokie reels, spewing up those floating enemies and power balls we mentioned earlier in addition to a number of special weapons. Your aim here is to help Cubee build up his energy levels with the power balls, defeat those pesky flying foes and use the weapons to rock Rocco's world.
Cubee begins on energy level one for at the beginning of every game and any power ball he gathers will increase his energy levels by an additional one. As his energy levels rise, he'll be capable of taking on harder and harder enemies, but he can only ever truly defeat an enemy that is of lower or equal strength. Each weapon will also reduce Rocco's health. Once that crazy cycloptic Rocco has been totally conquered, Cubee will be carried away to a different era with new ways to win, new enemies and new weapons.
What Are Cubee's Feature Rounds?
Rather than having a base game and a bonus round like your run of the mill online pokie, Cubee's feature rounds take the form of different epochs in history. These eras include The Stone Age, The Viking Age and The Piracy Age. Our cute and courageous little cubes homeland, Cubeeland, also serves as a playable environment.
In The Stone Age and The Viking Age, bows and arrows are the game's prize multiplier symbols. In The Piracy Age, however, these primitive weapons will be replaced by cannons, which are Cubee's free games. There's also a top award that's a whopping 50,000 times the bet per line.
Once you've given Rocco what for using all of these armaments, only then will you be transported back to Cubeeland and have the opportunity to cash in on all of the free spins and prize multipliers you've accumulated. During this time free games will be played at the stake of your multipliers and at the bet amount used throughout the three stages.
The best thing about landing back in Cubeeland, aside from the obvious winnings you can enjoy, is that Rocco is forbidden from stepping foot in this hallowed kingdom. This means that there's no need for weapons, which increases your changes of getting a high paying winning combination.