Introducing Fantasy Mission Force
Expired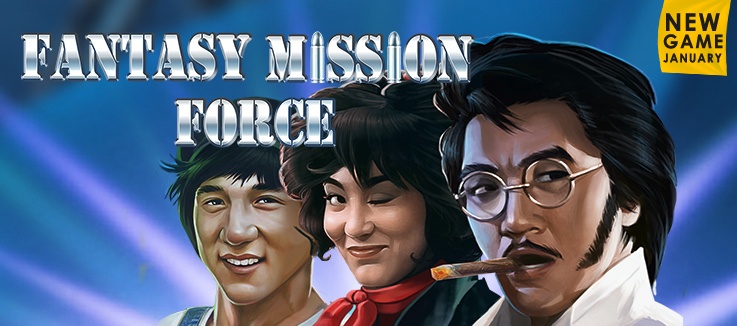 Fantasy Mission Force – Our Latest Online Pokie Release
Fantasy Mission Force is a new release from Realtime Gaming that drops you right into the thick of the action during WWII. Your mission, whether you choose to accept it, is to join four brave resistance fighters skilled in martial arts on a quest to change the fate of history. The objective here is to use your superior Kung Fu fighting abilities to rescue captured Allied generals from the dark, dangerous and presumably quite uncomfortable depths of an Axis internment camp.
Boasting exhilarating free spin bonus rounds plus equally exciting multipliers and a decidedly generous jackpot, Fantasy Mission Force breathes new life into the movie of the same name with outstanding graphics and authentic sound effects.
Also not to be overlooked is the news that Jackie Chan, who plays petty criminal Sammy, features as one of the playable symbols alongside other well known characters from the film as Lieutenant Don Wen, femme fatale Lily and the smooth talking hustler Billy.
No matter whether you're a veteran online casino game player or have only recently discovered the joy of digital pokies, Fantasy Mission Force is sure to offer up a bevvy of fun, thrills and welcome surprises the more you play. Join us to discover all you need to know about our latest online pokie and get the inside scoop on what it takes to win big.
Gameplay
Whenever we hear about a new pokie game from Realtime Gaming, our expectations soar through the roof. Luckily, this reputable developer has a history of living up to their potential when it comes to online pokie games – and Fantasy Mission Force is no different.
Set against a WWII prison camp background and with a rousing, brass heavy soundtrack to boot, Fantasy Mission Force does a fantastic job of inspiring players to try their best in completing the treacherous task at hand. The standard 5x3 reel layout will be familiar to more established gamers and new recruits alike, as will the 20 adjustable paylines. All winning combinations are formed left to right and three of the same symbol is the minimum requirement for triggering a payout. Bet information is laid out in the bottom left corner of the screen, to the right of the information button and on the opposite side of the pause/stop, autoplay and spin icons.
Symbols
While some more seasoned online pokie players may not pay too much attention to the design of the symbols, it's worth noting that for Fantasy Mission Force, Realtime Gaming has done some awesome work in appropriating the main characters faces.
Firstly, we have a symbol based on the cigar smoking Lt. Don Wen, who in the film is called upon to organise a rescue effort to save the captured generals. His first task is to assemble a team of battle hardened fighters that can contribute towards the effort. We're then introduced to the Lily, Billy and Sammy (Jackie Chan) symbols.
Since this is a WWII/martial arts themed pokie, you can also expect plenty of weapons and weapon related icons to feature during gameplay. Bombs, knives, grenades, guns, maces and even crossbows all make an appearance alongside the main characters.
The Dynamite, Fuses and Bag of Money are the symbols you really want to aim for though. That's because each of these offers up a special prize. The Dynamite for instance is the Scatter that triggers the free games, while the Fuse icons start the Kaboom! feature. Of course, let's not forget that the Bag of Money represents a Wild, which substitutes for all regular symbols and adds a 2x multiplier when it's part of a winning combination.
Features
When it comes to both real life and online pokies, it's all about the features. Just thank the martial arts gods and Realtime Gaming that Fantasy Mission Force has a couple of crackers.
Play today to try your luck at triggering either the Dynamite Free Spins or Kaboom! feature. Both will reward the wiley online casino gamer by bumping up their bank balance and treating them to a big blue congratulations banner that pops up on the screen.
To add even more firepower to your playing experience, there's also a progressive jackpot that's triggered randomly during the base game. FYI, this jackpot can go all the way up to thousands of $$$, so just make sure you've got a wallet big enough to fit those bank notes when it goes off. Read on for more details regarding Fantasy Mission Force's massive features.
Dynamite Free Games
Unlike more traditional features, the Dynamite Free Games round is only triggered when you land the correct combination of Scatters and Wilds on your reels. That's to say that the only way to begin the free games feature is to land the Dynamite symbol on reel number one and the Bag of Money symbol on reel five.
Fear not though, because it's much easier than it seems. And once its starts you'll receive seven free spins and all prizes tripled.
Great news, right? Especially since the Bag of Money Wild comes with a two times multiplier during the base game and an awesome six times multiplier when formed with a winning combination while in the Dynamite Free Spins round.
Kaboom! Feature
This feature has been given the name Kaboom! for the sole reason that in order to trigger it, you need three or more Fuses to land on your reels during the Dynamite Free Spins round. Explosive by nature and not just name, each of these fuses then grants the player three extra free spins. Essentially, it's a good ol' fashioned "the more you land the more you win" feature – something both new and experienced online casino gamers are sure to appreciate.
Payouts
In addition to being able to feel good about fighting for the forces of good, Fair Go members will also have the opportunity to win big on the Progressive Jackpotor receive a payout 50,000 times the line bet.
As previously stated, the Progressive Jackpot can go off at any point during the game. With all the multipliers that can be tacked on during the feature rounds though, we reckon you'll still walk away with a smile on your face even if the jackpot somehow eludes you.
Where To Play
Fantasy Mission Force can be played on your mobile, tablet, laptop or desktop right now. Simply head on over to the Fair Go website or pull up our app on your phone. Remember to take advantage of all the special bonuses we've sent leading up to its release if you really when to maximise your chance of hitting that coveted jackpot.
Just don't forget what's at stake when you play Fantasy Mission Force. The fate of the Allied forces during WWII depends upon your ability to trigger the right features at the right time. With your help and the assistance of Lt. Don Wen, Lily, Billy and Jackie Chan as Sammy, you can change the course of history, or at the very least, give those digits on your account balance a little kung fu kick in the right direction.