Introducing Fish Catch
Expired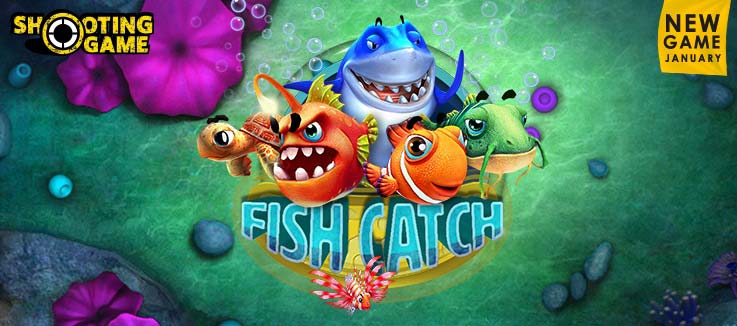 A Unique Multiplayer Shoot 'Em Up Style Game That's Set Deep Underwater
If you're looking for a casino game that's refreshingly different from other titles then Fish Catch is guaranteed to be your perfect match. Taking place across several thrilling underwater environments, you'll join up to four other players in an attempt to shoot and catch a variety of high and low paying sea creatures with a net cannon that determines your firepower and just how much you can win.
The objective is to compete against your fellow gamers whilst doing your best to trigger the magnificent Mermaid's Luck feature round and capture as many big fish as possible. For landlubbers who manage to blast and capture a few high value fish plus activate the game's bonus round, you'll be rewarded with additional prizes or a top award 1,000 times the bet per line.
So don't bother wasting any more of your oxygen on terra firma. Take the plunge and dive headfirst into Fish Catch today or read on for more information about this creative shooter-style game.
Game Details
Developer: Realtime Gaming
Type: Shooting game
Maximum payout: 1,000 times the bet per line
Multiplayer: Up to four players per game
Jackpot: Game without jackpots
Bonus round: Yes
Platforms: Instant play and online
Gameplay
Fish Catch is a specialty shooter game that's defined by its multiplayer platform and interactive gameplay. Fantastic graphics and plenty of playing options, such as the ability to select which net cannon you want to use plus a number of different species of fish to shoot and capture, also contribute towards its inimitable quality. Another feature of Fish Catch is the fact it offers four different environments for you to immerse yourself in. All set deep underwater but with subtle variations on what one may expect to find in Davey Jones' Locker.
In order to become the undisputed champion of your underwater environment, you'll need to net a few high-paying fish for your tally. To do this, simply choose which prize multiplier cannon you want to use then take aim at the fish you want to hit and fire away . Some fish require a few shots to take down, while others can be captured with a single shot. Of course, the more fish you catch the more you'll win, so you'll need to be trigger-happy and focused in order to haul in a the big bucks.
A randomly activated feature round that automatically spins a roulette table, adding winnings to your catch, also ensures you'll be kept on your toes throughout the entire game. Thus providing an additional hit of action to an already exciting and innovative title.
Symbols
Once you've selected which net cannon you want to use out of the five available, you'll then have an opportunity to take a shot at up to 20 different fish symbols that appear throughout the game.
Some of these will be familiar to gamers, such as the swordfish, squid and clownfish. While others, such as the mermaids, may not be as easy to see at your local aquarium. All of them, however, represent a different value, while each type of cannon represents a different prize multiplier.
Feature Rounds
The Mermaids Luck feature round is like the delicate seasoning on a freshly caught fish, in the sense that it adds some serious gusto to this specialty casino game. Unfortunately, there's not much you can do to trigger it, since it's randomly activated as you play. The good thing though is that it will pay up to 250 times your current bet , meaning you may be able to fund your very own underwater expedition in real life if or when it's triggered.
Where to Play
There's only one place that you need to visit in order to play Fish Catch and that's Fair Go casino. So grab your mobile, start your tablet or boot up that laptop or computer, because to miss out on trying this innovative new online casino game for yourself is to miss out on bulk fun and big winnings. Due to the top award that's 1,000 times the bet per line, interactive shooter-style design and that elusive feature round that's soaking wet with potential.