Introducing Kung Fu Rooster
Expired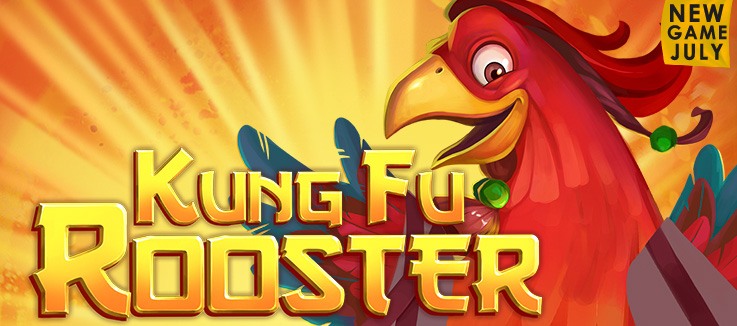 Good Oil on Kung Fu Rooster
Kung Fun Rooster is a five reel slot game with 12 paylines to give you fair dinkum odds of winning big. Even if you don't know the first thing about the Chinese New Year, you'll love this ripper of a game. The graphics will leave you absolutely gobsmacked — you and your mates will want to play this game because the excitement goes beyond. Talk about bold graphics — this game is exciting before you even place your first bet, plus it has a special themed soundtrack that plays throughout the game and will make you feel like you're spinning at a grouse casino in China.
Here are some of the most important bits of information you'll want to know when it comes to playing this online pokie. The Rooster, as you might have guessed, is Wild, so you can use this wily and lucky creature to complete a winning combination. The Rooster means good luck in 2017, and it definitely means that in this great pokie! There are also scattered Monkeys around to help you earn free spins — get three Scatters anywhere on your reels and you can end up with 25 free spins! It gets even better once you're having a go with your Free Spins because this unlocks the Fire Claw Multiplier. That makes the prizes crickey. How crickey, you ask? The Fire Claw Multiplier prizes are Times One on the first free spin, Times Two on the second free spin and just keeps increasing with every free spin you have, up to 25 times your prize! So your chances of winning just keep going up with every free spin. Even though you won't see any more Monkeys during the free spins, you should see loads more moolah!
The backgrounds on this pokie include pagodas and cherry blossoms, while the symbols on the reels are amazing. In addition to the Rooster and the Monkeys, when you play this pokie you'll see monkey claws, knives and loads of traditional Kung Fu symbols. While the symbols you really want to see in your reels are the Rooster and those Monkeys, the graphics really help make this pokie a ripper experience.
Sweep Away Bad Luck
According to Chinese culture, the Rooster is a symbol of luck, fortune, protection, and even fidelity. We don't know if it can make you faithful, but we are confident the Kung Fu Rooster in this incredible pokie can make you feel lucky and rich! He's working hard to deliver an amazing experience, with a top payout that is 50,000 times your bet per line! Even if Chinese symbols like lotus flowers or Yin-and-Yang aren't your thing, putting winnings like that into your own account will turn you into a fan of this pokie in a hurry.
Kung Fu Rooster is available for Instant Play, Mobile, and Download, so you can play this pokie no matter where you might be. It's fast, efficient, and will make you feel like you've been transported to a Chinese casino with lots of buzz and excitement all around you.
Another Ace Game from Fair Go
Our new pokie, Kung Fu Rooster is one more example of the ripper pokies you can always expect to find at Fair Go, Australia's #1 online casino. We're confident you'll be stoked by every pokie in our lineup, and you'll definitely want to add Kung Fu Rooster to the list of pokies you love to play. Gather the mate's with some amber fluid and start spinning, because there's nothing but wins waiting for you at Fair Go! We always bring you pokies that deliver real excitement with payouts so good they'll make you say, "Oi!"