Introducing Popiñata
Expired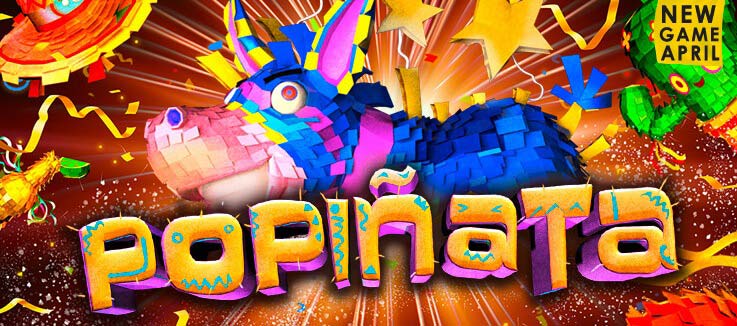 Get Ready for Popiñata, Australia!
RealTime Gaming, a new game provider to the folks of The Lucky Country, has created another top notch pokie to add to their growing portfolio, and those of you here at Fair Go Casino have a chance to try it first! Seeking out the fair dinkum of this new hit title? Well, you do not have to wait any longer, for your wish is about to be fulfilled. Be prepared to spin with the best and leave the rest - RealTime Gaming has done it again!
With Popiñata, the Aussie gamers are sure to have a 'fair go' once you test your luck on this swinging new pokie! RTG promises an exciting new kind of gaming experience with this new entry into the world of pokies, and they hardly disappoint. Not only is this new pokie bright and uplifting in its appearance, with an equally exciting soundtrack, but navigating through this pokie is simple and easy going. Fair Go Casino is the first in the Aussie casino market to offer Popiñata, which means we just can't wait for you to lay your hands on this game and test it out.
Swing a Win with Popiñata
Our new game, Popiñata, is all about taking a proper 'swing' to hit that bonus-filled piñata, and if you spin it the right way, this may certainly be your reality! There are plenty of real money pokies out there but Popiñata is bound to be in its own separate league - This is far from a bodgy game, it holds all of the qualities that make for some solid gameplay! Once you're in, you will be entering a 'festive vibe', as it presents a highly colourful game with a glow that will get all players into a proper party mood! Are you ready with your party pants? So, come on then; start playing for real money in this exciting new game. The piñatas are going to explode with numerous prizes as you begin to have fun after spinning (or swinging!) the reels.
Popiñata features five reels and ten variable paylines on which you can place a wager and chance your arm. You have to remember to place a wager with real money so that when you find the piñatas exploding on the reels in front of you, they will hold you spellbound with exciting prizes (however, you can always test it out in Free Play mode!). The one symbol that you will have to really watch out for is the famous Donkey. You will realise that it is very much in line with the theme and the name, itself, of this game. The Donkey is the infamous Wild symbol in this pokie, which is not at all surprising - It actually passes off as a highly lucrative symbol!
Look out for Donkey!
When you start with our new game Popiñata, the Donkey will appear on the second, third and fourth reel. When you see the Donkey appearing on these selected reels, it will be able to substitute for all the other symbols, which you just know is going to pay off handsomely. As the symbols start to appear, they will begin to expand and cover all the three rows on a given reel. This increases the winning combinations that may form on every spin, so keep your eyes peeled as the wins rise! When you find one or more of the expanded Donkeys appearing on the reels, you will have the re-spin feature triggered. It should be noted that this feature can be played at the same wager as that of the triggering bet. During this feature, the expanded Donkey is held while all the other reels would re-spin. Should the reels spin in another Donkey, that re-spin will then be re-triggered, starting this grouse feature all of again!
You should not be surprised with the fact that this game does not offer any Scatter symbol, as with the rewarding Donkey Wild, the pokie more than makes up for it with some rewarding prizes. The top on the list of such features is the very way the pokie pays out to players, regardless of whether the symbols are all lined up from the left to the right or for that matter, from the right to the left. The striking features of the game are its stunning graphics and great animations, which is certainly going to be your first impression. Over and above these animations is a user interface that has been designed superbly, so that players like you can find it enjoyable. The sound effects in this game will keep you tapping your feet to a bewitching rhythm while your head keeps nodding and prodding you to go on as you observe your bankroll swell. Most importantly, this rager of a game works best with both Instant Play and Mobile, so it's really the perfect addition to our game portfolio here at Fair Go Casino!
Your Next Pokie Party
This pokie by RTG is not only swift in its gameplay but it is also quite efficient. It has been exclusively designed to help boost the gaming experience for the Aussie players. Its sound effects and high quality graphics will make most players go "Oi!". Popiñata can become one of the most rewarding among the pokies that do not have jackpots as it offers players a good chance of earning real money. As the payouts are frequent, the chances are very high of winning with almost every spin. The top award in the form of a payout in this game is the line bet x 250. Hence, the higher the wager you place on every spin, the more are your chances of winning. Betting max allowed is the way to go if you want to bag large prizes while playing Popiñata, but you'll have to take a spin, for yourself, to find out!
RealTime Gaming's Popiñata is certain to get all Aussie gamers into a party and carnival mood; if this game does not get you into a party groove, believe us, nothing will! The game's paylines and reels are the core to its whacky re-spin feature and its Mexican theme, with its mesmerising visuals, will remind you of your favourite cartoon film. Plunge into the world of a Latin Carnival and bring this experience to the Land Down Under with Fair Go Casino! It's no game of Two Up, but one thing's for certain, it'll keep you entertained!