Enjoy encounters of the payout kind on Alien Wins
Expired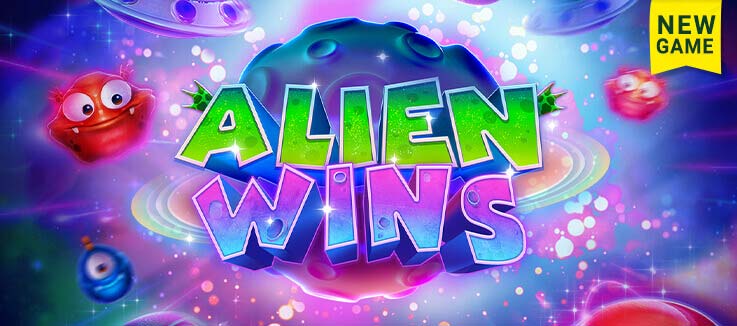 Greetings, Fair Go'ers... Aliens Wins come in peace. But it's also coming with out of this world wilds, Cosmic Spins and a planet-sized top payout that'll have you reaching for the stars. So don your space suit and join us on a journey through the great unknown. Alien Wins is here to stay!
Game Details
Launch date: 1st February 2023 
Volatility: High
Reels: 5x3
Top award: 50,000-coins
Substitute: Spaceship and bursting wild
Scatters: No scatters
Jackpot: Game without jackpots
Paylines: 10-fixed paylines
Bonus rounds: Yes
Bonus type: Free games, prize multipliers, respins, morphing wilds,
Platforms: Mobile, Instant Play.
About
There's been a lot of talk about aliens lately. Will they come to Oz or will they skip our lovely land of wins? It appears that nobody knows the truth... but here's the inside scoop. Fair Go has recently intercepted (don't ask how) a secret message from Albo himself. The aliens have landed and they're bringing an intergalactic pokie!
Called Alien Wins, it's more cute and cuddly than scary and weird. Actually, scratch that... it's also pretty suss. There are colourful little alien critters and they're ready to give out some major wins. There's also gameplay and graphics that can only be described as totally out of this world.
Are you ready to blast into a universe where extraterrestrial life, balance-boosting payouts and cosmic cash lurk around every planet? Grab your new game bonus and give Alien Wins a spin right now. Otherwise, you can find out more about the game and what you could be winning down below.
Gameplay
You might think outerspace looks scary and that it's only populated by planets, stars and galaxies. If that's your line of thinking, you're only half right. We've discovered that it's also full of aliens and extra special gameplay!
Seriosuly though, Alien Wins is a lighthearted pokie that can still put a spring in your step (without having to use a probe). It's got a 5x3 gameboard, 10-paylines and high-volatility ways to win. All symbols pay left to right and the top award is 50,000-coins. There are also two different wild functions to enjoy plus both player-activated and randomly triggered bonus features... but ZERO scatters!
In general, Alien Wins can deliver astronomical payouts. But without jackpots it's not the most lucrative pokie we've ever seen. Fortunately, it makes up for this with cute-as-a-control-panel-button characters and charming gameplay.
Just try not to smile when you see the aliens dancing around in celebration when you hit a winning combo – what an intergalactic trip!
Symbols
Alien Wins symbols are especially bright and colourful, which fits in with the game's intergalactic theme.
Aliens abound, but these aren't the type who conduct experiments on cattle or abduct your fellow punters. You're more in danger of being hugged into submission than laser zapped with these little dudes (or is it dudettes?).
As for the best symbols, these are the wild Spaceships that can both morph and burst depending on the type of spin you made. We'll cover their specific functions in the Bonus Rounds section below. Oh... and in case you didn't notice, there are no scatters in Alien Wins!
Bonus rounds
We know what you're thinking. "How can there be a bonus round if there's no scatter symbol"?
To be honest, it's a fair question. The truth though is that with wilds like these, you don't need them. What's more, there's a player-activated bonus you can trigger at any moment.
So don't worry about the fact that Alien Wins is a restricted area for scatters – you can still cash out big thanks to the following features.
Morphing Wild
Ready to learn about the beauty of the Morphing Wild? It comes in the form of a Spaceship that appears only on reels 2, 3 and 4. When this occurs, the following happens:
Wilds always pay the highest possible bet combo according to the paytable
Each wild awards a multiplier worth between x2 and x8
If more than a single multiplier is awarded during the spin and respins, any bet line wins from this spin and the following respins are multiplied
1 or more wilds appearing will expand to cover the entire reel and award a respin
All reels covered with wilds are locked during the respins (while the other reels spin)
Additional wilds during this respin will expand and award a further respin
Your respins end when there are no additional wilds. At this point, your winnings will be paid out
Bursting Wild
Unlike the Morphing Wild feature, the Bursting Wild round is triggered at random. When this happens, 1 to 3 Spaceships land on reels 2, 3 and 4. Note that these wilds cannot land on top of other Wild symbols.
Cosmic Wins
Sick of waiting around for a win? Activate the Cosmic Spins round to guarantee the appearance of wilds on reels 2, 3, and 4 for a higher win. Just remember that this feature costs x10 the bet for 1 guaranteed wild symbol per spin and x95 the bet for 2 guaranteed wilds per spin. And that the round remains active until you deactivate them.
Where to play?
Area Fair Go 51 has been given clearance to land Alien Wins. So, if you're ready to brave the unknown and explore this intergalactic pokie, enter warp speed and head to our space-age (but Down Under) casino today.
Use a mobile or tablet device or your trusty computer – it's up to you! So long as you redeem the new game bonus before you play, Alien Wins will become a friendly new BPF (Best Pokie Forever).
Redeem code "ALIEN-BLOG" for 10 completely free spins on Alien Wins.
*Max. cashout for this bonus is $180. The bonus expires on February 15th. General T&C applies.