10 of the Most Amazing Walks in Sydney and Melbourne
Expired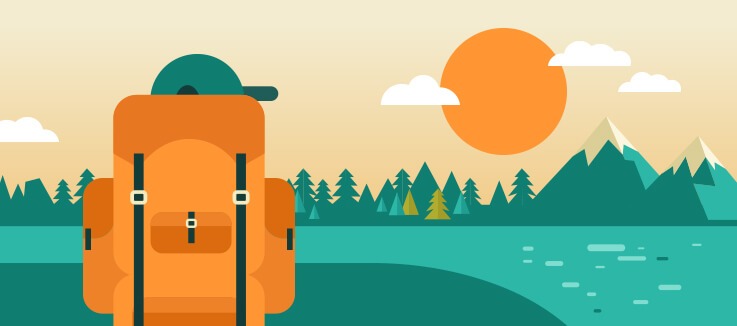 10 of the Most Amazing Walks in Sydney and Melbourne
There is a plethora of ways for you to drink in the beautiful cityscapes of Sydney and Melbourne, including by ferry, by tram, by coach and by bike.
Your best bet if you really want to immerse yourself in the sights and the sounds of these breathtaking Aussie cities and their surrounds though is by lacing up the hiking boots or joggers and exploring them on foot.
This way you can get up close and personal with the subtle distinctions, structures and vistas that make each city so unique, while also enjoying the fresh air and fitness benefits that come with walking.
In light of this the team here at Fair Go casino and our mascot, Kev the Koala, have come up with what we believe are 10 of the most amazing walks in Sydney and Melbourne. So, pack a day bag, set a date with your outdoorsy mates and discover what these state capitals have to offer in terms of walking trails with Australia's most popular online casino.
At the very least you'll get a few decent Instagram shots.
Sydney
Manly to Spit Bridge
The Manly to Spit Bridge trail is a 10-kilometre walk that's become highly popular amongst tourists and locals due to its accessibility and its variety.
From the get-go you'll be treated to a great mix of bush, city and coastal views. Not to mention there are a few secret coves and surprisingly unspoiled beaches to discover along the way.
Combine these stunning scenes with the fact you can also lay your eyes on traditional Aboriginal rock engravings at the highest point of the climb, Grotto Point, and it won't be long before you're waxing lyrical about it to your out of town friends.
Bundeena to Otford
While a 26-kilometre walk may seem a little bit too adventurous for one weekend, we assure you that the Bundeena to Otford trek is well worth the effort.
The main reason being that this meandering trail winds through the Royal National Park, where you can experience being surrounded by native Australian bush and enjoy Cliffs of Moher type views across the ocean. The best things about the Bundeena to Otford walk, however, is that you don't even have to be particularly fit. This means that even though it takes two days and some basic camping gear to complete, you won't have to train much beforehand.
Just make sure you're OK with waking up early though since the sunrise from the trail is not to be missed. Kev the Koala tells us you can even see whales during the Winter months if you're willing to brave the cooler weather.
Bondi to Coogee
You can't compile a list of walks in Sydney without including the Bondi to Coogee trail, which runs for over 6 kilometres and provides sweeping coastal vistas over some of Sydney's most famous beaches.
Sure, there are a few steeper sections that'll get the heart going, but for the most part this a walk for those who don't mind pausing to relish the views. The Bondi to Coogee trail takes about 2 hours in total and is best enjoyed either early in the morning or late in the afternoon to avoid the heat and the crowds. If you happen to hit it midday though, the team here at Australia's most popular online casino recommend taking a dip at Gordons Bay or the Bronte Pool to cool off.
Hermitage Foreshore Walk
If you're looking for a quick walk that's not too demanding on the body, then the Hermitage Foreshore Walk is the perfect option.
Simply park your car at Bayview Hill Road or Nielsen Park and make a round trip in order to really soak up the views. Picnic benches, parks, swimming spots and plenty of opportunities for a quick pit stop make this 3.6-kilometre circuit more relaxing than taxing.
There's even an abundance of million-dollar mansions to ogle and more than enough chances to see the Sydney Harbour Bridge, Shark Island and the Opera House along the way. Allow for about 1 hour if you intend on completing the round and make sure to pack that picnic blanket.
Barrenjoey Lighthouse
The Barrenjoey Lighthouse is an 1800s lighthouse that watches over Sydney's most northern point, Barrenjoey Head. To get there you'll have to endure a vigorous slog up a sandy trail with only a few steps for support.
There are a couple of lookout points though, so you can take a breather and check out Palm Beach or Pittwater from above while enjoying uninterrupted views of the Hawkesbury River and Broken Bay on your way up. Like the Bundeena to Otford trek, the Barrenjoey Lighthouse walk is a great place to look for whales in winter. Unlike the Royal National Park circuit though it only goes for 2-kilometres and takes about 1 hour.
For a fee you can even join a guided walk of the lighthouse every Sunday. That is, if you can muster the energy to concentrate after your hill climb.
Melbourne
Point Nepean Coastal Walk
The Point Nepean Coastal Walk mixes distinctive scenery with good old Australian history and is located at the very tip of the Mornington Peninsula, with Bass Straight on one side and Port Philipp Bay on the other.
Taking anywhere from 2 to 4 hours depending on the route you take, walkers will stumble upon weathered gun turrets and a military fort on their way to Rip lookout, which marks the midway point of the trail. Take note that the Mornington Peninsula is very exposed to the elements, so come prepared for some serious wind and sideways rain if the weather turns.
Bayside Coastal Art Trail
Channel your creative spirit on the Bayside Coastal Art Trail that stretches a total of 17-kilometres from Beaumaris to Brighton through Sandringham, Hamptop and Black Rock. With plenty of places to pause and enjoy views of an endless sea, ochre coloured cliffs and rocky coves, it's easy to see why it was once a major hub for Australian landscape artists such as Arthur Boyd, Clarice Beckett, CA Wilson and Jesse Trail.
The trail now celebrates these names and the local aboriginal history of the area with various signs that highlight the significance of certain spots.
1,000 Steps Walk
Football teams use the 1,000 Steps Walk for pre-season training, but you don't have to go that hard. Instead, you can set a steady pace and immerse yourself in nature as you follow a small creek into the heart of the Dandenong Ranges National Park, complete with towering eucalypts, which are Kev the Koala's favourite tree, verdant valleys and an epic view once you make it to the top.
Considered a Kokoda Memorial Track after the infamous Kokoda Trail in Papua New Guinea, the 1,000 Steps Walk is immensely popular with ambling locals and curious tourists, meaning it can get busy. But hey… at least you know how many steps there are and that it will only take about 40 minutes.
Banksia Park to the Heide Museum of Modern Art
If you have a couple of hours to spare on a lazy Sunday afternoon, why not check out the Heide Museum of Modern Art and its surrounding gardens?
Simply park your car at the aptly named Banksia Park and follow the Yarra River through a grove of ancient-looking trees until you enter Heide Sculpture Park. Here you'll see a community pavilion and a small herd of life-size cow statuaries before coming upon the Museum.
All in all, the entire circuit stretches for 5-kilometres and takes roughly 2 hours, which makes it ideal for those days when you've got time to kill and a hankering for fine art.
Werribee Gorge Circuit
If you want to test your mettle in Mother Nature but aren't up for a multi-day hiking trip, the Werribee Gorge Circuit will most definitely quench your thirst for adventure. Just 1 hour's drive northwest of Melbourne, the Werribee Gorge Circuit extends for 10-kilometres through a variety of descents, climbs, river crossings, trails and bush tracks. It's tough, long and magnificently rugged, with great views of the gorge and an abundance of native wildlife to be spotted… including a few of Kev's Victorian relatives.
Dress sensibly and take a decent pair of hiking shoes if you want to make the most of your time there and take note that you'll encounter some steep sections and a spot of cable-assisted walking.
Being of reasonable fitness will certainly make things easier, but as long as you know what you're in for and have completed hikes of a similar length before, you should be ok.