Fair Go Online Casino: Where the Best Cartoon-Style Online Pokies Live
Expired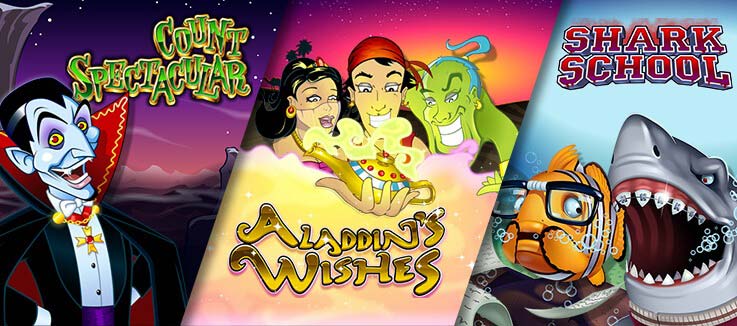 If you are fully connected with the child within – cartoon characters, animated films and all things Disney are a few of your favourite things!  Who wouldn't be blown away by Dumbo flapping his ear-wings, Goofy acting like the goofball we secretly know he is and Mickey getting one over Figaro as he always does?

Now at Fair Go Online Casino there is a collection of cartoon-style online pokies that revive the colourful characters from our childhood.  Graphics are bright, bold and creatively thematic, villains and heroes share the same reels and all along you and I can bank real money when the characters line up as one.

Cartoon-style online pokies are kids' stuff with a serious sprinkling of currency blended in.  They are little people's dreams that have been revved up for an adult audience.

Are you on a quest for the things in life that uplift, entertain and create joy in your heart?  If you are, we have a paying solution for you - and that is awesome animated cartoon-style RTG online pokies with big wins at their core.
Count Dracula of Transylvania
Count Dracula is the suave and occasionally charming character in a Gothic horror story by Bram Stoker.  He is a Transylvanian nobleman, military commander and practitioner of the dark arts. 

He is also a practising vampire and a member of the undead who has inhabited a crumbling old castle in Romania for more centuries than he cares to remember.
Dracula is the quintessential vampire.  He has a flowing dark cloak with red velvet trim, heavily brylcreemed slicked back hair and a devilishly naughty be-fanged smile. 

Get a little too close for comfort and you are likely to end up with v-shaped bite marks in your neck - an unhappy event that can drain your blood from head to toe or turn you into a ferociously hungry vampire instead.
Count Spectacular: The Dracula Themed High Variance Online Pokies
At the best-ever Aussie online casino you can get up close and personal with a vampire figure all of your own.   In this iteration Dracula has morphed into Count Spectacular, a seriously generous blood sucking vamp with melancholy eyes.

He is the key character in a 5 reel and 25 line drama by the design wizards at Real time Gaming (RTG).  Besides delivering the highest payout in the game - which for you mere mortals is 10,000 x the wager - Count Spectacular has the wonderful ability to expand and go wild on the reels!

Hit the count simultaneously on reels 1 and 5 and you will unlock the Count Spectacular Feature.  In this seriously scary - not - online pokies you can choose from 12 free games with 3 x multipliers or four reel resins where reels 1 and 5 are held firmly in place!
Aladdin and the Lamp
Handsome, brave and rather naïve, Aladdin is a beloved character who has made the leap from The Arabian Nights onto the animated magic carpet of the Disneyfied silver screen. 

It is a true rags to riches story first told by the great Syrian story teller Hanna Diyab in around 1709.  In it, Aladdin is a poor young man with no prospects at all.  He is befriended by a wicked sorcerer from North Africa who cons him into entering a booby-trapped cave to retrieve a magic lamp.

Aladdin and the Lamp is an adventure-laden tale of genies, mysterious powers, love and betrayal.  It ends with Aladdin, his mischievous monkey and love of his life, the spectacularly beautiful sultan's daughter, Badroulbadour living happily ever after.
Aladdin's Wishes: A 20 Line Online Pokies with a Random Jackpot
If you want a personal introduction to Aladdin and co we can set up a real money engagement at Fair Go – Australia's number one online casino.  All you have to do is visit our lobby, click on the online Pokies and Slots tab and open Aladdin's Wishes on your PC, tablet, or phone.

You will encounter all the cute characters featured in the animated movie.  You will also have a chance to match Middle Eastern iconography on the reels – cutlasses, dhows, palaces and heavily bejewelled sultans' crowns.

Aladdin is wild and appears on reels 2, 3 and 4.  When he appears together with his babe Badroulbadour he provides the 10,000 x top prize.
Hit the scatter palace anywhere on the reels and you will trigger a pick me feature consisting of five matching lamps.  The magic lamp reveals 25 free games with 2 x multipliers but there are still bet multipliers of up to 100 x in play when you miss out on the free spins.

Aside from the in-game features there is a randomly activated progressive jackpot that can give you the same happy ending as the title character in the centuries old story.
Finding Nemo
A movie about a lost little clownfish called Nemo was a box office hit in 2003.  It also won an Oscar for the best animated feature film.  In this Walt Disney money-spinner Nemo is kidnapped by a scuba diver and ends up in an aquarium.

In the meantime, his doting dad Marlin and dim-witted side kick are waylaid from finding Nemo by Bruce, Anchor and Chum – a Great White, Hammerhead and Mako shark respectively. 

Finding Nemo is a story of survival, tenacity and unflagging love.  It is a feel good movie that ends well for all concerned with the exception of the sharks who miss out on a nipper of a meal!
Shark School: A Smashing Online Pokies with the Best-Ever Bonus Games
Nemo makes a welcome appearance on the reels as a rather bookish clownfish.  He, together with his classmates are constantly at risk of being chomped by not three but four sharks in Shark School online pokies.

The 50 line game is a must-play slot at Fair Go Online Casino.  Aside from a top prize of 1,500 x and wilds that appear grouped reasonably frequently on reel I, there is a choice of three unique and highly entertaining second screen bonus games.

All the games are free games with the same rapacious storyline – the sharks are doing what they do best; circling and slowly heading in for the kill!

It's not all guts and gore though… far from it.  You can choose 25 free games with 3 x multipliers, three up-to-10 re-spins with extra wilds, or 25 free games with increasing multipliers.  To top it all, there are extra prizes on the reels when the victims manage to evade a shark attack!