6 epic Australian events you can't miss this August
Expired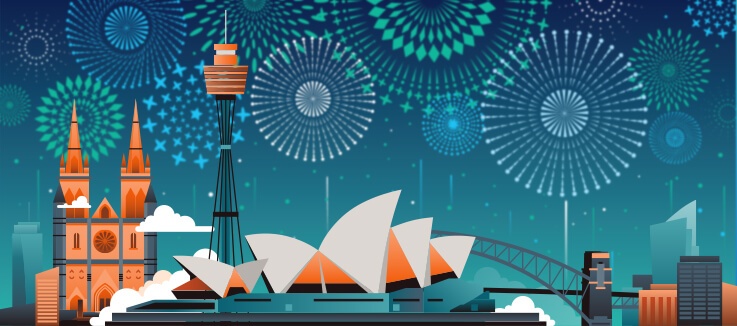 Looking for something to do this August? Check out Fair Go's list of 6 upcoming events that you just can't afford to miss when this month rolls around.
Given that August is the last month of winter in Australia, it nearly goes without saying that there's always plenty of exciting things going on. From festivals in the Top End to fun runs that wind through some of Sydney's prettiest suburbs, August has it all.
So if you want to start prepping for spring by enjoying all our wonderful country has to offer, check out the following list the team here at Australia's favourite online casino have put together with a little help from Kev the Koala. Who has visited all of these places and can't recommend them highly enough.
Darwin Festival, Darwin, NT
If you've ever wanted to visit the exotic Top End of Australia, then a trip in August should be on the cards. During this month, the city is awash with special events for you to enjoy, with the Darwin Festival in particular drawing crowds of locals and tourists alike.
Held over the course of 18 nights, Darwin Festival has its origins in 1977 when Northern Territory Director of Health Dr Charles Gurd suggested celebrating the town's revival post Cyclone Tracy. Soon thereafter, the Bougainvillea Festival, which promoted the improvement of the city and reflected the optimism of its residents, took place in July 1979.
In the 1990s the festival moved towards highlighting the arts community and putting an emphasis on local culture, before it was finally renamed Darwin Festival in 2003 by then Artistic Director, Malcolm Blaylock. Since its renaissance, Darwin Festival has evolved into a major arts and cultural event with an eclectic vibe that's framed by the Northern Territory's beautiful dry season weather.
Visitors to this celebration can expect a fantastic program that includes outdoor events featuring some of the best talents both within the country and internationally. In addition to a number of cabaret, theatre, dance, concert and visual arts performances. Kev the Koala especially loves the quintessential Northern Territory atmosphere and the iconic bamboo food stalls at the Darwin Festival… even if they're yet to introduce a eucalyptus leaf vendor.
Bledisloe Cup, Perth, WA
For sportier members of Australia's favourite online casino, we're proud to report that one of the most iconic rugby union fixtures of all time is taking place in Perth during August. Called the Bledisloe Cup, this competition has been running since the 1930s and sees Australia's Qantas Wallabies duke it out against transpacific rivals, the mighty New Zealand All Blacks.
Ask any rugby union tragic what the Bledisloe Cup means to them and you'll receive roughly the same answer. It's heartbreak, angst, happiness and controversy, with a little bit of chaos and a whole lot of mateship on display. In short, It's more than just another game.
This year's Bledisloe Cup will be the only time fans can watch the Wallabies and All Blacks come up against each other on Australian soil in 2019. With pundits currently tipping that it's going to be a sold-out crowd. That means you'll need to get in quickly if you want to watch either one of the two games set to be played. Just make sure to save Kev the Koala a seat nearby, because you can bet your bottom dollar he'll be there rooting for the Wallabies.
White Night, Melbourne, VIC
While Melbourne may not experience endless sun like St Petersburg, Russia, that hasn't stop locals from kicking off their very own White Night Festival in the city's centre. With 2019 tipped to be bigger and better than ever, thanks to the birth of White Night Reimagined.
Now for the first time ever, White Night in Melbourne will take place over three consecutive nights and across three different places within the city's CBD. With Birrarung Marr, Treasury Gardens and Carlton Gardens being totally transformed as they host a range of artistic and cultural performances.
Themes for this year's White Night include mythology and mystery. In addition to a range of creative experiences, there'll also be delicious food on offer plus a range of musical guests joining in on the action. Rumour has it that Kev the Koala might even be making an appearance alongside some of Australia's hottest talent… but only if there's no surf that is.
City2Surf, Sydney, NSW
If you're a firm believer that the words "fun" and "run" should never be seen in the same sentence, then you might want to avert your eyes. The reason being that the annual City2Surf Fun Run is due to kick off in August. With tens of thousands of entrants expected to sign up and donate to this year's charity organisation for an opportunity to run 14 km from Hyde Park in Sydney's CBD all the way to the world-famous Bondi Beach.
Beginning back in 1971 with only 1,500 participants, the City2Surf is one of the most iconic fun runs in the Southern Hemisphere. Entrants of all abilities are encouraged to sign up and there are multiple starting times for different categories of runners. Some of whom have been known to dress up and really embrace the "fun" side of the race. Which is the side the team here at Australia's favourite online casino is really excited for.
These days, the team behind the City2Surf can hold their head up high knowing they've created one of the largest running events in the world. If you'd like to be a part of this momentous occasion, we suggest heading over to the City2Surf website to register your interest. You don't have to be in particularly good shape and walking the course is totally ok. This event is more about donating to a worthy cause and getting out and about. Not to mention the fact you'll be able to claim you ran in one of the "Top Ten Running Races in The World", according to Running Shoes Guru.
Great Barrier Reef Festival, Airlie Beach, QLD
This special festival is a favourite of the Fair Go team. Chiefly because it promotes the Great Barrier Reef by highlighting is significance in terms of unique wildlife and natural beauty. But also because Kev the Koala has a lot of aquatic friends that often swim up to check it out.
That being said, most of the action when it comes to the Great Barrier Reef Festival takes place on land. Where guests can drink in the marvellous Airlie Beach while enjoying a range of special offerings. Including family friendly activities, fashion shows, night markets and a whole heap of quality food stalls. But that's not all.
This four-day celebration of the Great Barrier Reef also boasts a massive firework display that takes place on the Airlie Beach foreshore. Complete with live music and local DJs that contribute towards its festive party atmosphere. In addition to a Revvin' the Reef vintage car show and a number of reef art installations.
There really is no better time to shake off your winter blues than with a trip to stunning north Queensland. So book your tickets today and take it from the team at Australia's favourite online casino. The Great Barrier Reef Festival and all the other events we've recommended you check out in August will no doubt put a spring in your step just in time for... well… spring!