Fair Go Casino: Home to the Best Gamified Online Casino Games
Expired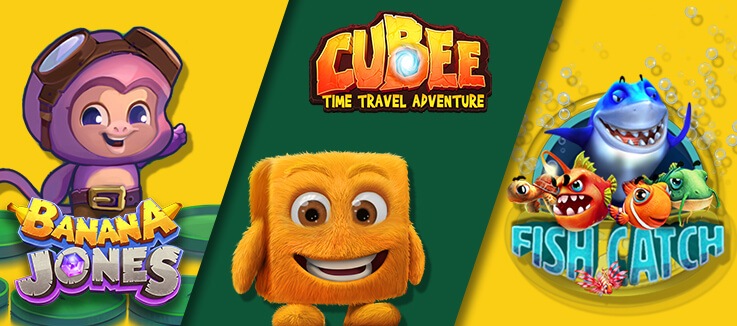 In recent years online casino games have evolved into high tech money spinners chock a block with innovation.  Open the games menu at Fair Go Casino and you will find fabulous titles featuring more elements of gamification than ever before.

Online pokies have shifted from the reels-only interfaces into explosive entertainment zones.  Animated characters huff puff and expand on the reels, audio is synched to the gaming action and imagery is 3D, thematic and expressed in brilliant technicolour.

Besides the standard game play that has enamoured - and enriched - Aussie gamblers for decades there's an endless array of gamified features integrated into modern day online pokies and speciality games. 

Interactive second screen bonus games that require a fair bit of alacrity on the part of players are commonplace.  So too are neat little additions like multiplier metres, symbol counters and life force metres. 

Contemporary online casino games are becoming more and more like video games - and that is seriously dardy for the likes of you and I!
Let's take a look at some of the best gamified online casino games that you can play right here and right now:
Cubee Time Travel Adventure Online Pokies
If you haven't played Cubee Time Travel Adventure at Fair Go Online Casinoyou are seriously missing out.  It is an awesome online pokies that features a title character that bears a strong resemblance to SpongeBob but is much better looking.

This little guy takes you on an adventure through time, touching down in the Stone Age, the Era of Piracy and the Viking Age.  You will meet a host of brightly coloured minions called Spike, Lucifer, Casper and Bones who are appropriately attired according to the age you are in.  You will also encounter Cubee's mortal enemy, the incredibly ugly one-eyed ogre called Rocco.

RTG has effectively re-invented online pokies here as there are no reels, symbols float around in a vortex and payouts are generated by combinations of matching symbols that are equal to or lower in strength than Cubee.
There are power balls that ramp up Cubee's strength, weapons that diminish Rocco's health and cannons and bows and arrows that randomly award free games and multipliers. 

When you get to Cubeeland you will benefit in a major way as the bonus features you have accumulated in the different game levels are locked and loaded to provide a big fat payday.  When I think of Cubee Time Travel Adventure online pokies, the word 'Crickey' springs to mind!
Play Fish Catch at the Best-Ever Aussie Online Casino
If you are looking for a multiplayer shooter with elements of online pokies thrown in, Fish Catch is a WOW of a game by the creative wizards at Real Time Gaming. 

It is pretty similar - and as easy - as shooting fish in a barrel but this time you will have a series of ever-more potent water cannons at your command, each of which increases the bet multiplier and provides a more powerful barrage of missiles.

The aim of the game is to physically shoot as many fish as possible and as quickly as possible by either tapping the screen on your mobile device or clicking the mouse on your PC or laptop.

Along with accumulating the payouts assigned to each type of fish, the player who ends up with the highest total gets a slice of all the game's wagers.  Besides the small fry that swim across the screen there are purple sharks, mermaids and other sea creatures that randomly appear to deliver jaw dropping bonus wins!
In Fish Catch, size does matter as when you choose the biggest cannon - you know the snub-nosed copper coloured one with a 10 x bet multiplier - you will have the fire power to catch the humongous jackpots and net heaps more fish per single shot!

Fish Catch is one of the best examples of gamification on steroids.  It is pure multiplayer magic… so tell your mates and ante up for whale-sized wins in AUD.
Banana Jones: A Board Game with Real Treasure Scripted In
Banana Jones is an intrepid aviator and relic hunter who spends his time exploring the dense jungles of South and Central America.  He is also the key character in a snakes and ladders - or should be say 'vines' - board game where shiny jade gemstones, snakes and vines pay out up to 40 x the wager.

You will have exactly five rolls of the dice in which to get Banana Jones from the start of his adventure to the giant temple located at the end of the board. 
His route is littered with obstacles - snakes - and aids - vines - that either hinder or help his journey onwards.  They also have the more important role of impacting the balance in your online casino account… either negatively or positively!

Aside from the payouts generated by the three symbols Banana Jones can activate a Treasure Wheel when he lands on a carved Mayan head.  The wheel spins only once and you will bank win multipliers of up 50 x depending on where the arrow lands on the wheel.

If Banana Jones makes it all the way to the temple, a pick me bonus game is triggered.  Your task is to choose a treasure chest containing pieces of fruit, each of which is assigned a payout value! 

Banana Jones has all the elements of a classic board game - spinning off of the ever popular Indiana Jones movies - that has been powered up into an online casino game with genuine currency at stake!  It is fast, fun and a great way to kill a few hours in your day.
We've Got the Lot at Fair Go Casino
At Fair Go Online Casino we go to great lengths to keep you suitably entertained.  Whether you are into classic casino games or beautifully rendered and gamified gambling opportunities that you can enjoy with your BFFs - you are guaranteed to find your gaming poison right here!

Pssst - you will also discover that we launch new, exciting and technologically advanced real money online casino games every chance we can get!  All you have to do is sign up for a seriously spectacular gambling experience that is always available at your fingertips.