Fair Go's list of the best Halloween pokies of all time
Expired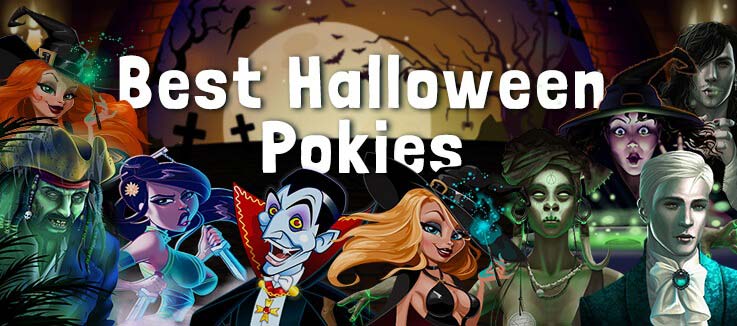 Halloween means dressing up in costumes, pumpkin carving and trick or treat. It also means putting in some serious time to sample some of the best Halloween pokies ever created.
If you're keen on winning big and having the bejesus scared out of you, you'll be pleased to know we've found the perfect pokie titles. Some will have you staring at your screen like a glazy-eyed zombie, others will have you practicing witchcraft in an attempt to conjure up some cash.
Just know that every single one of these pokies has been chosen because they give us the creeps. Although if we're honest, we don't mind being freaked out if it means we can also walk away with a ginormous payout.
If that's not enough incentive to brave a few rounds on these games, you might also like to know that we'll be giving out a free $5 bonus to every reader who plays any one of the following Halloween pokies.
1. Voodoo Magic
There's nothing scarier than the thought that you could be possessed at any minute and forced to do things against your will. It really is the stuff of nightmares. In our game of the month Voodoo Magic though, we're more than happy to give up control if it leads to big winnings, which is exactly what this title promises.
In Voodoo Magic, your goal is to collect a bunch of items in order to help the Priestess with her spells. This includes special charms, fire-powders, eyeballs, skulls, candles, snakes, sacrificial knives and voodoo masks. In certain instances, the Priestess Wild can even make some of these symbols disappear, after which she'll take their place and create more winning pay-lines.
What about the Voodoo Dolls you ask? Well, they're the game's scatter symbols. This means that they'll deliver up to 25 free spins once they appear. They also activate the Magic Multiplier round, which means all prizes are multiplied by x1 in the first free spin and x2 in the second. They'll then continue to increase on each subsequent free spin.
Eerie, atmospheric and perfectly suited to Halloween, Voodoo Magic is a game that's guaranteed to suck you in. Only to release you when you finally break the Priestess's hold. If you think you have the willpower to win on Voodoo Magic, go right ahead. Don't say we didn't warn you though.

2. I, Zombie
The story of good versus evil is a time-honoured classic. Told over and over again in religious texts, popular culture and now online pokies in the case of I, Zombie. In this highly original title, the oriental-theme we all know and love is turned on its head, as you're tasked with assisting a band of Chinese warriors fight off an encroaching herd of salivating zombies.
These warriors include the venerable Sensei, the battle hardened Blue Female Warrior and the crafty Red Sorceress. The real stars of the game, however, are the Zombie Wilds and the Mirror Scatters, which can reveal two additional I, Zombie Wilds, causing them to cover two other positions on the reels and maximise your winning combination if they appear.
In addition, Mirror Scatters can trigger the feature. When this occurs, 2 free games are awarded for each I, Zombie Wild or Mirror Scatter that appears during the triggering game. All I, Zombie and Mirror symbols that appear during free games will also reveal extra I, Zombie Wilds. What's more, prizes are doubled if 4 scatters triggered the feature or tripled if 5 scatters triggered the feature.
You won't find rainbows, cherub faced deities or even Jackie Chan in this oriental-themed pokie. What you will find though are plenty of opportunities to secure a major payout by slapping your way through a zombie onslaught. Sounds easy, right?

3. Bubble Bubble
While the existence of witches has been famously debated over the centuries, with some inquests leading to untold convictions and even torture, we're here to tell you that they're 100% real and they're handing out prizes like potions of poison in the cartoony classic, Bubble Bubble.
Set up as a 5-reel, 50-payline pokie, Bubble Bubble is the ultimate game for Halloween fanatics or those who just love women in pointy hats. There are black cats, books of spells and skeleton candle holder symbols to land, plus a sexy sorceress by the name of Winni who's flaming red hair and sultry suspenders would make even the most zealous witch hunter question his resolve.
Winnie's main power is her ability to magically cover the entirety of reel three and replace all other symbols, thereby increasing your odds of hauling in some massive wins. It's her Cauldron Scatters, however, that'll really get your blood pumping. Depending on how many you land, you could end up with either a x33 or x99 prize multiplier. You'll also trigger any one of the game's three feature rounds when 3 or more appear on the reels, resulting in payouts that could only be described as frighteningly big.
Stir up some magic in Bubble Bubble and enjoy a title that's more toil than trouble, because when it comes down to it, only the baddest witches know how to deliver the best prizes.

4. Bubble Bubble 2
If for whatever reason you couldn't get enough of Bubble Bubble, you'll be thrilled to know that it has an equally as excellent sequel by the name of Bubble Bubble 2. This time though instead of spinning the reels with one seductive witch, you'll get the chance to meet Winni's sister Wanda. Known as being a sensual temptress with a penchant for helping players profit on every spin, she's the type of witch you'd love to run into on a moonless night.
As a continuation of Bubble Bubble, you can expect some magical feature rounds. The Greater Ghosts for one award 20 free spins at the flick of a wand, with another 20 awarded if you happen to land additional Ghost Wilds on the reels. Then there's the Wilder Witches feature, which awards 9 free spins and has the potential to dish up 33 extra free spins. Last but not least there's the Ultra Bewitched bonus round that comes with 7 free spins and at least one expanding wild.
Throw in a top award 9,000 times the bet per line and the same cartoon-inspired graphics you came to love from its predecessor and it's no wonder Bubble Bubble 2 has our members falling under Winni and Wanda's spell.

5. Count Spectacular
If you're more inclined towards bloodsucking vampires, perhaps Count Spectacular will pique your curiosity. Based around a storyline that involves a suspiciously happy vampire, Count Spectacular is a sensational pokie for people of all blood types.
A top prize that sits at 50,000 coins is enough to lure even the biggest scaredy cat into the good Count's lair, while various icons such as garlic, a mirror, a wolf, a casket and a bat will only add to the eerie atmosphere this pokie is famous for. Of course, the highest paying symbol is the Count Spectacular Wild. When he lands on the first and the fifth reels, you'll get the opportunity to pick one of two rounds. The first round comes with a x3 multiplier and 12 free spins, while the second round delivers 4 free spins, however, the Count will remain on reels 1 and 5, thus completing any winning combinations.
More fun than freaky, Count Spectacular can also award the courageous gamer 12 additional free games if he appears on both reels 1 and 5 during the free games' rounds. Now if that doesn't have you salivating like a vampire at dusk, we don't know what will.

6. Eternal Love
We know what you're thinking, "another vampire pokie"? Here us out though. Like the True Blood TV series and the Twilight franchise, Eternal Love is a gothic vampire-themed love story. This means that unlike Count Spectacular, which is known for being somewhat whimsical, Eternal Love is a pokie of passion, betrayal and a very special bonus round.
While it's a non-progressive title, it does boast 5 reels and 243 paylines to play with. In addition to a top award that can go as high as 50,000 times your initial bet. Beyond these features and the strange vampire love triangle, there's the unique bonus round we already mentioned. Simply land 3 or more Eternal Love Scatters on the reels and not only will you get 10 free spins, but you'll also start the Life Force Meter feature that can award multipliers up to x100 the triggering bet. Better yet, if this feature round doesn't deliver, there's another backup round called the Extended Life Force feature, which can deliver wins at x1000 your line bet.
All in all, Eternal Love would make Bram Stoker proud as punch. Play it just in time for Halloween and enjoy living out your own undead love story.

7. Ghost Ship
Dressing up as a pirate for Halloween might be fun, but wouldn't it be great if you could commandeer your very own vessel? Well, in Ghost Ship, you'll be joining a pirate crew and their captain on the hunt for some buried treasure. Complete with cannons, chests of gold and even the ship's bell as playing symbols for added authenticity.
In regard to the game's features, the Ghost Captain Wild can form winning combinations by covering all of the reels, while the Ghost Ship scatters can sail by at any moment and award wins up to x100 your bet. What's more, if 3, Ghost Ship scatters sink onto the reels, the free game bonus round will be triggered, and each Ghost Ship or Ghost Captain symbol will dish out 2 free games. If 4 or 5 Ghost Ship symbols activate the bonus round though, you'll have all prizes doubled or free game wins multiplied by x10 respectively.
Taking all of this into account, it's obvious Ghost Ship is one of the best Halloween pokies ever released. You get to plunder the high seas, make crew members walk the plank and claim whatever treasure you find all for yourself. It really is a ghost pirate's life for Fair Go .

8. Witch's Brew
There's something cooking in Witches' Brew and we're pretty sure it's not kosher. What is on the menu in this 5-reel, 25-payline pokie, however, are wins so big they'll make a witch's hat spin. Plus, a few key icons such as eyeballs, mortar and pestles, cauldrons, candles, toads and black cats that you'll be using to weave some magic in the creepy basement where this pokie is set.
The Witch and the Dragon Wilds can double your payouts. If 3 matching wilds appear on reels two, three and four, the reels will then respin and the wilds will stay locked in place, resulting in a multiplier that can climb as high as x10. The other thing to keep one green eye out for is the Goblin Blood Scatters. When these crafty critters appear, they'll pay an individual prize and trigger the game's bonus round. With 3 scatters awarding 10 free spins, 4 scatters awarding 25 free spins and 5 scatters awarding 125 free spins.
Obviously, we've only skimmed the surface of Witches' Brew here. If we're being totally honest though, the top of her concoction is where all the flavour is. So grab a spoon and start slurping up some wins in what is fast becoming one of the best Halloween pokies of all time.
Play your favourite Halloween pokies with Fair Go today