Best places to have a holiday in Spring
Expired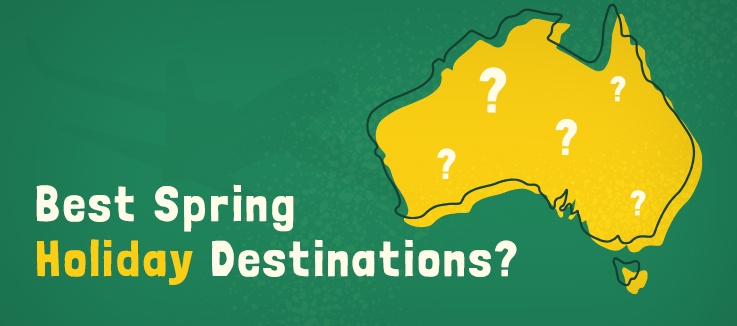 Blog Bonus:
Redeem code "SPRINGHOLIDAY" for 20 spins on Epic Holiday Party.
*A deposit this year is required for this bonus. General T&C's apply.
Everyone loves travelling around Australia in summer, nearly just as much as they love making the most of those cool bluebird days in winter. But spring is kind of like the ugly duckling for travel in Oz – most simply use this transitional period to get ready for the warmer months ahead.
If you want our advice though, spring is an awesome time to get out, hit the road and live it up in our Sunburnt Country. It's not so hot, winter is in the rear view mirror and the school holiday crowds are yet to arrive. If this sounds like your jam, then check out the following spring holiday destinations in Australia below.
1. The Great Ocean Road, Victoria
What is it?
Stretching 244 km from Torquay to Allensford along Victoria's southern coast, the Great Ocean Road is one of the most famous and breathtaking spring holiday destinations in Australia.
Spring is also the best time of the year to drive it, since the temperatures are decidedly pleasant. You can take advantage of the numerous lookout points and explore the many charming coastal towns and beaches that are dotted along the way. From the 12 Apostles to the Gibson Steps in Port Campbell National Park and Loch Ard Gorge, there's so much to discover. In addition to the Great Ocean Road, you can also travel the Otway Ranges and try to spot all of the native kangaroos, echidnas and koalas that call it home.
What do I need?
In order to make the most of the Great Ocean Road in Victoria, you'll need a vehicle, some binoculars and an adventurous spirit. Don't over plan either. Slip into cruise mode and let the road guide you. Make plenty of stops, take heaps of photos and remember to tag Fair Go casino. We would love to be part of your journey.
2. Canberra, Australia Capital Territory
What is it?
Canberra is Australia's political epicentre, but that's not all it has to offer. As our capital city, you can expect to be wowed by some of the most impressive exhibitions, festivals and galleries in all the land. There's also world class dining and stunning natural landscapes that evoke thoughts of early bushman and women.
Spring is such a great time to visit Canberra too, given that September to October coincides with the Floriade festival, which is the biggest event of the year in the city. During Floriade, more than a million flowers bloom over 8,000 sqm. There are horticulture workshops, music and a special nighttime exhibition that includes illuminated flowerbeds and entertainment that goes late into the night.
Then, when you want to admire the city from above, you can jump into a hot air balloon and survey the surroundings from up high with a glass of champagne in your hand. Speaking of wine, there are also a number of premier wineries in the local region. Pick up a bottle (or two) and pack a lunch then go for a picnic besides Lake Burley Griffin.
What do I need?
Canberra can still be a bit chilly in spring, so pack some warm clothing for the morning and evenings. Also, try to remove any preconceptions about Canberra from your mind. Be open to the fact that it could surprise you and our capital city may do just that. 
3. Alice Springs, Northern Territory
What is it?
Situated in the heart of our outback, surrounded by hauntingly beautiful ochre deserts and framed by stunning mountain ranges, Alice Springs in the Northern Territory is most definitely one of our favourite spring holiday destinations in Australia.
You can visit the Araluen Arts Centre at any time of the year and check out their comprehensive selection of Aboriginal art. If you're lucky, you can even meet some of the local artists and hear the stories behind their works. There are exhibitions from Martu country, the Western Desert, Arrernte country, Aṉangu Pitjantjatjara Yankunytjatjara Lands and Ngaanyatjarra Lands.
If you prefer to explore the natural world, you'll be spoiled for choice in Alice Springs. The native flora is at its best during the spring months and Uluru-Kata Tjuta National Park is only a short drive away. You can cuddle up with orphan kangaroos at the Kangaroo Sanctuary and book a helicopter flights over the vast desert landscape.
What do I need?
Spring in the Top End sees temperature oscillate. The weather during the day is comfortably warm, but the nights can get a tad cool. Packing layers is advised, as is packing an Akubra hat to keep the glare off your face. What's not advised is trying to pack one of those cute little kangaroos into your backpack. Remember… there's always Kev the Koala if you want to see a cuddly character.
4. Far North, Queensland
What is it?
Don't get us wrong… Cairns and the Whitsundays on the Great Barrier Reef can be visited at all times of year. Fortunately for this part of Queensland, they weather really does go from beautiful one day to perfect the next. In spring, however, this beloved holiday destination is at its peak.
The temperatures are relatively mild throughout the day, hovering around the 26 degrees Celsius mark. There's also less rainfall during this time of year plus you can avoid stinger season which runs from November to May. Kick back on Hayman Island or tour around the Daintree Rainforest. There are crocodiles to spy, zip lining to try and river cruises that give you an interesting perspective of the landscape. What's more, September is prime time for whale watching on the Great Barrier Reef, with hundreds of humpback whales making their way north. Then, when you want to party, there's the Airlie Beach Festival of Music that's run every year.
What do I need?
Even though there's not much rainfall, you might still want to bring a poncho or some other type of light rainproof clothing. This is the tropics after all, which means you never know when the rain is going to hit. In addition, we recommend booking a ticket early for the Airlie Beach Music Festival… and look out for Kev the Koala grooving in the crowd.
5. Melbourne, Victoria
What is it?
In case you haven't heard, springtime in Melbourne is when the city comes to life. The Spring Racing Carnival is arguably the highlight. It opens with the Memsie Stakes and finishes with the race the stops of the nation, otherwise known as the Melbourne Cup.
There's also the AFL grand final, which has sports enthusiasts absolutely salivating as the season reaches it crescendo. Plus, the Melbourne Fringe Festival, which hosts over 400 different events that are designed to promote artistic self-expression in Melbourne and the rest of the country. In addition to the many festivals and sport happenings though, there's also a bunch of other cool stuff to do in the city and surrounds.
Melbourne is famous for its rooftop bars that give you uninterrupted views of the skyline. The Yarra Valley is also only a short drive away. Just bundle your mates into the car and punch in Yarra Valley to sip on some of the most prestigious wines in Australia. For all you surfers and water lovers out there, Bells Beach is worth a visit as is the rest of the Mornington Peninsula, which is well-known for the heated thermal pools that littler the landscape and give you an awesome opportunity to relax after a long day exploring the countryside.
What do I need?
Melbourne and the surrounding regions can experience all four seasons in the space of 24 hours. This means you'll need to pack for all conditions if you want to be prepared. Also, a surfboard and perhaps some good hiking shoes are essential.
6. Cowra, New South Wales
What is it?
Cowra may not be the first place the comes to mind when you think spring holiday destinations in Australia but hear us out. If you love warm days and quintessentially country landscapes, then Cowra may just be the place for you.
Located in Central West New South Wales, Cowra is a small regional town in every sense of the word. You'll need to cross the picturesque Blue Mountains then travel through seemingly endless fields of golden yellow canola crops in order to reach it.
Once there, you can get stuck into the many different wineries that the area is famous for. There are several cellar doors in the area plus heaps of awesome places to eat, such as The Quarry Restaurant. A must-see spring holiday destination within this destination is the Japanese Garden.
During this time of year, the cherry blossoms are in full bloom and the garden grounds are flourishing with vibrant green grass shots. Ultimately though, Cowra is a great place to visit simply because it contains a certain small town charm.
What do I need?
There's not much that you'll need to take with you to Cowra, although we suggest driving a car with some serious boot space. The sheer number of excellent wineries there will have you stacking bottles on bottles in the back of your vehicle… some of which you can give as gifts (and most of which you'll drink yourself).
7. Adelaide, South Australia
What is it?
Otherwise known as the "Festival City", Adelaide is the capital of South Australia and one of the prettiest cities in Australia. It's super easy to find a party and the surrounding region is absolutely spoiled for wineries. In fact, one of the best things about Adelaide is that it's a gateway to a number of other beautiful spring holiday destinations.
Kangaroo Island is one such place that we highly suggest you visit. It's Australia's third-largest island and it's not that far to go if you want to check it out. However, it is a bit pricey so best avoid the trip if you're on a budget. For those that don't mind splashing some cash though, Kangaroo Island won't disappoint.
There are incredible wildlife experiences to enjoy including the Seal Bay Conservation Park plus fresh, locally grown produce and seafood that eventually finds its way into the island's restaurants. Some of the purest honey in Australia is also made on Kangaroo Island by a type of Ligurian bees, then there's the Kangaroo Island Spirits distillery which allows you to blend your very own gin.
What do I need?
A sense of child wonderment and an inclination to explore both city and natural settings will see you make the most of your Adelaide trip. Also, some casual clothing plus a spray jacket and waterproof shoes won't go astray. In short, a multifunctional wardrobe.