5 of the best spots to enjoy winter in Australia
Expired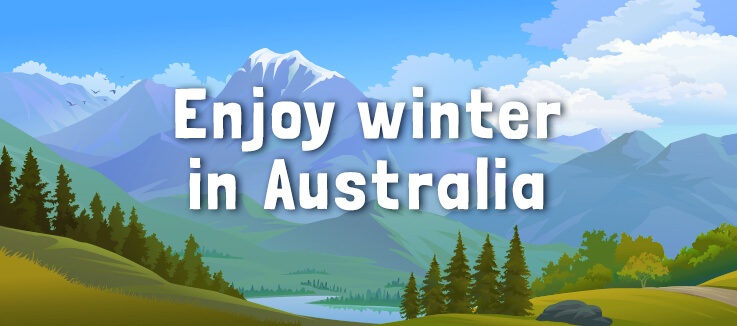 The Land Down Under is synonymous with sunshine, summer sports and beach days under blue skies, but did you know it's also a fantastic place to enjoy winter?
Of course, you'd be forgiven for thinking we're pulling your leg. Not many people even know that Australia has its own alps, let alone a veritable treasure trove of epic places to visit from June to August.
The truth is though that between the states of New South Wales, Victoria, Western Australia, Tasmania and South Australia, we have so much to offer in terms of cold weather delights.
So take a peek for yourself at five of the best spots to enjoy winter in Australia below and let us know if the team here at Australia's favourite online casino have missed anything.
Kangaroo Island, South Australia
Kangaroo Island has been featured in one of our articles before thanks to the number of koalas that call it home. In this piece, however, Kangaroo Island gets a wildlife-related mention for a whole other reason – the annual migration of the Southern Right Wales.
Taking place every winter, the mass movement of these gentle creatures is one of the most incredible things one can witness. With the areas of Penneshaw and around Kingscote being the prime viewing spots from which to watch them frolic in the shallows.
Fur seals and sea lions also make an appearance. Many of which bask on the rocks to try catch some of that soft winter sun, while others spend their time teaching their adorable newborn pups how to ride the waves like a professional.
Throw in the abundant greenery and some stunning natural scenery and Kangaroo Island more than earns a place on this list. Just don't forget to sample some of that famous South Australian wine while you're there, which is just about guaranteed to warm you up as the sun begins to set.
Falls Creek, Victoria
The alpine village of Falls Creek in rural Victoria is a must-visit destination for winter lovers in Australia. Seriously, there's just so much to do here during the colder months that you'll need more than a few days to fit it all in. If you do have the time though, expect to find a range of epic activities for everyone to enjoy.
Hitting the slopes for example is just one of the more popular things to do in Falls Creek. With the entire area encompassing 450 hectares of skiable terrain that includes 90 runs and 14 lifts. This makes it a skier, snowboarder and even a tobogganer's paradise of sorts… if that's your thing.
If not, Falls Creek is also the location of Spa Q – a sleek spa that caters to sporty types fresh off the slopes and those who are only just fresh out of bed. Complete with relaxing massages, salt scrubs, facial therapies and something called dry body brushing, whatever that is.
To round it all off, the actual town is a true splendour to behold. It's even said that there's no prettier alpine village in all of the country than Falls Creek. And while this may sound like hyperbole on an overzealous writers' behalf, pictures of the European-style chalets perched amongst frosted snowgums make it hard to disagree.
Margaret River, Western Australia
With its rugged coastline, dazzling sunsets and crystal-clear water, Margaret River has long since been Australia's summer vacation sweetheart, visited by all those who love good weather, good surf and most of all good wine. Curious tourists in winter, however, will be pleased to know that June to August is also a great time to visit.
Check out CinefestOZ while you're in town and enjoy watching clips from some of Australia's most revered filmmakers. Now running for more than a decade, this film festival ensures there's always something to watch… even when the whales don't bother showing up.
Speaking of, Margaret River sees roughly 35,000 whales swim past its shores every year on their annual migratory route from Antarctica to Australia's warmer waters. The sheer amount makes spotting them from the coast a piece of cake, but keen observers will find that the Cape Leeuwin and Cape Naturaliste Lighthouses offer the best vantage points.
Not to be overlooked though is Margaret River's awesome music scene, which often features plenty of up and commers plus much-loved acts from yesteryear belting out a few sing-along favourites. Instructions for maximum pleasure: Order a glass of Margaret River red at the Settlers Tavern, Morries or the Corner Bar then kick back and enjoy.
Jindabyne, New South Wales
The Snowy Mountain town of Jindabyne comes alive during winter. Partly because it is New South Wales' preeminent snow sports destination, but also because it's home to a growing number of specialty events that have put it in the map in recent years.
Before we dive into some of these happenings though, we can't continue without mentioning the Blue Cow Cup. A competition that attracts some of the best young skiers in the country and has launched the careers of countless others. There really is nothing quite like it in Australia and for that reason only it's worth your consideration.
For those of you who'd prefer to spend then winter with fine wine and a dish of delicious local food, then a sit-down dinner with Darren Perryman from Pialligo Estate in Canberra should be on the cards. Expect a 5-course feast paired with some local wines at an exclusive location in Crackenback. So ritzy and so worth it!
To finish off your time in Jindabyne, there's also a one-day festival you can check out. Run by the Tumut River Brewing Co, this special event will include a number of music, comedy and burlesque performances. Not to mention they'll also be re-releasing their Voodoo Child Amber ale.
Mount Wellington, Tasmania
Tasmania is Australia's largest island, with some of the most incredible natural scenery our nation has to offer and unique wildlife that exists nowhere else in the world. Another thing that makes Tassie so damn unique though is a pretty spectacular natural phenomenon called the Aurora Australis.
Regarded as a southern counterpart to the highly publicised Aurora Borealis, the Aurora Australis is a natural light display in the skies of Tasmania caused by solar winds disturbing the Earth's magnetosphere… but you don't need to know all the complicated science behind it.
What you do need to know is that this (and we quote) 'celestial ballet of light dancing across the night sky' is best observed from Mount Wellington, which is conveniently located only about 30 – 45 minutes from Hobarts CBD. If you can brave those chilly alpine conditions, you'll be suitably rewarded with front row seats to a miracle Down Under.
That being said, there are a whole host of other places from which you can view this wonder of nature. The lights have even been spotted from locals in Victoria from time to time. By flying to Tasmania, however, you can also spend a bit of time checking out all the other great things this island state has to offer.