5 Reasons Why Fair Go Online Casino Provides the Best UX
Expired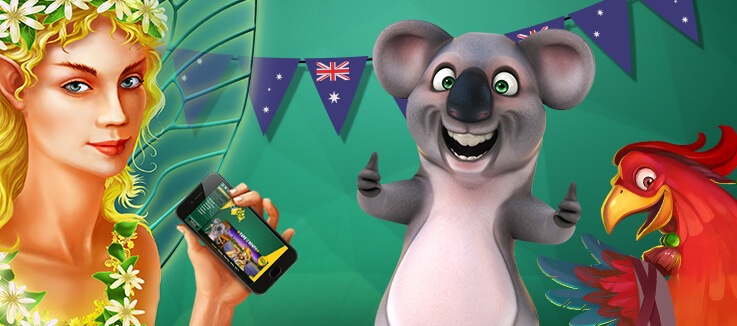 Fair Go Online Casino: The Aussie Online Casino with the Best UX
We have all seen the acronym UX bandied about but what is it and what does it mean?  UX is a shortened form of User Experience, a key component that can either make or break a business. 
At Fair Go Online Casino we take UX very seriously.  We know it is the core reason why players register an account at our remote gambling platform. 
More importantly, we are aware that the overall player experience we provide is why Aussies - like you - choose Fair Go Online Casino as their number one AUD gaming partner.
To us player retention is as critical - if not more - than player acquisition.  That is why we have spent time and resources on developing an online casino that ticks off all the right boxes.
How have we tailored our products and services to give our players an outstanding gambling experience all round?  Let's take a look at the fundamental features that have driven the best ever UX at Fair Go Online Casino:
We want our players, especially our new players, to be able to find exactly what they are looking for - whether it is the games, bonuses, banking methods or the casino's points of contact. 
As a result, we have created a gambling platform that is easy to navigate and simple and intuitive to use.  Live links at the bottom of the home page provide instant access to all the essential areas of the casino… and then some! 
You will find reams of useful information on the different gaming categories, casino payouts, no deposit bonuses, free spins and loads and loads of other generic gambling terms.
You will also be able to browse through our privacy policy and the legally enforced terms and conditions of using our casino software and redeeming the legendary big bad Fair Go Online Casino bonuses.
There is even a handy FAQ section that deals with all the most common questions and queries relating to the casino and the awesome gambling services it provides. 
At Fair Go Online Casino the rules, terms of engagement and all out real money action is literally one click away!
An Aussie Casino Online Engineered for the Digital Ecosystem
Apart from its intuitive layout, Fair Go Online Casino fits perfectly into the modern digital environment.  That means our super responsive platform is optimised for use on all devices - desktops, laptops, phones and tablets.
At Fair Go you are guaranteed the best ever gambling experience regardless of your tool of choice!  Do you love to play the best RTG casino games on the small screen?  No Problem! 
Are you more in favour of the stability and sweeping views of a desktop?  No worries.  We have got you covered… where ever you are! 
Seamless Gaming Software by Real Time Gaming
What is the central feature of Fair Go Online Casino?  The games of course!  To ensure you get the best UX in terms of playability, we have built our entire casino - lock, stock and rolling barrel - on the Real Time Gaming (RTG) software platform.
RTG gaming software is rated one of the best.  It is renowned for its sleek functionality, awesome selection of cross-genre casino games and fair play certification. 
Games are listed according to genre and sub-category and are sorted according to the alphabet.  Click on the red arrow on the game thumbnail and you will open a drop-down window that features all the key aspects of the game - from the rules and volatility to structure and in-game bonus features.
All our casino games are instantly available in the fun and real money modes.  That means you can explore the titles, paytables and win rates in a no risk environment before levelling up to the bet and play mode where genuine currency is at stake!
When you play real money games at an RTG online casino such as ours, you are guaranteed a UX that has trust and honesty at its heart.
Cross-OS Access for All Australians
As a digital-ready remote casino we have developed an instant play and mobile casino that function optimally across all operating systems.  Our aim is to be easily accessible to all Australians notwithstanding their choice of OS or device.
Whether you are a Linux, Windows or Macintosh fan you will enjoy the same superior gaming experience that defines the Fair Go Online Casino brand. 
Mobile users who prefer to tap and swish their way to lots and lots of lobsters, pineapples and granny Smiths can do so on iOS, Android, Blackberry and Windows phones and tablets.
Quick and Secure Financial Transactions
Rapid and responsive banking facilities are vital to any UX and at Fair Go Online Casino we are aware of the demand for heightened site security. 
Hacking, phishing and cybercrime has reached epidemic proportions and we are committed to keeping your personal information confidential and your banking data sacrosanct.
That is why we have partnered with globally acclaimed payment processors that are not only reputable and reliable but super secure too.
If you want to fly under the radar so to speak, there are banking methods that promote anonymity such as Bitcoin and NeoSurf. 
For those of you who are more comfortable using the traditional methods of facilitating transactions, we offer them too – Poli, bank transfer and credit cards!
Are You Happy with the UX? Contact Us with Accolades and Suggestions
As you can see, we have gone to great lengths to maximise our UX.  If you have any suggestions on how we can improve the overall gaming experience at Fair Go Online Casino please feel free to contact us.
Our philosophy is to tap into what our players really want in terms of games, promotions, customer support services and banking methods.  At the end of the day we want you to enjoy every minute you spend with us so that you come back again and again!