Instant, anonymous, registration-free deposit method
Expired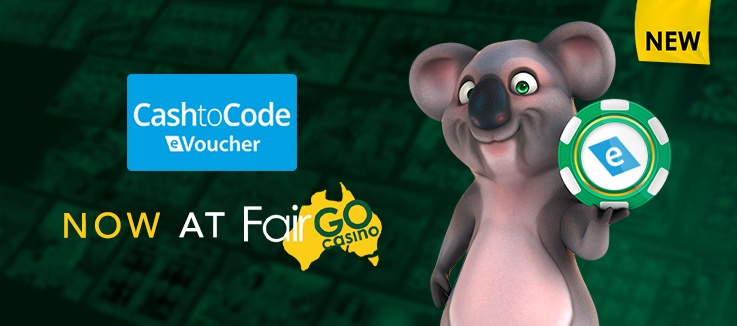 You heard it here first, Fair Go legends. There's a brand-new deposit method in town. Called CashtoCode, this eVoucher-based payment system is the first of its kind at Fair Go. And boy oh boy… Kev the Koala is absolutely frothing.
We're not going to call it the best online casino deposit method at Fair Go. But it's definitely going to give the top dogs a run for their money. So do you like fast top ups? Safe deposits? Registration-free payment systems that are 100% online?
CashtoCode ticks all of these boxes. But it's so much more than just another deposit method. It will make your life easier. It'll also make your online punting experience way, way better. Learn all about how to use CashtoCode and why it's coming to Fair Go casino.
Your CashtoCode bonus!
Deposit ONLY with CashtoCode and use coupon code " CASHTOCODE" for a 300% bonus on your deposit!
General T&C's apply.
What is CashtoCode?
- eVoucher-based deposit method
- Australian punters only
- Denominations of $25, $50, $100, $150, $200, $400
- Minimum of $25 and maximum of $400
- Available 100% online
Put simply, CashtoCode is an eVoucher-based payment system that can be used to top up your Fair Go account. One of the biggest features of CashtoCode is that you don't need to register to use it. Just purchase an eVoucher from an authorised online dealer. Then punch the numbers on your eVoucher into the Fair Go banking section – simple.
Developed in Europe but now available online for Australian players only. CashtoCode is for sure one of the best online casino deposit methods around. So if you're seeking a fast, safe and easy new way to top up. CashtoCode is worth some serious consideration. But where can you buy a CashtoCode eVoucher?
Where can I buy a CashtoCode eVoucher?
Another fantastic thing about CashtoCode eVouchers? The fact you don't even need to leave the house to buy one. Unlike other voucher-based payment methods, CashtoCode eVouchers are exclusively available online for Australian punters. Buy one from any of the three online retailers below then use your CashtoCode eVoucher at our cashier:
How does CashtoCode work?
There's nothing complicated about CashtoCode. It's one of the reasons why we here at Fair Go online casino love it. Essentially it's an online eVoucher-based payment system. Here's how it works:
You purchase a CashtoCode voucher from any of the three online outlets mentioned above
You redeem the number on your voucher in the Fair Go banking section
Your money is instantly credited to your Fair Go wallet
We'll walk you through the actual steps required in order to deposit using CashtoCode below. All you need to know for now though is that it works like pretty much every other voucher system. Except the big difference here is that you don't need to visit a servo to buy one. Nor do you need to duck down to the newsagency or corner store. For busy people or lazy bones like Kev the Koala… that's pretty awesome.
Why should I use CashtoCode?
Getting swept up in the current CashtoCode craze? Good. You definitely should. It's one of the best new deposit methods for Fair Go. And any hype is well deserved. If you want further proof as to why CashtoCode is killing it in the world of online casinos… here you go.
Instant top ups
The world is fast paced. Fast food. Fast cars. Fast fun.
'Shortly' and 'In a jiffy' just don't cut it anymore. We want instant satisfaction and we want it now. And apparently the blokes and sheilas at CashtoCode understand this better than most. So they've made CashtoCode deposits instantaneous. This means that as soon as you confirm the amount you want to deposit. You're good to go.
No waiting for the money to enter your account. No constantly worrying whether you've entered the right information or not. With CashtoCode you just need to punch in your eVoucher code. The money well then appear in your account right away. You won't miss hot games. You won't miss bonuses. In fact… you probably won't miss other deposit methods either. It's that good.
100% anonymous
The online arena can be sketchy.
With so much of your personal details online… it can make you feel exposed. If you don't want to lay awake at night thinking about whether CashtoCode is legit. Don't stress. You aren't required to share financial details with Fair Go casino when making a deposit with CashtoCode. This means you're protected in the extremely unlikely event that your computer is somehow compromised.
Because we all deserve peace of mind gaming. And nobody wants to think they're being taken advantage of. CashtoCode is like a warm hug from a happy koala. It'll make you feel safe. Giving you the confidence to bet to your full potential without the insecurity that comes with less reputable payment methods.
No registration necessary
How often do you forget your password and username?
Once a day? A few times a week? Only when there's a bunch of people lined up behind you? We bloody hate that we have to sign up to so many websites. Of course our online casino makes sense. We run a tight ship after all. But it seems that in order to get anything done… you need to create an account. And we say "Booo" to that.
Fortunately you don't need to create an account at CashtoCode. That means you don't need to generate, save and remember another set of login details. Just purchase your CashtoCode eVoucher at an authorised partner. Select the domination that you desire. Use the code on your eVoucher at Fair Go. And enjoy seeing cash instantly credit to your online casino wallet.
Depositing with CashtoCode in 5 simple steps
Here's how to deposit at Fair Go casino using CashtoCode:
Visit a CashtoCode online retailer;
Choose which amount you would like to purchase
Confirm your purchase to receive your code number (sent via email and/or as an on-screen popup)
Redeem the code in the Fair Go banking section
Enjoy having your chosen amount instantly credited to your account
Note that each voucher comes with a $25 minimum and a $400 maximum. But there's really no limit to how many of these eVouchers that you purchase. This means that you can deposit more than $400 in one session using CodetoCode. Just buy multiple eVouchers. Then redeem the eVouchers one after another. Easy.
For a fair online casino experience - bet and win with Fair Go today.