Making secure online deposits just got easier with Flexepin
Expired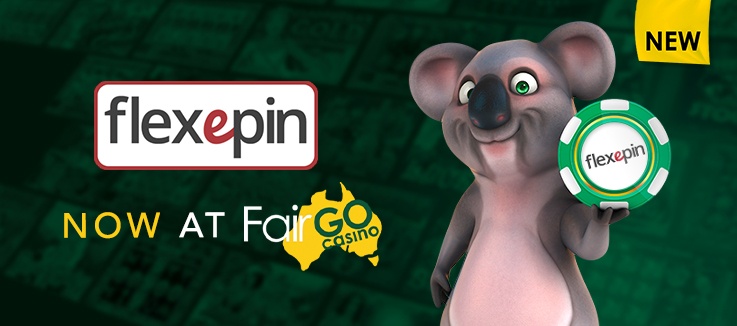 In order to enjoy all the latest casino games and online pokies, you need to make sure that your account is fully loaded. We have plenty of deposit methods to help you with this, but our newest deposit method might just be one of the best we have on offer.

Introducing Flexepin – a voucher-based deposit method that lets you make transactions online using a prepaid card. It's safe and convenient!

Better still, Flexepin cards can be purchased from a wide variety of locations within Australia or even online. The vouchers come in predetermined amounts and it's possible to pay for them with cash or with card.

What is Flexepin?
Like Neosurf and Paysafe, Flexepin is a physical voucher that allows you to pay online without having to provide any credit card information or register your banking details. As such, Flexepin is considered to be incredibly safe to use. 
Using Flexepin is also easier than you may think. All you need to do is purchase the voucher online or from any one of their authorised retailers located in Australia and you're good to go. If you have ever brought a gift card or topped up your mobile phone, you will find using Flexepin somewhat similar.
Why should I use it?
Below are some of the main reasons why we believe Flexepin is a great alternative to other deposit methods:
It's 100% anonymous and therefore safe
Flexepin can be purchased both in-store or online
It is for sale in literally hundreds of stores across Australia
The Flexepin website provides regular updates on scam websites
Payments using Flexepin are instantaneous
Minimum voucher amount is $20
It can be purchased using various currencies
It's sold in different denominations for added convenience
Where can I buy Flexepin vouchers?
Buying a Flexepin voucher is a quick and painless process. To purchase online, simply visit the Flexepin voucher online store here. To make a purchase in a physical location, you can search for approved Flexepin retailers in your area here.
How does Flexepin work?
Flexepin uses a coded system in order to allow for online transactions. Their particular system relies on a 16-digit number that comes with the voucher. When it comes to depositing with Fair Go using this new deposit method, you will need to enter this number into the applicable field. Your account will then be credited instantly with your chosen amount.   
Flexepin vouchers are available in fixed amounts. For example in Australia you can purchase them in denominations of $20, $30, $50, $100, $200, $300 and $500. The maximum amount that you can hold at any one time must not total more than $5000 Australian dollars.
Depositing with Flexepin in 3 easy steps
The following steps will show you just how to deposit money into your Fair Go account using Flexepin. Of course if you need more information, please do not hesitate to reach out to our 24/7 customer support team.
Purchase a Flexepin voucher either online or in-store
Click on the Flexepin option when depositing at Fair Go
Input your 16-digit voucher code and start playing
Deposit with Flexepin today and game on with Fair Go Casino