Venture into a land of fire-breathing beasts
Expired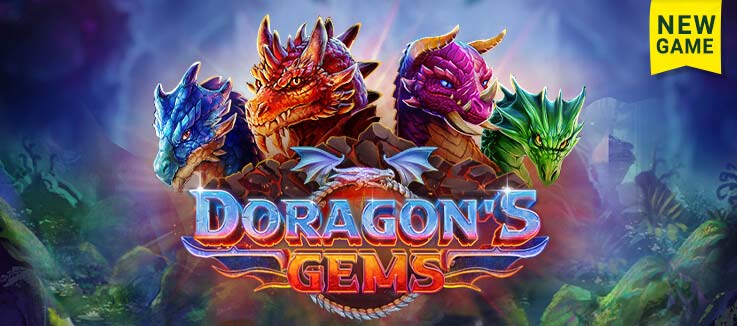 Fire-breathing beasts? Dazzling payouts? Hidden gems that could earn you a motzah? It's all in a day's work when you play Fair Go's newest release - Doragon's Gems. Embark on a flaming hot adventure with us today. With a new game bonus and epic rewards, this feature-rich pokie is not to be missed!
Game Details
Launch date: 17th August 2022 
Volatility: Very High
Reels: 5
Top award: 50,000-coins
Substitute: Golden Dragon Egg
Scatter: Dragon Eye
Jackpot: Game without jackpots
Paylines: 25 Fixed
Bonus rounds: Yes
Bonus type: Free games, multipliers, cascading wins, buy feature, bonus bet, extra wilds, game feature
Platforms: Mobile, Instant Play
About
Dragons, gems and buy features... oh my! This isn't an action fantasy movie made by your favourite director. This is the soon-to-be living legend Doragon's Gems!
Taking place in the deep dark depths of a magical forest, Doragon's Gems will wow you with its bonus features and blow you away with its thrilling gameplay. Word of warning though... this pokie isn't for the faint of heart. It's a fire-breathing, tail-whipping, bonus-rich game that blends furious action with frenzied payouts.
Of course, you're a brave Fair Go punter, so we know you've probably bested snakes, lizards and all manner of beasts before. A reptile-eyed dragon should be a walk in the park... especially when he's offering you the chance to earn a new game bonus plus some epic rewards!
Gameplay
Doragon's Gems is another high-quality pokie that seems to boast unbelievable graphics and top-notch gameplay. It has 25-paylines and is set at very-high volatility. And although it doesn't offer any jackpots, the sheer amount of bonus features more than fills the gap.
From Cascading Wins to Multipliers, Free Games, Bonus Bet or Buy Feature and 50,000-coin top award opportunities, you might get a little hot under the collar, but you certainly won't be bored.
Kev the Koala loved the storyline that has you venturing into a land of mythical beasts in order to claim precious gems. Because as you know, he's not afraid of a little adventure... particularly when he knows it could make him rich!
As for the game controls, they're pretty standard. Everything from the convenient auto-spin feature to the bet amount and the main spin button are all there.
What's more, Doragon's Gems can be played on a variety of platforms, including mobile and tablet devices. This means that even though the game will journey through a wild world of crazy wins and razor-toothed beasts, you won't ever have to leave the couch!
Symbols
Make no mistake - Doragan's Gems is a fantasy nerd's ultimate pokie.
It's got dramatic music, amazing backdrops and of course plenty of action. Plus, the in-game symbols are absolutely awesome, with playing card suits such as the heart, diamond, spade and club looking bedazzled. Then there are the different coloured dragons, which count as the game's high paying symbols.
The most important symbols though are the Dragon Eye scatter and the Golden Dragon Egg substitute. The scatter triggers the Free Games bonus round while the wild symbol substitutes for all other symbols except the scatter. In addition, all wins pay left to right including scattered Dragon Eyes. This is a cascading symbol game too, which means winning symbols are replaced by other symbols.
Feature and bonus rounds
Dragon-themed pokies aren't anything new, but Doragon's Gems offers something a little different. Rather than just roll out a free games bonus round, they've upped the ante to its fire-breathing best – now you can say "G'day, mate" to not one, not two, not even three bonus rounds, but a spine tingling five. Talk about escalating quickly...
Cascading Wins with Added Wild and Multiplier Trail
Love cascading wins that offer something extra? Doragon's Gems will become your new favourite game with its Cascading Wins feature.
In other words, after each spin with winning symbols, all symbols that contribute to winning combinations are removed from the gameboard. A single wild is placed at the bottom of the board and a multiplier trail feature is activated.
The remaining symbols fall to the bottom of the wheelbox, and the unoccupied cell locations are now filled with new symbols that have been generated from above. These new symbols may lead to new winning combinations as a result of their replacement. Cascading proceeds after each win until no longer.
Multiplier Trail
While cascading wins rock, the multiplier trail is also pretty nifty.
It's active throughout the entire game. How it works is that the multiplier trail will increase one time after each cascading win. It then continues to increase after each cascading win until no winning combination occurs.
The multiplier trail will reset back to one after any losing combinations or when the Cascading Wins round ends.
Buy Feature
Another epic feature of Doragon's Gems is the Buy Feature.
This allows you to buy a Free Games triggering spin at any time – the cost being x100 your current total bet. Once you've purchased the triggering spin, it'll be played automatically and all Free Games rules apply.
Note that it's not all good news – when this feature is in play, the Doragon's Gems' Bonus Bet feature is disabled.
Bonus Bet
The next feature that's becoming more and more common is the Bonus Bet feature. How it works is that you can increase the odds of triggering the Free Games feature by adding more scatter symbols to each reel at any time. When active, this round increases the current total bet by 25%.
The Bonus Bet will stay active until the player manually disables it. As we mentioned before, Doragon's Gems' Buy Feature is disabled while the Bonus Bet is active.
Free Games with Gamble Option
We love this feature purely because it gives you more control over your destiny. Called the Free Games with Gamble Option, it's Doragon's Gems way of giving you a fighting chance. You see, when you get 3, 4 or 5 scatter symbols anywhere on the gameboard, it triggers 7, 10 or 13 free games respectively. That's great news.
But Doragon's Gems doesn't stop there! Oh no. After triggering free games, you can then gamble all free games for a chance to win more free games.
For example: if you trigger the free games with just 3 scatter symbols, you have the option to gamble to win 10 free games (or lose your 7 free games). If you trigger the free games with 4 scatter symbols, you can gamble to win 13 free games (or lose your 10 free games). When landing 5 scatters on the reels, you have no option to gamble and are awarded the maximum 13 free games.
We should also mention that during free games, Doragon's Gems nifty little multiplier trail doesn't reset between spins. The multiplier trail used will start at the bottom position of x1.
Where to play?
Ready to step into the maw of Doragon's Gems and claw your way to one of those five bonus rounds or a 50,000-coin top award?
You better be, because this is one adventure you're not going to want to miss. Doragon's Gems is available right now at Fair Go – Australia's favourite online casino. So grab that mobile, pull out your tablet or open your laptop. With more ways to win than a dragon has teeth, you should be chomping at the bit to play this new game.
Redeem code "DORAGON-BLOG" for 10 completely free spins on Doragon's Gems!
*Max Cashout for this bonus is $180. Bonus expires on 31st of August. General T&C's apply.