Effects of COVID-19: Land-based versus online casinos
Expired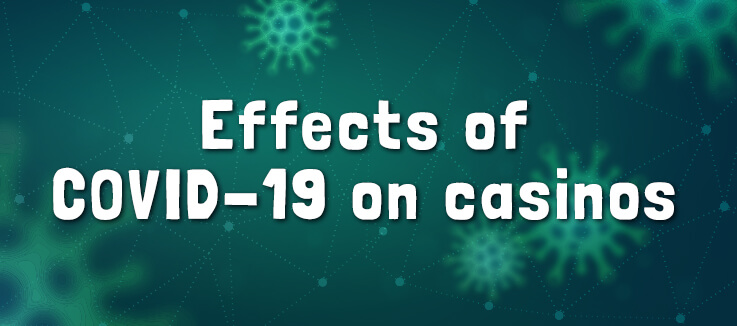 The COVID-19 pandemic has rocked industries all over the world, with both the land-based and online casino gambling sectors being greatly impacted. Land-based casinos have been hit particularly hard though, with local governments enacting laws that either force them to shut down or at least reduce the capacity of players on the floor.
                     
Online casinos such as Fair Go, on the other hand, are faring better than their land-based counterparts. This is due to a number of different reasons, the most prominent of which we'll explore below. With any luck, this article will give you a great overview of the current state of the gambling industry.
Sure, it's probably one of the drier blog posts that we'll ever publish. But if you're interested in learning about the effect that COVID-19 is having on land-based versus online casinos, you've come to the right place. Besides, you can always try a new game or head over to our promo page and redeem a bonus to perk yourself back up again.
Online casinos
More time to play
Due to lockdown measures, business closures and the rise of people working from home, many individuals have found themselves stuck inside with very little to do except watch Netflix, learn to bake banana bread and gamble with online casinos.
Throw in the fact that going to the gym has been banned in a lot of places and suddenly we've all got a lot of time on our hands. This has led to an uptick in people playing (and winning) on both their mobile and their desktop with Fair Go casino, which is fantastic news for both us and our members.
An alternative form of enjoyment
Sports leagues all over the world have been canned, affecting everything from grassroots footy right up to the professional levels.
Some leagues and sports, such as the NRL, the Bundesliga in Germany and the AFL have returned, while others such as the NFL are scheduled to restart in the near future.
The lack of sport on offer though has definitely made people search for other forms of enjoyment and excitement, with online casinos offering both of these in spades.
Safe and secure
COVID-19 spreads when an infected person comes into contact with another person or persons. This means that places where people congregate in groups, such as in offices, stadiums and even land-based casinos, can increase the risk of the virus being spread from person to person.
Not all countries are under the same duress from COVID-19, so this does not apply everywhere. However, it nearly goes without saying that you can avoid coming into contact with an infected person simply by staying home and playing your favourite pokie or table game with Fair Go casino.
Increased acceptance of cryptocurrency
Given that the pandemic has had a massive impact on financial markets all over the world, it's only natural that people are researching different ways to save and transfer their wealth.
Consequently, interest in cryptocurrencies such as bitcoin as spiked and the use of digital currencies is having somewhat of a second renaissance. For players such as yourself, this renewed interest is a sign that bitcoin really is here to stay.
We should also mention that there are zero fees applied to bitcoin transactions at Fair Go. You can also use it to both deposit and withdraw cash.
Remote customer support
Finally, one of the biggest effects COVID-19 has had on online casinos is that it's highlighted the superiority of remote customer support.
At a land-based casino, you would be required to come into close contact with someone in order to seek assistance. For online casinos such as Fair Go casino though you can simply bring up the live chat window, send us an email or make a call from the comfort of your own home. We'll then respond to your needs in rapid time and make sure your question is thoroughly answered in easy to understand terms.
Land-based casinos
Local laws enforce closures
Land-based casinos all over the world were forced to lay off stuff, shut up shop and suspend operations due to the virus.
The Crown Casino in Australia is but one example of a popular casino that was forced to close. You may remember that Australia went in hard and fast with lockdown measures as a way to limit the risk of the virus spreading. This worked initially, however at the time of writing this, we're now seeing spikes in Victoria and more specifically Melbourne.
Now, the Crown has announced that while it will reopen in stages, beginning with the hotel and its restaurants, the gaming floor will remain off-limits for the foreseeable future. Unfortunately, land-based casinos just like the Crown are closing down around the world. The good news is that online casinos can still continue providing members with bonuses, promotions and top-shelf games.
Health and safety are major concerns
If you're in the age or illness bracket that is at risk of contracting COVID-19, land-based casinos are practically a no-go zone. This is one of the few places where people are rubbing shoulders and coming into close contact with each other.
Add in the celebratory nature of betting a casino and alcohol consumption and it becomes easy for people to forget that there's actually a global health pandemic underway. For this reason, health and safety are major concerns for not just those at risk of catching the virus, but also those who are conscious of transmitting the virus throughout their community.
Of course, there are measures such as social distancing and mandatory face mask usage that've been put in place to combat the risk of infection. However, many of you would agree with us that the risk isn't worth the reward.
In our opinion, there's really not point in chancing your luck at a land-based casino when you can simply sign up to an online casino
Diminished betting experience
Lastly, going to a land-based casino with heavy preventative measures in place just doesn't offer the same experience as it once did.
Sure, you can still gamble, have some fun and perhaps even do some mingling. But given that contracting COVID-19 is a very real threat in a lot of parts of the world, you'll always have it in the back of your mind which will most likely dampen your potential for enjoyment.
Instead, you should consider joining an online casino such as Fair Go and taking advantage of our incredible pokie titles, regular bonus offers and entertaining promotions. You'll save money on accommodation and transport that would otherwise be spent getting to your favourite land-based casino and you won't have to go through the rigmarole of maintaining social distancing or wearing a mandatory face mask.
You can simply create an account or login to your profile from the comfort of your own home and browse our selection of games and bonuses at a whim. We guarantee that after a few spins of a popular pokie, a few hands at one of our online table games or a few rolls of a dice, you'll forget all about what's going on around you and get to enjoy online betting as it was meant to be enjoyed.
Blog Bonus!
Redeem code: VIRUSBLOG for 5 free spins on Gods of Nature
Coupon code expires on,Wednesday 12th August. General terms apply.
Visit Fair Go Casino now to play the most you beut' new online casino titles available.