The Emoji Challenge: 7 days of free spins
Expired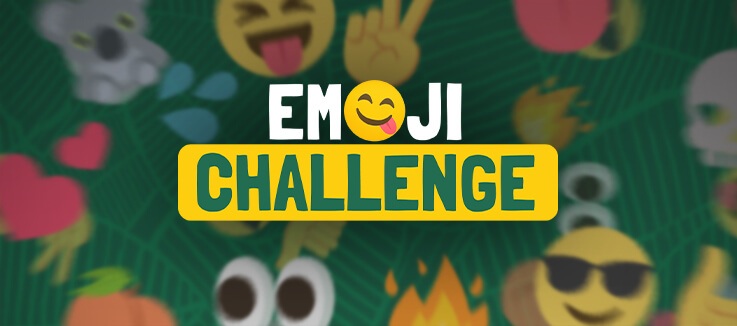 The Emoji Challenge: Everything you need to know
Emoji Day is just around the corner so your mates at Fair Go have decided to celebrate these funny little icons by not only learning more about them but also running an exciting Emoji Challenge promotion!
Below you'll find information on the emoji and how it's become one of the cultural icons of the 21st century. Then, when you finally reach the bottom, you'll be able to learn how you can easily win 7 days of free spins.
So sit back, relax and prepare to become real-life smiley emoji.
It's time to get stuck into the world of fun emoji symbols!
What are emojis and where did they come from?
If you own a mobile phone, then chances are you've also used an emoji. These little digital images have become a staple in text communication.
But where did they come from?
The first mass development of emojis was started in 1999 by Shigetaka Kurita as a way to communicate with people online without using words. The word "emoji" comes from the Japanese words "e" (絵, "picture") and "moji" (文字, "character").
Emojis quickly became popular in Japan and by 2010 they were being used in other countries. In 2015, the Oxford English Dictionary even named the "😂" or "Face with Tears of Joy" emoji as their Word of the Year.
What are a few fun facts about emojis?
Emojis are one of the most curious cultural developments that now play an important role in digital communication, but did you know that the first single emoji was created in 1997?
It's true. But that's not even the most interesting thing about emojis. They were also created with the intention of being a universal language, meaning that they could be used to express emotions regardless of the user's native language.
In addition, there are now a total of over 3,000 emojis, and new ones are added every year. The most popular emoji is the face with tears of joy, followed by the red heart. Gender-inclusive emojis and other diverse emojis are also becoming increasingly prevalent.
There was even a mass study conducted on emojis that showed men and women tend to use different ones. For example, men were found to use more objective emojis like the dollar sign while women were more likely to use emotional or feeling emojis like the heart-eyes emoji. Unsurprisingly, the study also found that blokes used 56% of the eggplant emojis sent (go figure).
Finally, there are roughly 3,472,222 emojis sent every second on Facebook Messenger. That equates to approximately 27.76 billion per day – most of which are probably love heart or kiss emojis sent by your nanna. Go give her a call you drongo!
What's all the fuss about emoji stories?
If all those interesting tidbits weren't enough, perhaps learning about emoji stories will pique your curiosity. But wait... what the heck is an emoji story? It's pretty straightforward. Essentially, an emoji story is a story that's told using only emojis. That's right – no words, just pictures.
And believe it or not, these stories can be quite entertaining. They often have clever plots and jokes, all conveyed through symbols and pictographs. Most of these stories use on average about 30 different emojis. What's more, there's a movie called The Emoji Story, which currently has a 98% approval rating on Rotten Tomatoes. So the next time you're looking for something to watch, consider giving this flick a chance.
Everything you need to know about our Emoji Challenge
Now that you can call yourself an expert when it comes to emojis, it's time to put your knowledge to the test with our Emoji Challenge. How does it work?
It's easy – all you need to do is correctly guess the pokie game from the emoji that we provide. Then, if you guess the right pokie, you'll get to enter the coupon code to win free spins on that game.
Running for over 7 days starting July 14th, this promo could see you win oodles of free spins over one week. These free spins can then be used immediately on the pokie in question in order to boost your odds of winning.
Simple, right? We think so. Emojis have always been a fun and comical way to spice up your messages, whether it be through text, Instagram, LinkedIn or any other social media platform.
Now, your knowledge of emojis and our best online pokies titles could just pay off!