Everything you need to know about Fair Go comp points
Expired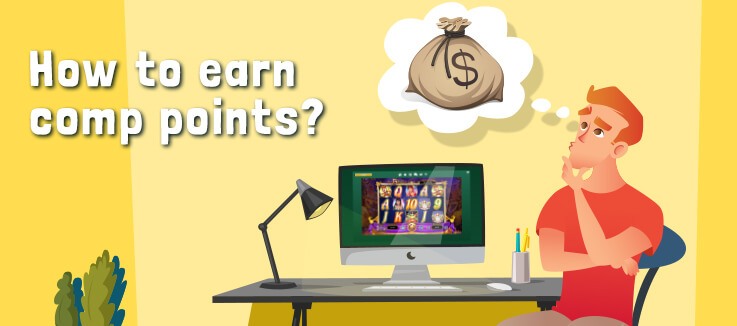 Every casino in the world offers players a number of different bonuses, promotions and special rewards.
These offers are given out at particular stages of a player's online casino journey. For example; some casinos offer sign up bonuses when you join while others send incentives to players via email as long as they remain a member. Sometimes these offers are sent as freebies, other times they're provided as a kick back to a player investing money into the casino in one way or another.

Leading casinos worldwide, including Fair Go, also commonly use multiple bonuses and promotions at the same time. By doing so we can ensure you always have access to a bonus offer or a promotion, thereby maximising your fun. After all, we're not called Australia's favourite online casino for nothing.
Comp points are one of the main reward types that we use to help give your odds a nudge in the right direction and improve your chances of raking in some serious cash. All you need to do to earn them is place at bet at our casino. We'll then reward you with comp points that can then be exchanged for cash.
In this article we go on a deep dive into the world of comp points, breaking down everything you need to know about them in order to become the best gamer you can be. So read on if you want to stake your claim as our most competent comp point connoisseur and take your Fair Go experience to the next level.
What are comp points?
Comp points are essentially our way of rewarding loyal gamers by providing you with certain value add benefits for playing with our casino. They were created in lieu of the fact that unlike physical casinos we are unable to offer you free drinks, chauffeur services or other perks such as free accommodation.
Also called 'complementary points', comp points are earned simply by placing a bet with us. That means there are no strings attached and you needn't purchase them directly. Just deposit some cash into your account and start betting as you normally would.
Comp points will then be stored in the 'Comp Points' section of the Fair Go website, with 1 point accrued for every $10 you wager. The only time this differs is when you play a Game of the Month pokie when you get 2 comp points instead of the usual one.
Why do I need them?
So at this stage you're probably be thinking "what's the big deal about comp points anyway"? Well, the main reason why they're such a vital part of our online casino is that comp points can be exchanged for cold hard cash.
Nope… that wasn't a typo. You read that last paragraph correctly. Comp points aren't just a way to measure yours bets, they actually have monetary value. This means that in a roundabout way you're actually getting money back just for betting.
Of course you don't get money with every comp point you earn. Instead you must accrue a certain amount of points before you are able to cash them in. In this case you're required to amass a total of 100 comp points, which can then be exchanged for $1AUD.
Now at first glance, we understand that this may look like a lot of comp points. Don't be fooled by the triple digits though. If you're a savvy online casino gamer collecting comp points will become second nature. You just need to know how to work the system.
How do I use comp points?
The Fair Go casino comp points system is easy to navigate, fun to use and most importantly incredibly generous. To ensure you can take advantage of comp points the next time you play, here's an overview of how they're collected:
Make a deposit
Choose a game to play (remember: double comp points for GOTM titles)
Place a bet or bets of min. $10
Comp points will be automatically collected
Once you have started making bets, all comp points that you collect can be found in the 'Comp Point' section of our website. If you would like to check how many you've actually accrued, follow these steps:
Go to the 'Comp Point' section
Click on the button
Select how many comp points you would like to exchange
Click 'Redeem'
By hitting the 'Redeem' button you're confirming that you want to go through with the trade. At this point your comp points will be instantly converted to cash based on your selection and your balance updated accordingly. You can bet immediately with this new credit.  
3 tips to maximise comp points
Make the most of our comp point system with these helpful tips.
1. Play regularly
There are no shortcuts when it comes to collecting comp points. You can't win them, you can't buy them and we don't give them away for free. Therefore if you want to accrue them quickly, one of your options is to play with Australia's favourite online casino more regularly.
By doing so you will amass comp points faster than average, which can then be exchanged for credit. This approach also has the added benefit of increasing your chances of winning a large prize or jackpot, since you will spend more time playing. 
2. Don't forget to exchange your points
It might sound a bit silly, but even our most experienced casino members forget about redeeming their comp points from time to time. This is generally because they're preoccupied with other special promotions and exclusive specials that we run. Comp points are so easy to amass that it's easy to see why they can be overlooked.
Of course it's not a big deal if you forget to claim your comp points. They will continue to stack up until you nominate to redeem them. But technically you are missing out on the cash benefit that comes with exchanging comp points for credit, so it's best not to neglect the 'Comp Point' section of our website.
How often you check it really comes down to how much you play with us. For those of you who bet with Fair Go casino daily, you should be checking your comp points every couple of days. If you play less than this though you can probably get away with only checking once a week.
3. Take advantage of GOTM promotions
The last piece of advice we want to give you for comp points is to always remember that they're doubled during Game of the Month promotions. This means that instead of receiving 1 comp point for every $10 you bet, you will get 2 comp points (provided that you're playing our GOTM).
By taking advantage of our double comp point GOTM offer, you can collect points twice as quickly as usual and cash them in for credit. There's really no excuse for missing out either. We send plenty of emails to let you know when our GOTM is running and what the title is.
All that's required from you is that you check all Fair Go emails as they come in. This way you can minimise your chance of missing out. Did we also mention that during GOTM you also get a special prize?
Collect comp points at Australia's favourite online casino today.