Everything you need to know about Fair Go mobile Tournaments
Expired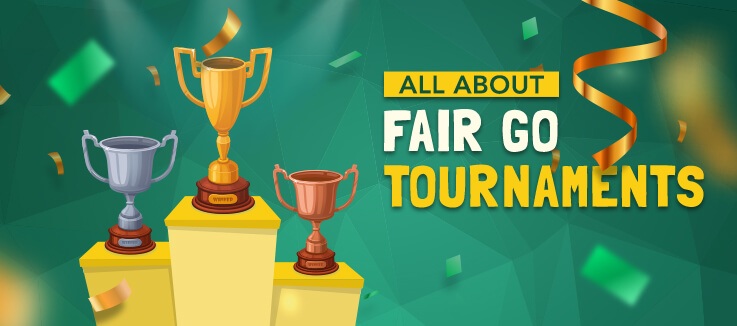 If you're craving something new, something fresh, something profitable to spice up your Fair Go mobile experience, this may just be it.
Introducing Fair Go Tournaments – a flashy new feature that gives you the ability to win cash by pitting yourself against other punters in pokie playing contests.
Totally original, 100% mobile-only and available to play every week, Fair Go Tournaments will change the way you win.
So if this sounds like your jam, read on now or check out the table of contents below if you want to find what you're looking for faster.
Table of contents
1. What are Fair Go Tournaments?
2. How do these Tournaments work?
3. How can you win a Tournament?
4. When can you join one?
5. What are the advantages of playing in a tournament?
6. How can I enter a Fair Go Tournament?
7. Frequently Asked Questions
1. What are Fair Go Tournaments?
Fair Go Tournaments are competitions that involve punters such as yourself duking it out against other Fair Go punters for a slice of the major prize.
All you need to do is register for a Tournament on your mobile device. You'll then be ready to play against your fellow Fair Go'ers in a friendly pokie comp where the top 5 win the lion's share but everyone comes away with a prize.
2. How do these Tournaments work?
How these Tournaments work is by using online pokies as the battleground in which you play against Fair Go members. But the best way to explain their mechanics is by giving you an example.
So let's say you want to play in a Tournament. First, you'll need to create an alias that will act as your on-screen name in substitute of your real name. After that you'll be required to Buy-In to a Tournament using credits from your Fair Go account.
Once that's done, you'll be taken to the Tournament lobby, whereby you'll have to hit 'Play' in order to enter the game and begin playing. Upon doing this you'll be given a number of credits. These credits are used in lieu of real money, which means they'll be deducted whenever you spin the reels.
In addition, each Tournament comes with a timeframe. This counts down as you play until the timer reaches zero, in which case the Tournament will end. Of course, you get more than one crack at logging a score in a Tournament thanks to the Add-On and Rebuy features… but we'll talk about these later.
3. How can you win a Tournament?
All Tournaments operate on a leaderboard system. This means that every point that you earn on a winning spin will contribute to your overall score within said Tournament.
Once the Tournament has come to an end and everyone's points are tallied, you'll be given your final position on the leaderboard. If you're within the top 5 when the clock ticks down, you'll receive a major cash prize that's determined by the size of the prize pool for that particular Tournament. All other players will still receive a cash prize, albeit much smaller.
This cash prize is withdrawable, which means you can put it in your back pocket or use it for another Tournament – the choice is yours.
4. When can you join one?
We're pretty bloody serious about making these Tournaments a fixed feature for mobile punters, so we'll run them every week.
Of course, we'll still be pumping out the bonuses and promos and special campaigns like there's no tomorrow. But the Tournaments will add a little something extra and make Fair Go even more exciting than ever before.
5. What are the advantages of playing in a Tournament?
Wondering why you should take the leap and play in a Fair Go Tournament? Well, these are probably the most obvious advantages. Give 'em a read and then try and tell us that these Tournaments aren't the ducks butt.
Heightened enjoyment when it comes to your online experience
Fair Go is fun… no doubt about it. The great variety of slots, the regular promos and Kev the Koala really make our online casino a Down Under bundle of fun. But there can always be bigger and better things to look forward to. And our Tournaments are one thing that's going to heighten your ability to enjoy Fair Go.
Another opportunity to win withdrawable cash
As you probably already know, we don't mind handing out the odd bonus here and there. From new game prizes to Game of the Month double comp point offers, we give you plenty of chances to score some additional money. This is just one more opportunity to line your pockets, but you've got to perform if you want to earn the big bucks.
Ideal for Fair Go members who prefer to use their mobile device
Our Fair Go Tournaments are only available on mobile devices. In fact, the Tournament function won't even show up on desktop browsers. Rather than let this be a bummer though, it's actually epic for those of you who prefer to play on your iOS or Android. And why wouldn't you? Being able to compete against other Fair Go punters in our Tournaments while on the go is an absolute thrill.
6. How can I enter a Fair Go Tournament?
1. Tap 'Tournaments' on the taskbar of Fair Go's mobile homepage
2. Choose which Tournament you want to play in
3. Pay the Buy-In using Fair Go credits (if applicable) to register
4. Hit 'Play' in order to enter the Tournament
5. Spin the reels to accumulate points
7. Frequently Asked Questions
In case anything that we've said isn't clear, here's a list of frequently asked questions that may help straighten things out.
Q: How much can I win?
Since the entry fees contribute to the size of the prize pool, how much you can win depends on how many people have bought into the Tournament.
Q: What's an Alias?
Your alias is your Tournament name that's used in lieu of your real name in order to protect your privacy. Once you choose an alias, this alias will remain for all Tournaments.
Q: Will there be free Tournaments?
Yes. Some Tournaments will be available to play for free while others will require you to pay a Buy-In fee.
Q: What is a Buy-In?
This is a fee deducted from your Fair Go wallet that you must pay to enter the Tournament. All Buy-Ins go into the prize pool pot.
Q: What's a Re-Buy?
You can choose to Re-Buy if you lose all of your credits and your allotted time frame ends. This gives you the chance to play the Tournament once again, with all previously accumulated points reset. Essentially, you start from scratch and only your highest score will be counted at the end of the Tournament.
Q: What are Add-Ons
Add-Ons allow you to continue playing in a Tournament and collecting points for your final score. You can buy a total of 100 Add-Ons, each of which has a different price and timeframe.
Try your luck at today Fair Go Casino today.