Ultimate Fair Go Burger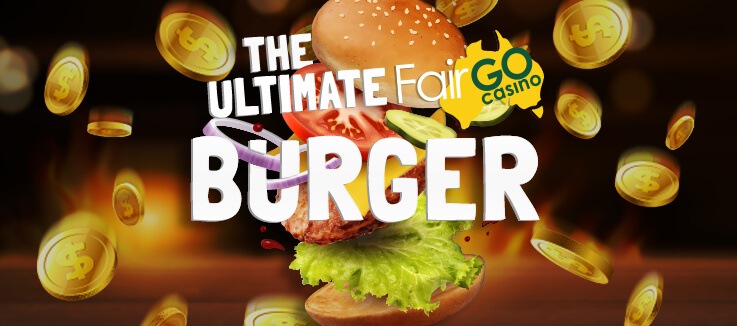 Celebrate Australia Day with an Aussie Burger with the Lot
Nearly every burger around the world consists of the same ingredients
You start with a bun for the base, add a little sauce, lay down some lettuce, slap on the beef patty then top it off with cheese, onions and a few tomato slices before finishing it with the other half of the bun. In the Land Down Under though, we make our burgers a little differently. And with Australia Day upon us, we here at Fair Go Casino have decided to celebrate the 25th by introducing you to the only burger you'll ever need in your life.
The Aussie burger with the Lot.
About the Aussie Burger with the Lot
An Aussie burger with the lot is a staple item on fish and chip shop, takeaway and milk bar menus around the nation.
Bigger than your average burger and with more ingredients than your great grandmas mystery casserole, these towering stacks of sumptuous goodness are an Aussie twist on the classic American cheeseburger.
It goes without saying that an Aussie burger with the lot will fill just about any sized hole you have in your stomach, leaving you totally satisfied and probably very, very sleepy.
Aussie burgers also have a reputation for being a little messy, so eating one is normally undertaken within reach of an infinite supply of serviettes… or at the very least far away from any carpeted surfaces.
Ingredients In an Aussie Burger
What makes an Aussie burger with the lot so unique? Well, it comes down to a few special ingredients, namely beetroot, pineapple, bacon and egg. But before you pass judgement on what sounds like the oddest assortment of ingredients ever to find there way between two buns, let's have a gander at what one looks like in its entirety.
Burger bun
As with burgers everywhere, it all begins with a cushiony bun. So soft it tears away easily with every bite but firm enough to withstand a mountain's worth of fresh ingredients, succulent juices and generous amounts of sauce. Normally toasted but can be left untoasted. Sesame seeds buns are preferred.
Lettuce
The lettuce should be crisp and crunchy. Iceberg is recommended. Perfect for adding texture and giving your burger the appearance that it's actually somewhat healthy.
Tomatoes
A couple of slices of fresh tomato will take your burger's moisture levels from Sahara Desert to Amazonian Jungle. Also, a burger without tomato just looks weird.
Onion
A few raw or cooked lashes of onion ensure each bite you take has an element of savouriness to it. A perfect pairing to a nice beef patty and worth the tears if you're cutting your own.
Beef
The beef patty should be tender and juicy with light charring on the sides. Season liberally to enhance its flavour and most of all, make sure you only use premium quality beef. Anything less is an assault on the Aussie burger's unblemished reputation.
Sauce
A classic Aussie burger with the lot will include a tangy BBQ sauce, but strictly no mustard… this isn't a hotdog after all. Some may come with a sweet tomato sauce, which is also agreeable, but not preferable.
Bacon
Deciding between pork and beef on your burger is like choosing between your kids. Sure you've got a favourite, but to say it out loud is unimaginable. On an Aussie burger with the lot though, you can have a couple of strips of salty bacon AND some beef, without feeling like you're taking one over the other.
Fried egg
Why putt a fried egg on a burger? Well, why not? Just make sure to leave it sunny side up. There's nothing like the taste of a runny, warm egg yolk… most of which you'll spend licking off your fingers.
Cheese
Slap some cheddar cheese on top of the beef patty as it's cooking to ensure it's adequately melted. Single or double slices are best, but a triple with throw out the delicate flavour profile you've worked so hard to establish.
Beetroot
A burger staple Down Under since 1940 and a truly unique addition. About as Australian as AFL, Bob Hawke and Banjo Patterson combined. Adds a welcome hint of sweetness, but should be applied last with the pineapple to avoid making the burger too soggy.
Pineapple
Seeing a fresh slice of pineapple delicately placed on top of the beetroot is a thing of beauty. Cook it slightly to create a syrupy texture or just whack it on straight out of the can. Either way, it's not an Aussie burger with the lot if it doesn't include pineapple.
Our Ultimate Fair Go Burger Promotion
Now you know what an Aussie burger with the lot looks like, it's time to create your own. Simply head over to our site today and check out our Ultimate Fair Go Burger promotion – where you can build a burger using a range of delightfully lucrative ingredients on offer and claim the corresponding coupons attached to each fixing.
Include as many ingredients as you want to create the burger of your dreams and the dreams of everyone else in the world. The good thing is you don't even have to do the dishes once you're done. In fact, the only cleaning up you'll do is the cleaning up of some massive rewards if you win.
So if you've got a hankering for burgers and bonuses then visit Fair Go now, because those delicious ingredients and their associated coupons won't last forever…