5 Amazing Stories from Fair Go Jackpot Winners
Expired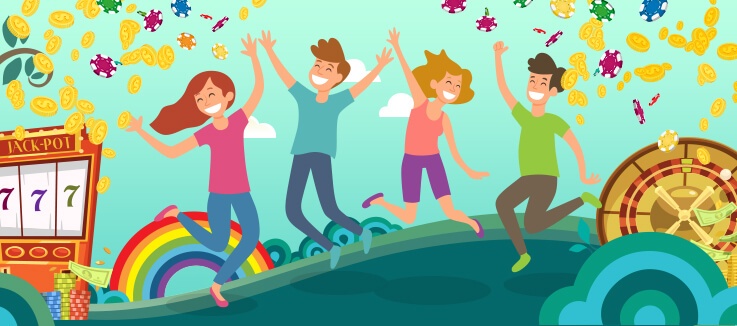 5 Amazing Stories from Fair Go Jackpot Winners
Picture this.
You've just had another long week at work, and even though the boss has you under the pump, you're still struggling to keep up with your mortgage payments. Saturdays are therefore spent in the office or on the job site because lord knows you need the money.
Unfortunately, this also means you have less time for family, friends and the things that make you happy.
At night you lie awake staring at the ceiling with thoughts of the future circling your head like a pack of menacing sharks. Wondering to yourself how you're ever going to make ends meets.
Then one evening after a particularly taxing day at work, you flop onto the lounge, fire up Fair Go and deposit $20 into your account. A few slaps later and you're already feeling better about your day. Then as if by some divine miracle you start to rack up a few wins. So, feeling confident and with only a few bucks left in your account, you decide to throw a Hail Mary.
Your thumb taps the spin button. The reels twirl. Your screen erupts like fireworks on New Year's Eve and before you know it you've hit the jackpot.
Your first thought is to scream, but your brain and your body have disconnected in the shock. So, you sit there, breathless, with eyes that are in danger of falling right out of your skull and a look of elation slapped across your face that even a dropped schooner couldn't expunge.
You've just won the big bucks on Fair Go casino.
Now, stop imagining and start playing, because this could be your reality. Just as it was for many Fair Go members in the past, including the five lucky members below. All of whom have hit the jackpot on Australia's favourite online casino. Putting their bank account in the green and experiencing a life changing moment in the process.
So, read on to hear more about their stories then get in touch for more information about our latest promotions.
Dave from Sydney – Our $50K Jackpot Winner
Many people think you need to be a member of an online casino for years before you become a winner, but a recent Fair Go champion proves that theory wrong. Meet Dave from Sydney. A Fair Go member who only joined our ranks 6 months ago and has already cracked the jackpot on Nova 7s. Netting himself $50k in the process and changing his life for the better.
"Nova 7s is an incredible game and is one of my absolute favourites. I really couldn't believe it when I hit the jackpot and my first reaction was "wow". I'm not sure how I'm going to spend the money yet, but I'm going to have a lot of fun doing it".
After winning Dave was effusive in his praise for Fair Go, saying that he believes it's one of the best online casinos in Australia and even the world. With a huge range of games on offer, rapid payouts on wins, generous bonuses and fantastic customer service.
You know what Dave; we have to agree with you there.
Mikki from Perth - $45K Jackpot Winner
Sometimes it doesn't take a massive deposit or a colossal bet to change your life.
Take Mikki from Perth for example, who recently switched over to Fair Go casino after hearing about the variety of games, bonuses and promotions we have on offer. She began by making only a few small $20 deposits and not committing more than she could afford. As she started to win though, she began to increase her deposits to $50 and had one lucky deposit matched to our Game of the Month deal – 100% plus 50 free spins on Snowmania.
Mikki then used this promotion to leverage her bets and before long she'd cracked the $45k jackpot.
"I was absolutely speechless when I realised just how much I had won; it will completely change my life and I plan to buy a new car and the go on an exotic holiday. I would recommend Fair Go Casino to anybody who likes playing pokies" Can we join you on your vacation, Mikki?
John from Melbourne - $185K Jackpot Winner
Everyone loves seeing a good old fashioned "Aussie Battler" get up, which is why we were so thrilled when John from Melbourne hit the jackpot.
Divorced with two children, John is a carpenter by trade who works full-time to support his kids. So, when he started winning on one of our more popular online casino games, the whole team at Fair Go got behind him.
In the end, John cleaned up $185k for his effort. A substantial amount by any means, John's life has been irreparably changed. He can now pay off his debts and live without worry knowing that his children will have a bright and happy future. Of course, John only had kinds words to say about Australia's favourite online casino before he hit the jackpot. But now that he's finally won, we can't get him to stop talking about us.
"Fair Go Casino is the best casino in the world, period. Even before my win, I enjoyed playing their wide range of pokies and the table games they offered. I would recommend Fair Go Casino to anyone looking for a fun, fair and honest online casino".
Good on you john, *wipes tear from cheek*, good on you.
Janice from Brisbane - $20K Jackpot Winner
It's not only the most dedicated Fair Go members that hit the jackpot though. Sometimes we have part-time players scoop up massive winnings after only a few hits. This was certainly the case when it comes to lovely Janice from Brisbane. A domestic cleaner by day and a shelf stacker at her local shopping centre by night, Janice has been working two jobs for longer than she cares to remember to support herself and her two beloved beagles.
So, imagine her amazement when after hearing about Fair Go from a friend she decided to sign up and have a go, winning $20K within her first week after only a few bets.
"I'm still totally speechless. This money allows me to take some much-needed time off and recharge my batteries after years of juggling two jobs to make ends meet. I'm really looking forward to hanging out with my dogs and doing as little as possible."
Needless to say, Janice is now a massive supporter of Fair Go casino and all of our great games, massive bonuses and exciting promotions. Even though she thinks we should swap Kev the Koala for a dog mascot.
Barry the Beagle anyone?
Phil from Hobart - $70K Jackpot Winner
Our winners often remark that their jackpot win took them totally by surprise. With many people saying it went off when they least expected it to. Like on the beach for example.
Yep, you read that correctly. Our $70K jackpot winner, Phil, was actually soaking up the sun at a beach just outside of Hobart when he decided to pull up Fair Go and play his preferred online pokie, Achilles.
After depositing $40 and redeeming the daily bonus, it wasn't long before he hit a bit of a hot streak which eventually culminated in him taking down the game's major jackpot prize.
"What started as a way to enjoy a rare day of sun and no clouds in Hobart quickly became a very profitable trip to the beach courtesy of my $70K jackpot win" Phil, who chooses to play with Australia's favourite online casino because of our stellar range of quality titles and the fact we're always releasing new and exciting promotions, plans on treating his wife to an overseas holiday and trading in his old tinnie for a top of the line fishing boat.
When asked if he had any ideas as to what he was going to name his new vessel, Phil was quick to suggest that there's only one thing he wants to christen it… Achilles.
Let's just hope this doesn't make the boat's "keel" a weak spot. Get it? Instead of heel?
Pokie puns are the best.