It's fee-fi-fo-fantastic winnings on Giant Fortunes
Expired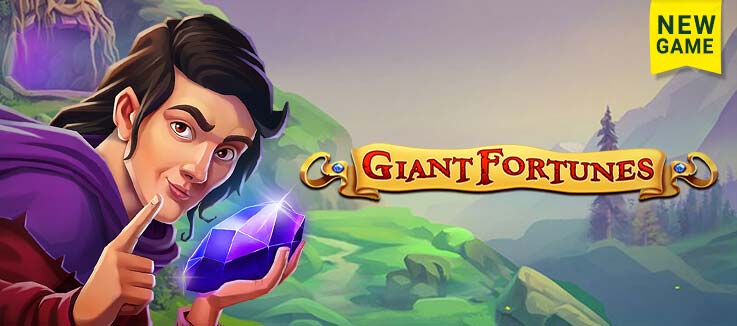 Oz is home to many strange critters, but ogres and giants? We didn't believe it! That is until we spun Giant Fortunes. Now we know that XXL blokes (plus Mystery Symbols, free games and Oversized Symbols) are real. And they can all be found in the new and exciting slot game, Giant Fortunes.
Game Details
Launch date: 15th February 2023 
Volatility: Medium
Reels: 5x3
Top award: 50,000-coins
Substitute: Giant
Scatters: Gem
Jackpot: Game without jackpots
Paylines: 25 paylines
Bonus rounds: Yes
Bonus type: Free games, mystery symbols, oversized symbols
Platforms: Mobile, Instant Play.
About
As we said, Oz is home to heaps of weird beings and creatures. From cuddly but constantly *ahem* high koalas to 2-metre-tall kangaroos and massive spiders, there is no shortage of legendary animals in the land down under. But giants and ogres stalking our fair land? Well... until just recently, we didn't believe it!
But then along came the Forest Prince and Giant Fortunes. And colour us silly... it turns out they're real! Now we're on a quest to help this royal rogue steal precious gems from XXL monsters. And truth be told, we're having a ball!
There's action, adventure and no shortage of ways to win. And with some very interesting bonus rounds and in-game features, this is one pokie you can wrap your betting gear around. So join your mates at Fair Go and spin Giant Fortunes today. We can't promise a life-changing win, but we can promise a better chance of scoring BIG thanks to its new game bonus... Plus, let's not forget either that this is more than just your run-of-the-mill pokie. Giant Fortunes requires you to help a handsome prince in his quest to find and steal back his valuable gems!
Gameplay
Giant Fortunes takes place in a part of Australia that looks suspiciously like every realm from every fairytale you've ever read. There are rolling green hills, straw-roofed houses and dramatic landscapes filled with mystical creatures.
It also has 5-reels and 25-paylines to play on with a solid 50,000-coin top prize and medium volatility gameplay. Unfortunately, you won't find any jackpots on this new pokie, but you do get plenty of bonus features to help you win bigger payouts. From Mystery Symbols to Oversized Symbols, free games and more, Giant Fortunes is packed with surprises!
Plus, let's not forget either that this is more than just your run-of-the-mill pokie. Giant Fortunes requires you to help a handsome prince in his quest to find and steal back his valuable gems! So increase your bet, hit that auto spin button and assist Prince "I-lost-my-gems-again" on the hunt for his treats. Because here's the inside scoop - those gems can help you too...
Symbols
Whether it's the playing card suits, a bag of jewels or a lurching ogre standing in a cave, Giant Fortunes spares no expense when it comes to in-game symbols. The best characters however will always be the wild Giant and the Gem mystery symbol, which acts more or less like a special scatter.
On the Giant, it's wild on reels 2, 3 and 4. It also counts for everything except the Mystery Symbols. As for the Gem, it appears on reels 2, 3 and 4 during the base game. All Gems then change to the same random symbol after appearing to award more significant and more promising payouts.
In addition, five of a kind of high-paying symbols (such as the Forest Prince) will deliver incredible rewards.
Bonus features
Now, don't get us wrong. Giant Fortunes is one of those you beut' pokies that captures our imagination and our hearts. And while other pokies with heaps of bonus rounds could still put a glass eye to sleep, it does more with less. This is kinda cool. So without further ado... here's the one and only Giant Fortunes bonus round.
Free Games
The free games round in Giant Fortunes begins when Gems land on reels 2, 3 and 4. They'll then transform into the same random symbol, at which point the 7 free games kick in. If another Gem lands on reel 3 (the only reel it can land on), it will become an Oversized Symbol and cover the entirety of reels 2, 3 and 4. You also get an extra free game for every Oversized Symbol that appears.
Where to play?
Pull up Giant Fortunes on your phone, laptop, tablet or computer and let it whisk you away to a mystical land of princes and dangerous creatures. Not only will you be helping the Forest Prince, but you might also end up paying off a loan or booking an amazing overseas holiday with your winnings!
Redeem code "GIANT-BLOG" for 10 completely free spins on Giant Fortunes
*Max. cashout for this bonus is $180. The bonus expires on February 28th. General T&C applies.