Everything you need to know about our Halloween promotion
Expired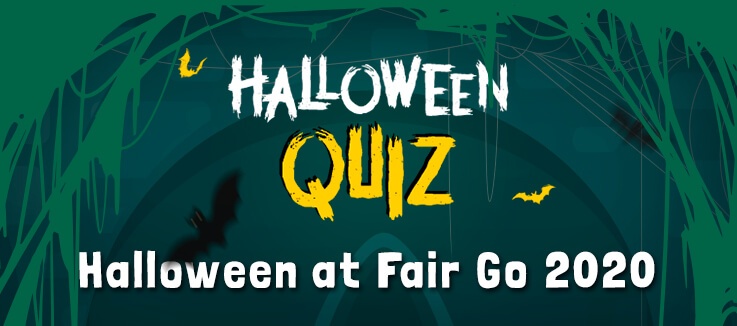 Ahhh Halloween.
That spooky time of the year when Kev the Koala dresses up in a silly costume and we hand out prizes like free candy. It's one of our favourite holiday periods, even though Australians don't get a day off work for it, for the sole reason that Halloween is all about having frighteningly good fun.
This could mean giving you the lowdown on our scariest online pokies, producing articles about the history of Halloween or running promotions so profitable that they seem unbelievable. But enough about us. You're probably wondering why on earth you're here. Well the truth is that we're currently running a special Halloween promotion for Fair Go members such as yourself.
The idea behind this promotion is to make your Halloween extra special in 2020, since we could all use a bit of a break during these trying times. So if you like ghost stories around the fire, things that go bump in the night AND multiple-choice questions that award bonuses every time you answer correctly, you're in luck.
Below is where you'll find everything you need to know about our latest Halloween promotion, including how it works, how long it runs for and (most importantly) what you can win. We're not one to toot our own horn, but it's shaping up to be an unforgettable promotion. Take advantage of it today. Otherwise you might wind up being haunted by regret for the rest of your mortal life. Mwahaha…
How our Halloween promotion works
The first step to taking advantage of this horrifically fantastic Halloween promotion is knowing how it works. It's not a complicated promotion, but you will need to be on the ball if you really want to milk it for all its worth.
Essentially, we'll send a specially prepared email to your inbox every single day from the 25th till the 31st of October. These emails will contain a single question with multiple-choice answers with a special code next to each choice. In order to submit your answer you'll need to redeem said code in the coupon section of the Fair Go website. We'll then reveal whether you picked the right answer and reward you with a special Halloween treat.
Take note though would be winners. There's only one correct answer. That means you'll have to turn up, turn out and turn it on if you want a piece of this Halloween pie. Just because we're Australia's most generous online casino, doesn't mean we're going to make it easy for you.
5 benefits to playing our Halloween promotion
As with all promotions that we run, there are obvious benefits to grabbing your trick-or-treat bag and diving in. Some of these benefits may not be so obvious though. Here are five ways you'll become a better (and hopefully richer) gamer thanks to this promotion.
1. One week of bonuses
Perhaps the biggest benefit to playing our Halloween promotion is that you get to jam seven bonuses in your back pocket, granted you answer all of the questions correctly. That's seven more bonuses than what you would normally receive from us, which is more than what many other casinos are offering for Halloween. Still think candy is king? Because we reckon bonus offers rule the roost.
2. A chance to really enjoy Halloween
Halloween may not be the most publicised holiday in the Land Down Under, but that doesn't mean you shouldn't enjoy it. Dress up in a vampire costume, put in some fearsome looking fangs and play your favourite Fair Go pokies without a care in the world. Halloween only rolls around once every year. Who's to stop you from having a little fun? Nobody… that's who. Not even Dracula himself.
3. More play time, more opportunities
Winning at Fair Go isn't rocket science, but it is somewhat of a mathematical equation. More play time equals more opportunities to win. Simple, right? So simple that you'll wonder why you haven't become a daily player already. But don't just look to us for guidance. Our VIPs and regular winners are rolling in Halloween cash for the sole reason that they play often. This promotion is just one more opportunity to up your playtime and increase your winnings.
4. Flex your grey matter
This whole promotion hinges on your ability to correctly answer a number of multiple-choice questions over seven days. If you pick the right answer, you'll be duly rewarded. Drop your lollies on one though and you'll get the middle of a donut – nada, zip, nothing. This means that you'll need to be sharper than a werewolf's claws and brush up on your Halloween trivia. You're not a mindless zombie after all, so it shouldn't be too hard to flex your grey matter.
5. Try new Halloween-themed games
One of the other obvious benefits to playing our Halloween promotion is that you can use these bonuses on pokies that are a little bit… well… ghastly. You might have seen them waiting in the shadows before but have never been brave enough to try them. With a special bonus though you can play without fear. So go on and give our Halloween-themed pokies a good shakedown today. There really isn't a better time of the year to try them.
Halloween-themed pokies you can use your bonuses on
It's all well and good to have some bonus treats to redeem, but what's more important is what you do with those treats. You can't gobble them up and you can't bribe Kev the Koala with them. That leaves you with only one option - use them on Halloween-themed pokies such as the following:
Witchy Wins
Bubble Bubble 2
Halloween Treasures
The Mariachi 5
Ghost Ship
Voodoo Magic
Magic Mushrooms
Count Spectacular
Eternal Love
Panda Magic
Frequently asked questions about the promotion
Still curious as to how our Halloween promotion works? Here are some questions that other members have sent us. Unlike you, we don't get a prize for answering these queries correctly. On the other hand though, we're always super stoked to help out fellow Fair Goers like yourself.
For how long does it run?
Our Halloween promotion kicks off on the 19th of October and runs up until the 31st. These means you'll have exactly seven days of emails, which could quickly turn into seven days of bonuses if you play your cards right.
What types of prizes are on offer?
We're going to keep this one a secret. Wouldn't want to ruin the surprise now would we? That being said, these prizes will most likely come in the form of free spins and deposit bonuses which can be used on any titles currently available at Fair Go. We say this so you know that you don't have to use them exclusively on Halloween-themed titles. However, given that it's the spooky season it seems that they would be the most appropriate games to play.
How can the prizes be redeemed?
In order to select an answer in our multiple-choice questions, you'll need to redeem the coupon code that's attached to said answer. This is done in the coupon code section of our website. Once there it's just a matter of inputting the answer and confirming your selection. We'll then reveal whether you've picked a winner.
Where can the promotion be found?
We're making this promotion extra easy for you by sending the questions to both your email and your casino inbox. This way you don't have to login to Fair Go or find a specific link to a landing page whenever you want to play. Just remember to check your emails during the window that the promotion is running. Of course if you're already visiting Fair Go on a daily basis, it's better to keep one eye on your casino inbox. Either way this promotion is simple to find.
Try your luck at today Fair Go Casino today.