Our favourite Halloween movies
Expired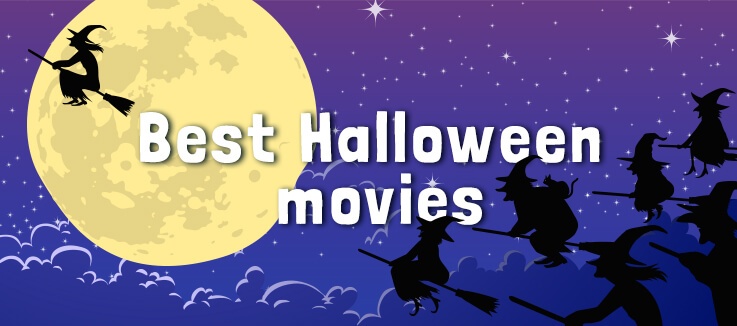 Besides being able to indulge in guilt-free chocolate binges and have a bit of fun scaring the hell out of your friends, one of the best things about Halloween is watching creepy, spooky and downright terrifying movies. With so many classics out there though, choosing what Halloween film to watch can be more difficult than deciding which Halloween costume to wear.
Fear not though because this October we've put together a list of our top 10 favourite Halloween movies, selected by the team here at Fair Go for their ability to thrill your senses and chill you to the bone. We guarantee that some of the following films will make you jump higher than a bounding kangaroo, while others will have you questioning your sanity for weeks to come.
All we can say is that you're not going to sleep for a week and even when you do, you'll be doing so with one eye open.
Hocus Pocus, 1993
Released in 1993, Hocus Pocus is an American comedy-horror film directed by Kenny Ortega. It stars Bette Midler, Sarah Jessica Parker and Kathy Najimy and is based on a bedtime story written by Garris and David Kirschner. In short, Hocus Pocus is about three evil yet entertaining witches who are accidentally resurrected from the grave by a teenage boy who recently moved to Salem, Massachusetts, on Halloween.
Hocus Pocus is now a cult classic, however, it received terrible reviews when it was first released. Entertainment Weekly even went as far as to call it "piece of corny slapstick trash". Despite this, Bette Midler has hinted that she'd be interested in reprising her role for Hocus Pocus 2. While we wait for that day to come though, Hocus Pocus continues to be one of the most popular Halloween movies for people to watch during the month of October.
Quiz answer: the Sanderson sisters live in a huge house in the woods where PURPLE smoke ventilates out of the chimney!
The Stepford Wives, 2004
Like Hocus Pocus, The Stepford Wives is both satirical and incredibly creepy. It is also based on a book of the same name written by Ira Levin. Since the novel was released back in 1972, The Stepford Wives has been made into a movie twice. Once in 1975 and again in 2004. The 2004 film features none other than one of Australia's most beloved actresses, Nicole Kidman, as the main character, Joanna Eberhart
In The Stepford Wives, Joanna moves to a seemingly perfect neighbourhood in Connecticut. Whereby upon settling into the new suburb and getting to know the neighbours, she begins to suspect that the other housewives in the area may be robots created by their husbands. Joanna then sets out to discover the truth as to why every wife is so submissive, all the while trying to evade being caught and winding up like a Stepford wife herself. Scary? Maybe. Super-duper strange? Most definitely.
The Babadook, 2014
If phycological thrillers are your jam, then The Babadook should go to the top of your Halloween movies to watch list like… right now. Released in 2014 and directed by Australian actress and writer Jennifer Kent, The Babadook received critical acclaim in the United States and Europe and went on to gross a whopping $7.5 million on a $2 million budget.
Based on the short film Monster, also directed by Kent, it's a story about a son and a mother who struggle to overcome a mysterious entity known simply known as the Babadook. Hallucinations, vivid dreams and even violence ensue as the movie progresses, before reaching a crescendo that's as unpredictable as it is terrifying. It's one of those films that blurs the line between being reality and fantasy, to the point that you'll too be second guessing what's real and what's not days after watching it.
The Tunnel, 2011
Similar to Spanish film REC and the now famous Blair Witch Project, The Tunnel is a found-footage horror film that succeeds in upping the ante when it comes to intensity and scary moments. Set in the underground network of abandoned railway tunnels in Sydney, it was released in 2011 and has since gone on to win numerous awards, including Best Special Effects at the Screamfest Horror Film Festival.
The story goes that a journalist and her crew head down into the railway tunnels to confirm a story about homeless people that are mysteriously disappearing. After much probing and lots of "What the hell" moments, it soon becomes evident that the story they were chasing is actually chasing them. Viewers are warned that the hyper realism of this found-footage style film will make them jump out of their chairs, so it's best watched during the middle of the day with all the blinds open and the lights on. Even then, you should be prepared for some serious frights.
The Loved Ones, 2009
The Loved Ones will change the way you think about Australian cinema. It's gory, it's original and it's deeply disturbing. In a nutshell, it's the perfect Halloween movie. Directed by Sean Byrne and starring Xavier Samuel as Brent and Robin McLeavy as Lola, The Loved Ones takes place in a remote town somewhere in Australia and begins with Lola asking Brent to the prom. When he turns her down, he incurs Lola's wrath. Lola's dad then helps to capture Brent to throw a sadistic prom in their house.
From there The Loved Ones descends into a bloody mess, with gratuitous violence and a very strange father daughter dance scene. Essentially this film is about what happens when obsession and insanity come together, and it'll make you think twice about turning down your next date. Should Brent have said yes or do he and Lola live happily ever after? You'll just have to watch The Loved Ones this Halloween to find out.
IT, 2017
A Stephen King classic and one of the few remakes that is actually better than the original, IT will ensure your fear of clowns is totally justified. It's also a movie that incredibly well-acted, with a host of soon to be household name cast members including a young Australian by the name of Nicholas Hamilton.
Actors and actresses aside though, IT is a film that takes the horror from the original novel and turns it up a few notches. The clown is fiendish and frightening, and the storyline, which has a group of young kids facing their biggest fears and trying to overcome an evil entity by the name of Pennywise, is deeply distressing. Rent it or buy it today and give it a crack come Halloween. You'll never look at a red balloon the same way ever again.
Rogue, 2007
Crocodiles are terrifying in real life. They are silent killers that lurk beneath the water's surface, striking faster than lightning and with more fury than a rumbling thundercloud, before retreating back to the depths to digest. This makes them the perfect animal to cast in a horror film. Something writer, producer and director Greg McLean also recognised when he released Rogue in 2007.
An Australian independent horror film, Rogue is our nation's version of Jaws. Complete with big names such as Sam Worthington, big eat-you-in-one-bite monstersand big thrills. The story of Rogue is also said to be based on a giant male saltwater croc by the name of Sweetheart that attacked numerous boats back in the 1970s. Although as opposed to the croc in Rogue, Sweetheart never actually chomped on any people.
Wolf Creek, 2005
A road trip into the middle of the Australian outback… what could possibly go wrong? Well, since it is the Australian outback, a lot actually. In Wolf Creek, however, it isn't the unrelenting sun or the lack of water that derail a group of friends' cross-country drive. It's a burly, merciless, Akubra wearing outdoorsman by the name of Mick Taylor that turns their fun-filled adventure into a terror-filled nightmare by systematically stalking, capturing and torturing each of the three friends.
Based on real-life backpacker murders perpetrated by Ivan Milat and Bradley Murdoch, Wolf Creek hits a little too close to home for a lot of Australians. That didn't stop us coming out in droves to watch it though, with many Aussie audiences declaring it to be an exceptional example of Down Under horror. It changed the way Kev the Koala gets around the country and it'll change the way you travel too. Watch it during Halloween and enjoy being scared witless by John Jarrett's xenophobic, psychopathic good Samaritan-cum-murderer character.