How to dress for a casino: casino outfits and dress codes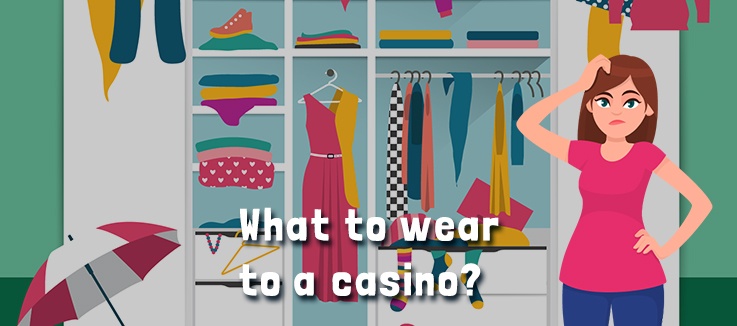 Unlike our totally awesome online casino, most brick-and-mortar casinos have a dress code. This means that as a visiting punter you're expect to dress a certain way.
                                             
You won't see blokes rolling around in a pair of Dunlop volleys, nor will you see sheilas wearing Ugg boots. Instead most people will be dressed to the nines. And although many modern casinos have relaxed their dress code. There's still a certain standard of outfit that you should wear.
Planning on mixing up your betting experience? Then maybe an excursion to one of Australia's many brick-and-mortar casinos is on the cards (pardon the pun). If that's the case, this article will help you out.
Shine those shoes. Rock that pearl necklace. And get ready to look like a million bucks. Because the following article on how to dress for a casino may just help you win that very amount.
Casino fashion through the ages
While our online casino has a pretty relaxed casino dress code (no dress code at all), brick-and-mortar casinos have a culture of fashion unto themselves. Normally this fashion is more about glamour than substance. You might even say that casino fashion is a bit over the top.
At the turn of the century casino fashion was certainly more flamboyant. Men wore three-piece suits complete with a hat. Women were more dolled up than a Sydney girl on a Saturday night.
It didn't matter which social class you came from either. If you were going to a casino, you were going wearing your best outfit. Think about The Great Gatsby movie with Leonardo DiCaprio. Now that's definitely an exaggeration when it comes to casino fashion. But not as big of exaggeration as you may think.
Of course things have relaxed since these heady days of excess. You won't need to spend thousands of dollars of your hard-earned cash for a new casino outfit in the modern era. That's unless you're going to an exclusive casino or entering the high roller lounge.
For you and us, fashion is all about comfort. Because kicking back on the couch in a tuxedo just doesn't seem right.
Famous casino fashion icons
When we talk about casino style, it's hard to go past these famous casino fashion icons. Bold. Adventurous. Maybe even polarising. These memorable punters are all about making a state.
James Bond
James Bond and suave casino fashion go hand in hand. He always looks dapper when he's at the table. Even if he's just been slipped a vial of poison a la Casino Royale.
If we were to suggest that nobody nails that handsome casino look like Bond (James Bond), it would be hard to argue. It's sophisticated yet effortless and perfect for an evening at the casino. Bond's casino fashion is full of swagger… even if he is purely fictional. The only question is whether or not you can fill out a suit like the big fella?
Frank Sinatra
Speaking of swagger, the multi-talented entertainer Frank Sinatra also deserves a mention. With his felt hat and tailored suits. He certainly cut a fine figure in the many casinos that he both punted and played in.
                                                    
His style still resonates today too. Many have tried to imitate this timeless look. Very few have managed to pull it off. Even if they do, they'd forever be compared to 'old blue eyes' as Sinatra was known.
One big tip if you do want to attempt a Frank Sinatra-inspired look – keep a massive martini in your hand at all times. If you can do that, you'll be well on your way to rocking the legendary crooner's style.
Chanel
Karl Lagerfeld, the man behind the fashion giant that is Chanel, took casino fashion to the next level. Using it for the inspiration behind a show in which he transformed the Grand Palais in Paris into an even grander casino. Complete with slot machines, table games and croupiers bustling about.
This show focused on putting a new twist on the casino trends of yesteryear. There were flowing cocktail dresses, trouser suits for women and more gold than a Melbourne jeweller's display cabinet.
Lace also made an appearance. As did cigarettes that were being smoked using spectacular quellazaires. And as we all know, nothing says casino floor fashion like a woman using a gilded holder for her cigarette.
Casino dress code tips and tricks
Unlike online casinos, all brick-and-mortar casinos come with their own dress code. Generally speaking… the ritzier the casino, the stricter the dress code.
This goes for just about every casino around the world. From flashy establishments on the Las Vegas strip to more tasteful betting houses in Monte Carlo. At the very least you'll need to wear something respectable if you want to get through the front door.
However, these stringent dress codes only apply to the punters. This means that no matter which casino you walk into, you'll find the employees looking the goods. Croupiers, waiters and waitresses will be smartly dressed. With waistcoats, pant suits and perhaps even a tux. This adds to the atmosphere of the casino. Giving it an air of elegance… even if you're just hanging out in the pokie room.
Check the casino dress code before you go
Like we said earlier… every casino has a dress code. This code is essentially a list of the acceptable or recommended clothing that you will need to wear in order to set foot in the casino.
Some casinos have a relaxed dress code. Others will require you to literally put your dancing shoes on if you want to have a punt. Rather than stifling your style though, these codes give you the chance to dress up. You can finally pull that tux out. Put on a flowing gown. Or even bust out the flares for another night in the limelight.
Know what each dress code entails
Unfortunately, the different dress codes can prove hard to decipher. This is especially true if you aren't a frequent casino punter. To ensure you don't rock up in a sleeping gown and loafers when you should be wearing a tux, pay attention to the following dress code types:
White tie
A white tie dress code is possibly the most formal type of dress code that you will encounter at an online casino. This is where you will see expensive suits and even more expensive evening gowns. And while not all that common, what type of dress code might be used for high-priced fundraising or social events. Men will be required to wear a fitted dress coat with all the bells and whistles while women will be wearing floor-length gowns along with white gloves.
Black Tie
Black tie events are also quite formal, but nowhere near as formal as a white tie event. This dress code will most likely be applied in online casinos that specifically cater for high rollers, VIPs or those with a more refined taste. Dinner jackets, tailored pants and black leather shoes will be expected for men, whereas women should wear a tasteful cocktail dress (that doesn't finish above the knees) along with some equally as elegant accoutrements.
Formal
This is probably the most relaxed you can be while still having to wear a suit or dress. Different colours can be introduced to your look, as can more fanciful items such as hats or fascinators. Men might even be able to get away with wearing a pair of jeans just as long as they complement their look with a nice shirt and some shiny shoes. Women, on the other hand, will still be expected to wear a cocktail dress.
Casual
You can't wear board shorts or a bikini in an online casino with a casual dress code. But you can definitely ditch the suit, gown or dress in favour of something a little bit more mellow in this type of establishment. Most casinos around the world will have a casual dress code in their main gaming areas. Think T-shirts (preferably long sleeve) and jeans with closed shoes for men or sundresses, skirts or caftans for women.
Search for photos of the casino floor
Of course, if you're still having trouble interpreting what a dress code in tales, here's a good tip. Simply go to the casino in question's social media page to check their photos. With any luck, you'll be able to pull up some photos of people punching the day or night away on the casino floor. You can then simply check out what other people are wearing in order to discern which type of getup is appropriate.
If in doubt… style it out
If after all of this you still can't figure out what the heck to wear to a casino… just style it out. Pull out your fancy suit, grab the nicest dress you have and shine your shoes in preparation for some good times.
As far as we know, nobody has ever been kicked out of a casino for dressing too nicely. So don't be afraid to show what your mamma gave you. Wear your nicest clothes and walk in with confidence knowing you're guaranteed to be the best-looking rooster in the casino.
What not to wear at a casino
Whatever you do though, don't rock any of the following items of clothing. They're sure to put you on a collision course with casino security. And have you kicked out faster than you can say bingo dingo:
Leather pants
Bicycle shorts
Sombrero
Cowboy boots (unless you're in Las Vegas)
Balaclava
Pluggers
Clown shoes
Dirty or ripped clothing
Boardshorts
Anything with an offensive print, slogan or logo
Here us out - dressing for a casino can be an overwhelming task. The pressure is on to look your best. And plenty of people will be taking note of what you're wearing.
The worst thing you can possibly do is let the pressure get to you. After all, going to a casino or really anywhere for that matter should be all about having fun first. Because if you're not having fun then what's the point?
Don't forget that at Fair Go casino there is no dress code. As long as you're courteous, polite and determined to enjoy yourself… we're happy to let you play. Find your favourite games in a casino lobby now or learn more about the world of online casinos by reading more articles on our blog page.
Wear what you want, win all the time with Fair Go casino.